by Stephanie Fairyington: Gisele gives a revealing interview to Arianna Huffington on the Thrive Global Podcast about how meditating eased her panic attacks…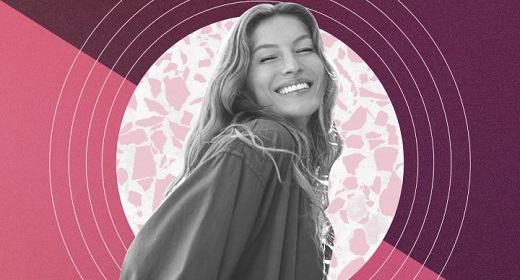 Gisele Bündchen, the supermodel, U.N. Goodwill Ambassador, environmentalist and best-selling author of Lessons: My Path to a Meaningful Life reveals to Arianna Huffington on the Thrive Global Podcast, in partnership with iHeartRadio and Sleep Number, that she suffered from severe panic attacks in her early twenties. But challenges like that, she says, are "opportunities in disguise." During those dark days, she discovered the healing powers of meditation, which radically transformed her life and helped alleviate her anxiety. "It actually gave me a new life," she tells the the founder and CEO of Thrive Global. Meditation has, in fact, been shown to help relieve symptoms of depression triggered by stress and anxiety. Throughout their conversation, the Brazilian mother of two and wife of NFL quarterback Tom Brady breaks down how we all can thrive through difficulties and connect to our greater purpose.
Sit, observe, and change self-harming thoughts
Bündchen, who meditates every morning for as little as five to ten minutes, says: "I wake up. I sit in silence. I light a candle… I take a few deep breaths and just go into that space," where, she says, she can notice — and change — destructive thoughts. "You can bring yourself back to things that actually are constructive, and co-create the reality you want." She'll ask herself things like: "What am I creating here? What kind of life do I want to live?" Most people, she tells Huffington, don't realize that their thoughts construct their reality, and they have the power to modify them. "Filling your mind with affirmations and loving thoughts, you create more of that in your life and that becomes your reality," she promises. With that philosophical framework in mind, she frequently tells her children, Vivian, five, and Benjamin, eight: "Where your attention goes is what grows." Research backs up the power of positive thinking: A 2011 study found that those who imagined their best possible self experienced enhanced optimism.
Find relief from our loud, frenetic world in your inner sanctuary
Meditation, Bündchen tells Huffington, provided her entry into a secret world of her own. "It gave me the opportunity to be aware of a new world I didn't know existed, and [gave me] the understanding that there was a place that no one could take away — that it was my own personal, sacred space that existed within myself, and all I needed to do was quiet my mind and go inward and connect to that," Bündchen says. Research bears out that meditators do indeed experience less mind wandering — less chatter — improving concentration. Studies also demonstrate that actual quiet can improve sleep quality, foster restfulness, and cultivate new cells in the hippocampus, the part of the the brain responsible for memory and storing information.
Center yourself and silence the chatter
The joy Bündchen believes we can derive from meditation has a lot to do with operating from our center "versus being pulled in so many directions," she says. To reach our center we must first sit and listen to the noise — our "monkey mind," she calls it. "You're closing your eyes, and there's so much chatter that's it's hard to stay there, because it's just one thought after another." But, if we habitualize sitting with the noise of our thoughts and remaining self-compassionate, "little by little the chatter becomes less and less and less. The very work of staying with it is the gift of peace."