by Katherine Gallagher: How the country went from a deforestation crisis to becoming a global leader in sustainability…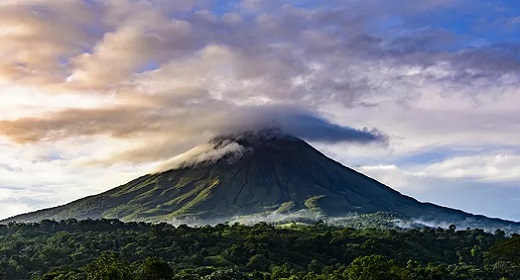 In 2019, Costa Rica was named "Champion of the Earth" by the United Nations for its direct role in protecting nature and fighting climate change. The country, which is home to just over 5 million residents, was already known as a world leader in sustainability for putting environmental concerns at the forefront of its political and economic policies.
Over 98% of Costa Rica's energy has come from renewable sources since 2014 (in 2017, the country ran a full 300 days solely on renewable power) and 70% of all public transport is expected to turn electric by 2035. Through a combination of protected areas, ecosystem services programs, and ecotourism, Costa Rica has successfully restored its forest cover from 26% in 1983 to over 52% in 2021 — proving to the rest of the world that reversing deforestation is possible with the right approach.
Where Is Costa Rica?
Costa Rica is located in Central America, between Nicaragua and Panama. It is known both for its stable, democratic government (the country hasn't had an army since 1948) and for its incredible natural beauty. A whopping 25% of its territory is comprised of protected lands, ranging from tropical rainforests and rugged mountain ranges, to stunning coastlines and volcanic landscapes.
What Sets Costa Rica Apart?
Central America and the rest of the tropics are full of rich biodiversity and thriving tourism industries, so what exactly sets Costa Rica's approach to sustainable tourism apart?
"Our sustainable tourism model has allowed us to seek and attract niche groups of travelers that recognize our differences and the quality of experiences in the country," Costa Rica's Tourism Minister Gustavo Segura Sancho tells Treehugger. "The key to success has been to target a demand that can adapt to the conditions the country has to offer."
Scarlet Macaws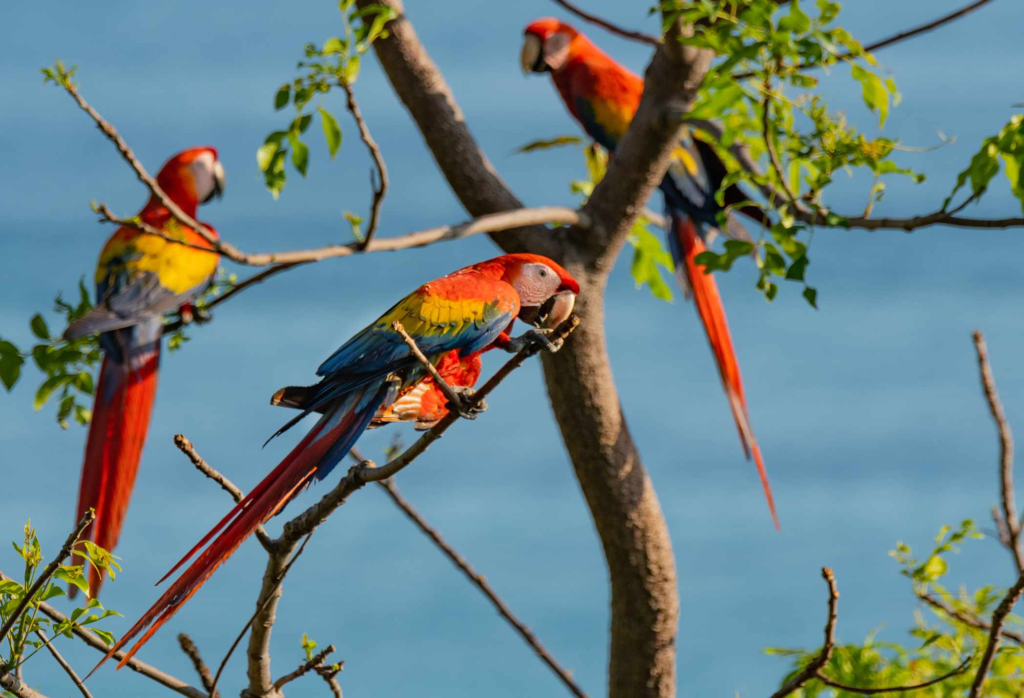 The country contains more than 6% of the world's biodiversity despite covering only about 0.03% of the surface of the globe. Housing so much biological variety doesn't just make Costa Rica a dream location for nature lovers, it also makes the country especially vulnerable to climate change.
"Despite being a small developing country, Costa Rica has decades of sustainable tourism efforts underway," says Segura Sancho. "Our work involves the efforts of individuals and organizations throughout Costa Rica's public and private sector and demonstrates a unified commitment to protecting not only our environment and economy, but that of the world."
Sustainable Destination Development
Manzanillo Wildlife Refuge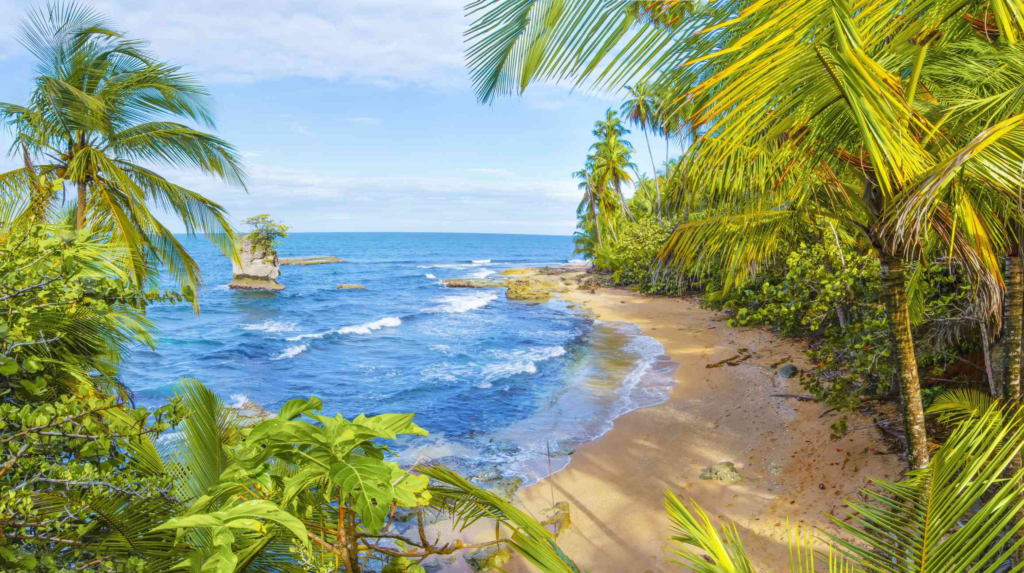 The country's tourism model was developed with three primary factors in mind: sustainability, innovation, and inclusiveness. Costa Rica's tourist attractions focus on activities that respect the environment and offer travelers opportunities to reduce their carbon footprint and contribute to conservation and cultural heritage.
The Costa Rican Tourism Institute (ICT) developed a country-wide Certification for Sustainable Tourism back in 1997, which provides tourism companies with guidelines to manage their business sustainably. The certification program educates local companies on the appropriate use of natural and cultural resources, and provides visitors with an official "CST mark" to identify sustainable tourism operators, accommodations, and attractions. As of 2021, over 400 companies in Costa Rica are sustainably certified, and the program has even been recognized by the Global Sustainable Tourism Council and the United Nations World Tourism Organization.
Focusing on long-term sustainability within the tourism industry involved a few risks, for example by making the country a bit more expensive to visit. In the years since the tourism model's development, surveys have shown that 63% of United States travelers are more likely to consider destinations making an effort to conserve and protect natural resources, while 75% are more likely to consider sustainable destinations. And a study published in the Proceedings of the National Academy of Sciences found that protected natural areas in Costa Rica reduced poverty in neighboring communities by 16% by encouraging ecotourism. It would appear that the country's decades-long investment in sustainable tourism was a good one.
Sustainable Destinations in Costa Rica: Arenal and Monteverde
Hanging bridges in La Tortuna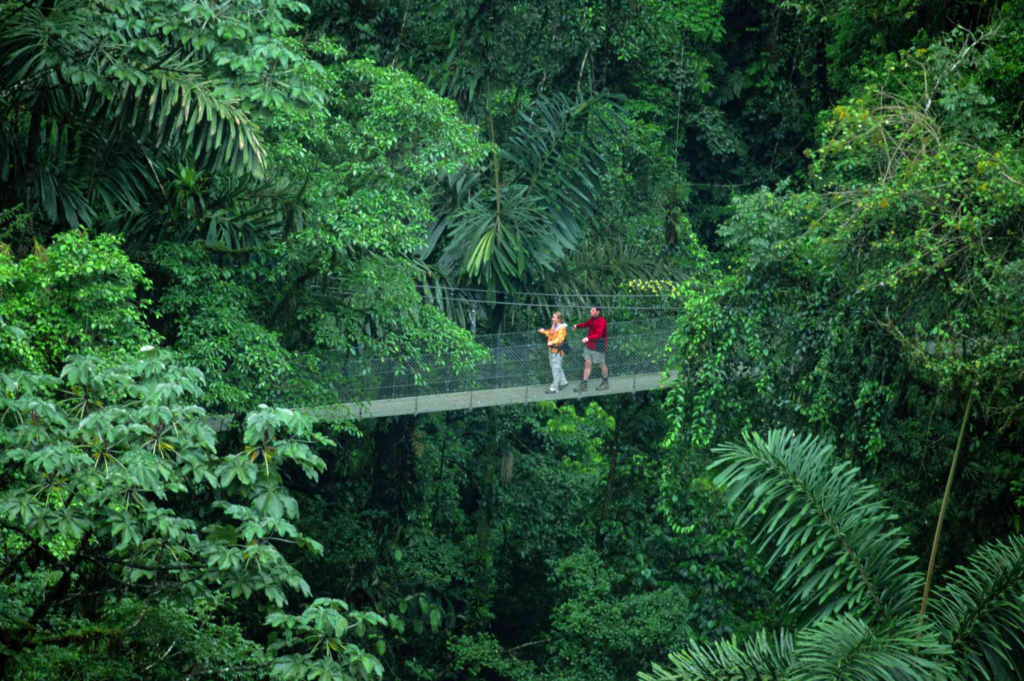 Established in 1991, Arenal Volcano National Park protects 29,850 acres and at least 131 species of mammals, including monkeys, sloths, coatis, and jaguars, along with the 5,757-foot Arenal Volcano.
An example of sustainable management in the community, locally owned Arenal Observatory Lodge maintains 270 acres of natural forest and 400 acres of reforestation areas. The hotel donates food waste to local farms as feed for animals, uses biodegradable cleaning products, and contributes to several nonprofit community projects.
Just a few hours away, you'll find an estimated 50% of Costa Rica's biodiversity in the Monteverde Cloud Forest Biological Preserve. The preserve is run by the Tropical Science Center, a historic non-government environmental organization that has pioneered conservation efforts, research, ecotourism, and sustainable development initiatives throughout the country.
Manuel Antonio National Park
With -faced capuchin monkey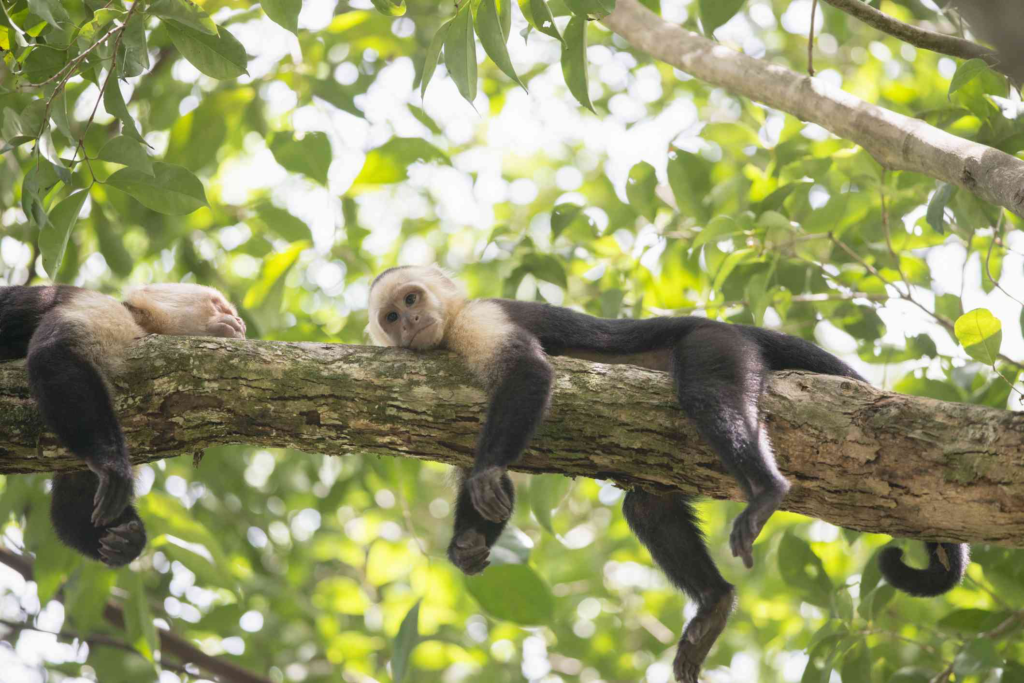 A relatively small stretch of Costa Rica's central Pacific coast home to iguanas, toucans, and monkeys, Manuel Antonio was one of the country's most visited national parks. In an effort to curb pollution and other consequences of overtourism, the park now limits the daily number of visitors to 600 on weekdays, 800 on weekends and holidays, and completely closes the park once a week. The park was awarded the ICT Elite Certificate of Sustainable Tourism in 2021.
Tortuguero National Park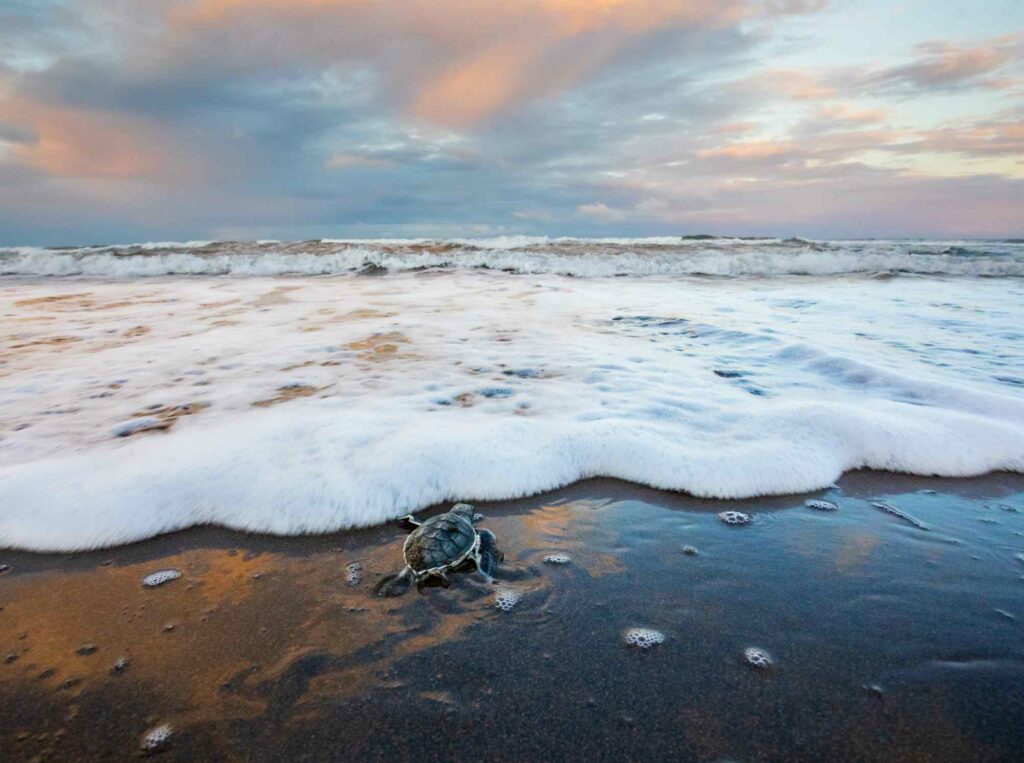 Costa Rica's Tortuguero National Park hosts the largest green turtle breeding colony in the Western Hemisphere. KenCanning / Getty Images
Located on Costa Rica's north Caribbean coast, Tortuguero boasts the largest green turtle nesting site in the Western Hemisphere. Working alongside the Sea Turtle Conservancy, one of the world's oldest international nonprofits focusing on sea turtles, community stakeholders helped fund the Tortuguero Visitor Center in 1959 to help share information with visitors and locals about threats to sea turtles and their ecosystems. The park protects 46,900 acres and focuses on sea turtle research, also offering a Junior Research Assistant Program for local high school students and educational workshops for younger students.
When's the Best Time to Visit Costa Rica
Most tourists visit Costa Rica during its high season from November to April to enjoy the sunny, dry weather. However, this time of year can also result in higher costs and overcrowding (which can be harder on the environment). Booking a trip during the shoulder season or low season from May to November also has its advantages, from cheaper accommodations and flights to greener surroundings. Plus, off season is typically when locals who rely on the tourism industry struggle the most, so supporting the economy during this time is a major perk. Keep in mind that Costa Rica has a variety of microclimates, so it's best to consider your specific travel destinations and priorities when researching weather.
The Four Pillars of Sustainable Tourism
By definition, sustainable tourism should not only consider its current economic, social, and environmental impacts, but its future effects as well. This is often achieved by protecting natural environments and wildlife while managing tourism activities, providing culturally authentic experiences for visitors, and creating economic benefits for the local community. According to the Global Sustainable Tourism Council, the four pillars of sustainable tourism include sustainable management, socioeconomic impacts, cultural impacts, and environmental impacts. Costa Rica is a shining example of a destination that prioritizes all four of these aspects successfully.
The National Theatre in San Jose dates back to 1891. Gonzalo Azumendi / Getty Images
Sustainable Management
Part of the reason why the ICT's Certification for Sustainable Tourism standards program has become so successful is because of the multiple certification levels it offers. The tiers inspire tourism attractions and tour operators to work harder in strengthening their sustainability practices in order to work their way up. It has become a model for other countries setting sights on sustainability within their own tourism industries.
In order to diversify the tourism industry, the Costa Rica tourism authority also launched an Integral Management of Tourism Destinations program in 2018, with the goal of helping in the development of 32 tourism centers around the country.
Socioeconomic Impacts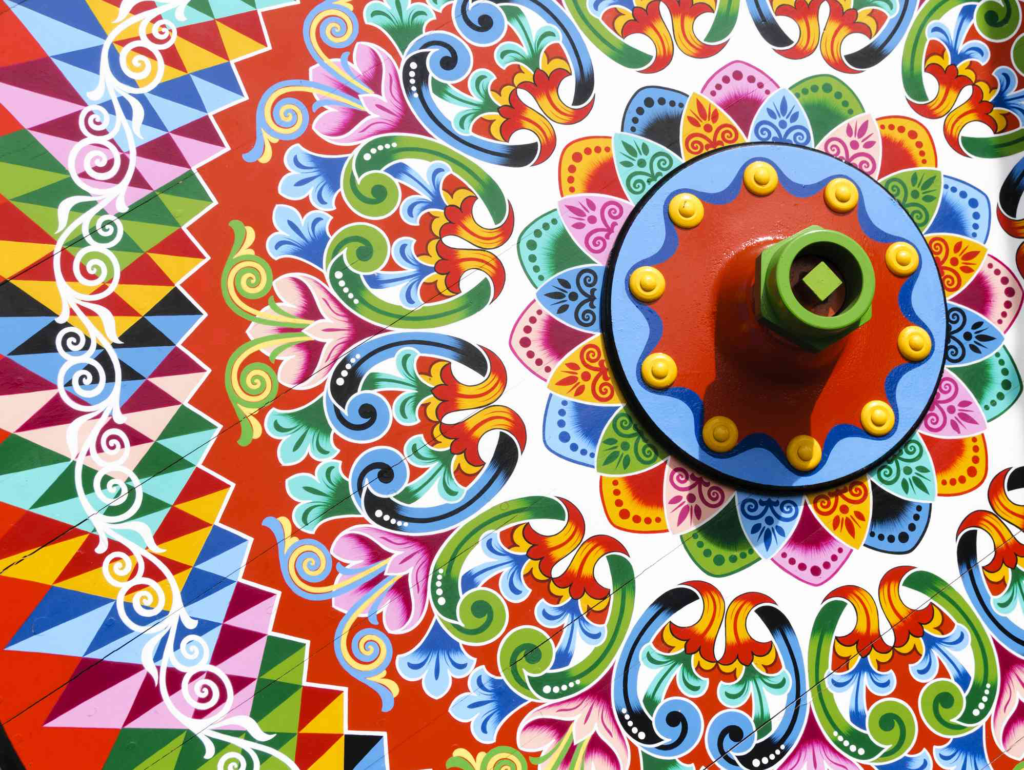 Decorated ox carts are a traditional art form in Costa Rica, created by local painters.
OGphoto / Getty Images
Using a Social Progress Index (SPI), the ICT measures the wellbeing of tourism communities across the country. The SPI considers factors like quality of life, basic human needs, level of opportunities, and social welfare rather than gross domestic product (GDP) or other economic variables, something Segura Sancho says will ensure that tourism remains a positive force for development. "Through the SPI tool, the ICT has discovered the positive effects that our sustainable tourism model has had on local communities, including access to higher education, job opportunities, air quality and waste management, quality of life, improvements in safety and community support networks, women's empowerment, among many others."
The program also leaves room for plenty of innovation, like the establishment of one of the country's newest national parks on San Lucas Island. Once containing a wildlife refuge and a former prison building housing some of Costa Rica's worst criminals, the 1.8-square-mile island is now a cultural heritage and hiking site. Tourists can visit the island to enjoy the vibrant wildlife and take tours hosted by local guides, a feature that has greatly contributed to the area's socioeconomic development. The ICT also supports the Code of Conduct for the Protection of Children from Sexual Exploitation in Travel and Tourism — an initiative of the World Tourism Organization.
Environmental Impacts
Along with the Certification for Sustainable Tourism, the ICT has also implemented several other programs to encourage and enforce environmental sustainability across the tourism sector. The Ecologic Blue Flag Program, for example, evaluates Costa Rica's beaches on criteria like ocean water quality, waste disposal, sanitary facilities, environmental education, and community involvement in beach maintenance. Only beaches that succeed in maintaining 90% of the strict criteria receive a distinction and an official Blue Flag to display on the beach. The ICT also advocates for coastal planning and supports programs for small businesses and destination management.
Cultural Impacts
Community tourism, which gives visitors a chance to support indigenous communities, meet local people, and experience authentic cultural heritage, is a growing movement in Costa Rica. Especially in the capital city of San Jose, there are numerous opportunities for tourists to learn about Costa Rica's architecture, artwork, history, and food. San Jose tourists can purchase a discounted single ticket to visit three of the country's most popular museums, all within walking distance from each other: the National Museum of Costa Rica, the Museum of the Central Bank of Costa Rica, and the Jade and Pre-Columbian Gold Museum. The ICT also provides resources and maps for self-guided walking tours of the country's main cities and information on where to find traditional Costa Rican cuisine.
A Commitment to the Environment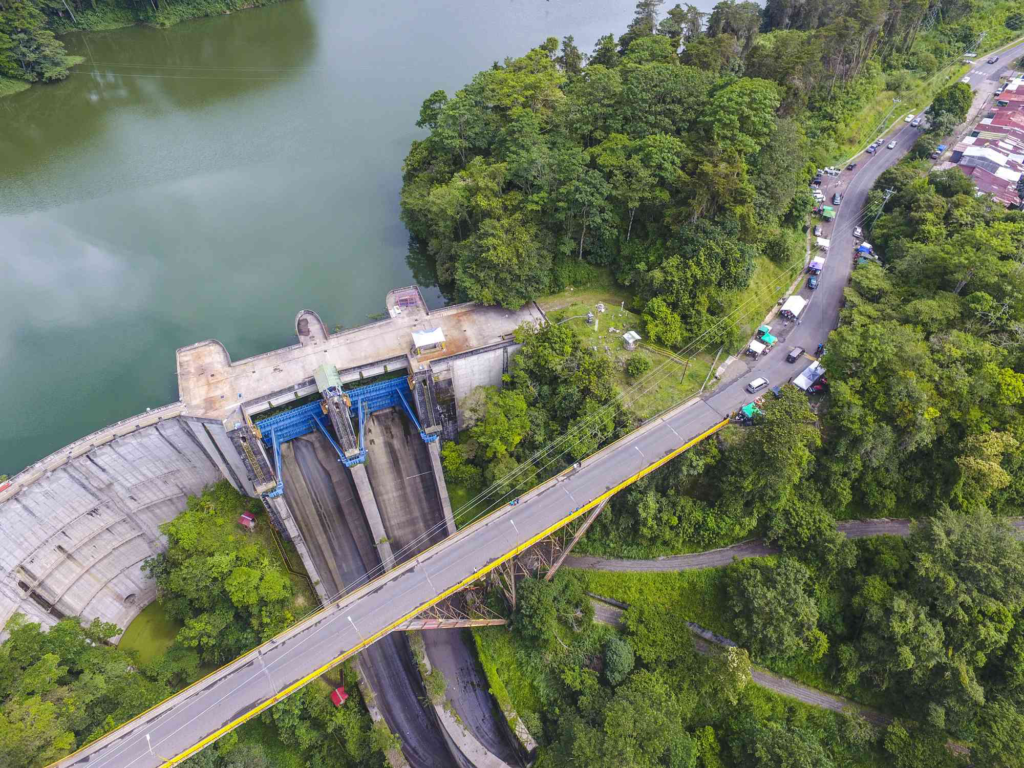 Aerial view of Cachi Dam, Orosi Valley.
Kryssia Campos / Getty Images
In early 2021, the Costa Rica National Forest Financing Fund (Fonafifo) and the ICT launched a carbon footprint calculator to help visitors determine their trip's carbon footprint and contribute to corresponding carbon offsets. Donations to this program are used to strengthen forest conservation efforts in Costa Rica.
Among other long-term targets, Costa Rica's National Decarbonization Plan puts the country on track to achieve net zero emissions by 2050, in line with the Paris Climate Agreement and the UN's Sustainable Development Goals. Although 98% of the country's electricity already comes from renewable sources, the plan aims to power 100% of the country's public transport with electricity by 2050. President Carlos Alvarado Quesada's Administration plans to work with individuals from both the public and private sectors, scientists, and other industry experts to make this vision a reality.
Establishing parks and refuges in Costa Rica — which now numbers 30 national parks, 51 wildlife refuges, and nine biological reserves — has generated responsible tourism and funded conservation efforts in parts of the country that otherwise may have gone overlooked by visitors. Although a full 25% of Costa Rica is officially zoned as protected territory, local appreciation for nature encompasses the entire country.
"Sustainability has long been embedded in the culture and traditions of Costa Rica," Segura Sancho explains. "From an early age, children are taught to protect the country's forests and wildlife, and to appreciate the diverse landscapes and natural beauty that the country has to offer. This inherent love of our surroundings means we want to conserve its many species of animals, insects, trees and birds for decades to come."