by AD staff: The Manoir de Ban was cleverly and artfully transformed into Chaplin's World in 2016…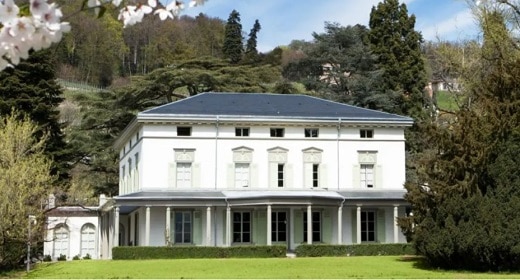 Charlie Chaplin: Life and Legacy
Today is the 129th birth anniversary of legendary comedian, movie star and all-round intriguing figure Charlie Chaplin. The star of the silent era of Hollywood lived out his last days on his bucolic Swiss manor—the 37-acre estate, Manoir de Ban, in the small Swiss Riviera town of Corsier-sur-Vevey, about 55 miles northeast of Geneva.
The legacy of Charlie Chaplin — the comedic genius behind such iconic films as The Dictator and Modern Times — is alive today through his films and physically, in a museum in Switzerland that honours his life and achievements. In 2016, the Manoir de Ban, where Charlie Chaplin lived until his death in 1977, was cleverly and artfully transformed into Chaplin's World and opened to the public.
Living in Exile
Chaplin was already in his 60s when, in 1953, he chose to live in exile in Switzerland with his family. However, the artist continued to do what he did best—make films, compose musical scores to accompany re-releases of his silent movies, and even wrote his autobiography. It is said that Charlie Chaplin and his family would take strolls down to the lakeside town of Vevey for dinner. While the movie star enjoyed his privacy in the small Swiss town, he never stopped entertaining artists and other celebrities at the Manoir de Ban.
The heritage site does not only encompass the manor house but also its parks, gardens and outbuildings that spread across 14 hectares, overlooking Lake Geneva and the Alps. Each room in the now revamped mansion is faithfully decorated in period furniture, much of it retained from when Chaplin's family lived there until his death in 1977.
The World of Charlie Chaplin
Each room comes with a screen showing home movies and news footage of the times, including reports of when Chaplin was named persona non grata by an anti-communist committee (Chaplin was a vocal supporter of the Soviet Union against the Nazis). In another room, a film of Charlie Chaplin playfully entertaining his family greets you.
The Shoes, Cane and Hat
Next door to the Manoir is The Tramp Café restaurant and The Studio, a museum inspired and created by the world-famous Musée Grévin in Paris, which operates Chaplin's World. Musée Grévin is renowned for its lifelike wax figures. This display of original artefacts and replica Hollywood sets and scenes pays homage to the illustrious career of Charlie Chaplin, as well as his life and times. Some of the original artefacts include the famous shoes, cane and hat Chaplin always wore.