by Alexander C. Kaufman: We've heard these claims before. But the mounting scale of the climate and energy conundrum is fueling more money and favorable policies into atomic power…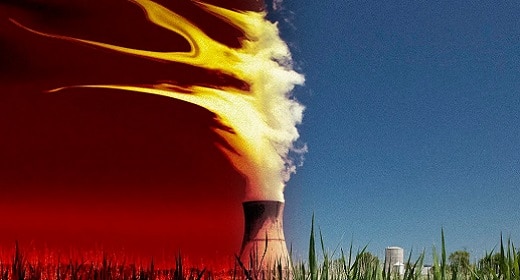 The worst nuclear accident since the 1986 Chernobyl disaster is a recent and painful memory in Japan. Yet in the lead-up to this month's United Nations climate summit, newly elected Prime Minister Fumio Kishida vowed to restart the reactors the country shut down after a tsunami flooded the Fukushima-Daiichi plant in 2011 and caused a meltdown that contaminated more than 300 square miles with hazardous levels of radiation.
Japan was hardly alone in rediscovering its enthusiasm for nuclear power. As negotiations to phase out coal fizzled, the United Kingdom announced an investment in Rolls-Royce's next-generation nuclear reactors. Ghana and Indonesia unveiled plans for their first reactors. And China, the world's No. 1 carbon emitter, promised to construct an unprecedented 150 new reactors in the next 15 years ― more than the entire world built in the last 35.
In the United States, where nuclear power plants have been steadily shutting down for the past decade as they struggle to compete with natural gas and renewable energy sources, the Biden administration pledged to shore up existing reactors and invest in new ones. The $1.2 trillion infrastructure bill President Joe Biden signed into law Nov. 15 provides aging, financially troubled nuclear plants a $6 billion lifeline to stay open and directs billions more for research into next-generation mini-reactors. The $1.7 trillion Build Back Better legislation currently being negotiated in the Senate adds billions more in tax credits for nuclear generation. The Energy Department recently approved the country's first permits for a next-gen small reactor and helped broker a deal for a U.S. nuclear startup to build one in Romania.
Nuclear is even getting a boost on the state level. Unlike New York and California, where nuclear plants are shutting down, Illinois passed a clean-energy law in September that boosted cash-strapped reactors with new subsidies.
The flurry of new policies and announcements raises the question: Are we at the dawn of a nuclear renaissance?
It's a question that's been posed before, most recently in the mid 2000s. Though they are among the least deadly and most reliable sources of electricity, new reactors remain extremely expensive, slow to build and unpopular. But advocates and market analysts see the dual crises of rapidly worsening climate change and growing demand for dependable electricity driving a shift toward nuclear power.