by Clare Thorp: A retro favourite is being reimagined in the coronavirus era, giving us new ways to experience film, music, theatre and comedy, writes Clare Thorp…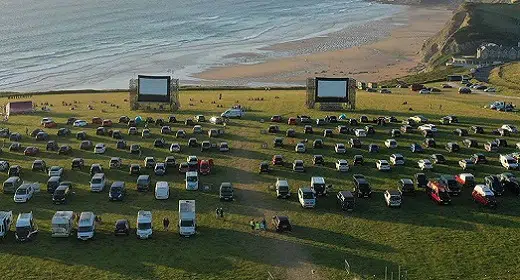 When Annilese Miskimmon got the job as the new artistic director of the English National Opera, her remit was to broaden opera's appeal and come up with new ways for audiences to experience it. She just never expected she'd have to do it quite so quickly.
Miskimmon joined the company this spring, just as the UK went into lockdown to stop the spread of the coronavirus. In March, the ENO had just opened a new production of Mozart's The Marriage of Figaro when they were forced to halt performances in London's Coliseum, and cancel not just that run – but their entire season. Theatres were closed indefinitely, and the outlook for 2020 seemed bleak. But Miskimmon had an idea.
On a Zoom call with her new colleagues – most of whom she's still never met in person – she suggested a drive-in opera. "Everyone stopped for a minute, then immediately they went into talking about how we can make it happen," she says.
Within weeks the ENO had announced Drive & Live, a production of Puccini's La Bohème in the grounds of London's Alexandra Palace, running across eight days from 19 September. The audience will watch from the safety of their cars and listen on individual Bluetooth speakers as singers and orchestra members put on a socially distanced performance unlike any they've done before. "It's going to be a completely original take on La Bohème, an immersive experience where the audience will feel part of a larger story," Miskimmon tells BBC Culture. "It's both exciting and challenging. It's given a whole energy to both the company and the creatives working on it."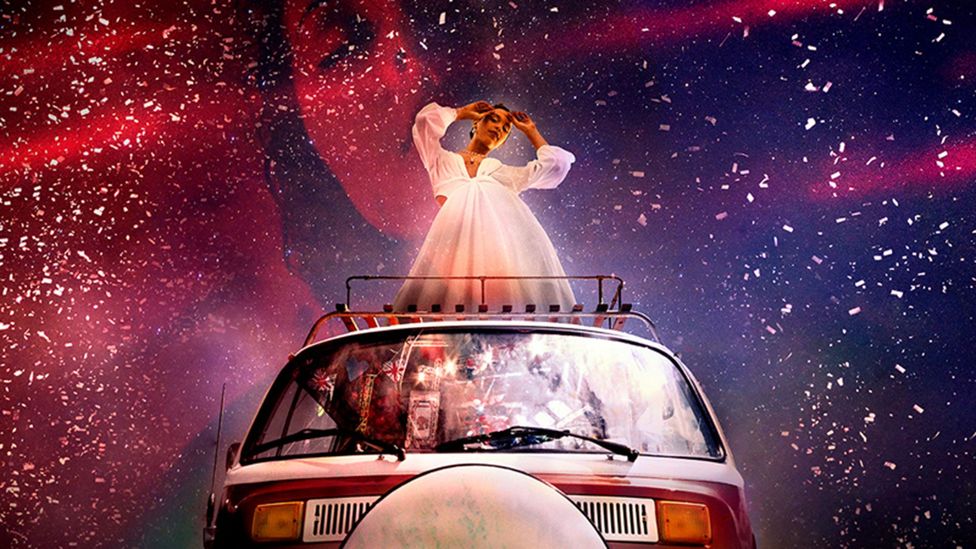 The ENO believes their new version of La Bohème is Europe's first drive-in opera
It's not the only form of culture embracing the drive-through right now. Comedy, gigs, drag shows, music festivals and even raves are using the model – which by nature promotes social distancing – to keep their shows, sometimes literally, on the road. But while pulling up in your hatchback for a night at the opera might be a novel experience (ENO says their production is the first of its kind in Europe), drive-in entertainment is decidedly retro. The first patented drive-in cinemas appeared in the United States in 1930s (devised by car salesman Richard Hollingshead because his mother couldn't get comfortable in standard cinema seats), and grew alongside America's booming car culture (by 1958, there were 4,063 in the US) before starting their decline in the late 1970s as other forms of family entertainment – like VHS – took over.
A local art-house cinema in Alaska put one of their projectors in a car park to create a pop-up drive-through
As of October 2019, numbers had dropped to 305 drive-in theatres in the US, and they existed mainly as a symbol of nostalgia. For many, especially outside of the US, the drive-in has only ever existed on screen. Hollywood itself has romanticised the drive-in – from Sandy and Danny's disastrous date in Grease to Brad Pitt's character living in a trailer adjacent to one in last year's Once Upon a Time… in Hollywood.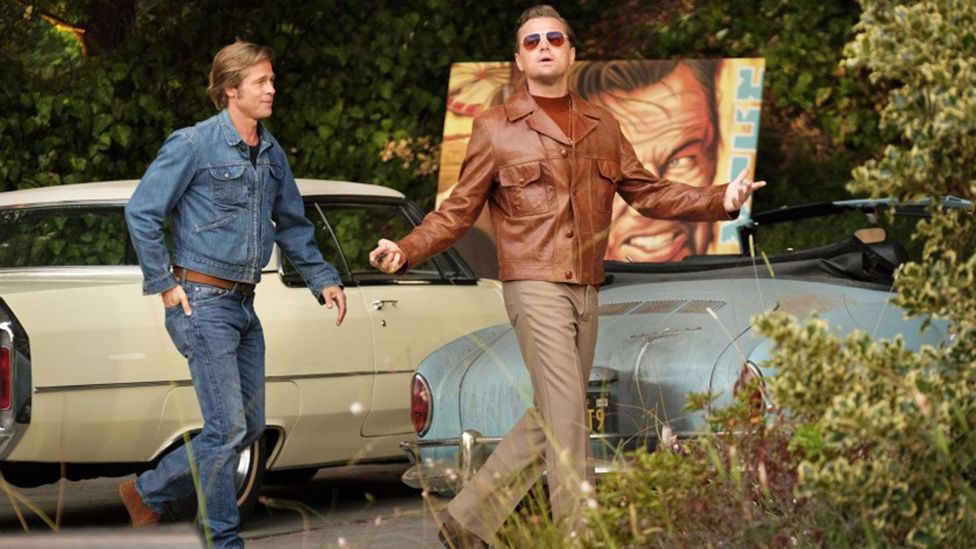 In Quentin Tarantino's Once Upon a Time… in Hollywood, a tribute to the final years of Hollywood's golden age, Brad Pitt's character lives next to a drive-in cinema
But due to the pandemic, and people seeking safer ways to experience entertainment, drive-ins are looking less like the past and increasingly like the future – at least the short-term one. New screens are popping up, ticket sales are booming, and some countries are getting their first ever taste of the experience.
Drive-in distancing
Drive-ins as a solution to health crises is not without precedent. Before a polio vaccine became available in 1955, drive-in movie theatres in the US would sell themselves as "a great place to be flu and polio protected". During the Sars outbreak of 2003, China saw an increase in car sales as people avoided public transport – which was mirrored by a growth in drive-in cinemas, a new concept in the country. Now, drive-ins are providing a global solution to an entertainment industry in crisis.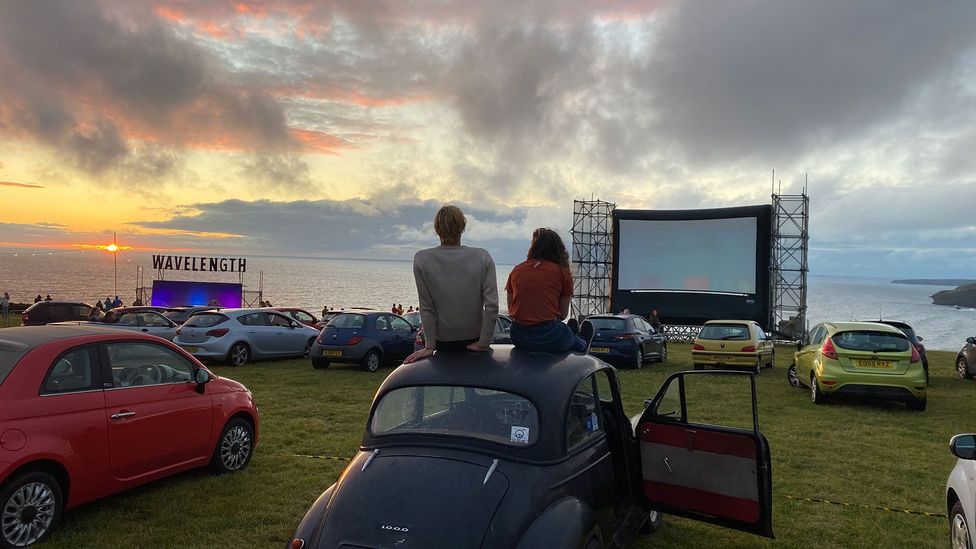 Cornish surf magazine Wavelength launched a season of drive-in films overlooking Watergate Bay; it included live performances from local choir The Fisherman's Friends
The UK, which only had three drive-in cinemas before the pandemic began, and none of them permanent, now has 40 sites offering a drive-in movie experience, including a cliff top in Cornwall. More drive-in cinemas are opening in Russia and Germany, and ticket sales are booming in South Korea. In Brazil, a football stadium has transformed into a drive-in.
Some are more haphazard than others. In Alaska, one of the few US states not to have a permanent drive-in, a local art-house cinema put one of their projectors in a car park to create a pop-up drive-through, complete with mountain backdrop.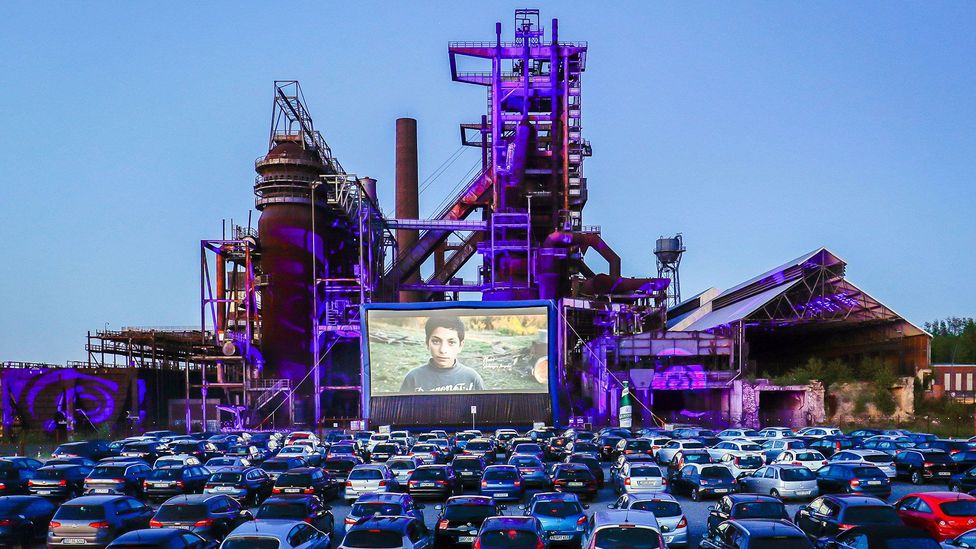 In 2020, drive-in cinemas have been opened across Germany, including one in front of the former Phoenix-West blast furnace plant in Dortmund-Hörde, Germany
Sarajevo and Lebanon are getting their first drive-ins, and new sites are opening in Nigeria. In Iran, drive-in cinemas were stamped out in 1979, partly to stop unmarried couples using them as a place to meet, but a new one has opened in Tehran, with the first screening a Persian language documentary called Exodus about cotton farmers protesting against the authorities. In Lithuania, an airport – disused due to cancelled flights – became a pop-up drive-in as part of a film festival, showing a series of international releases in keeping with the setting.
With many of this year's planned blockbusters like Mulan and Tenet pushed back or going straight to streaming services, many drive-ins have doubled down on the nostalgia vibe, showing old classics (Ghostbusters topped the US box office over Independence Day weekend in July – largely down to a drive-in audience).
The drive-in is being subverted in all sorts of ways – not least in the art world
Others are taking the chance to do something new. In New Jersey, filmmaker Ayana Stafford-Morris opened the Newark Moonlight Cinema in July, with a focus on African-American filmmakers and actors. "My drive to see this through stems from my love of films, my frustration with the current, assumed definition of cult classic films, and the pressures we are all feeling confined by Covid," she tells BBC Culture.
There's a hunger for new titles too, and the drive-in boom has given an unexpected boost to some titles. Indie horror The Wretched made $1.7million at drive-in theatres in the US and – thanks to a lack of other releases – topped the domestic box office for five weeks running, putting it in a select group with Titanic, Black Panther, The Sixth Sense and Avatar. Sundance favourite The Relic, a horror starring Emily Mortimer, also topped the weekend box office three weeks into its release.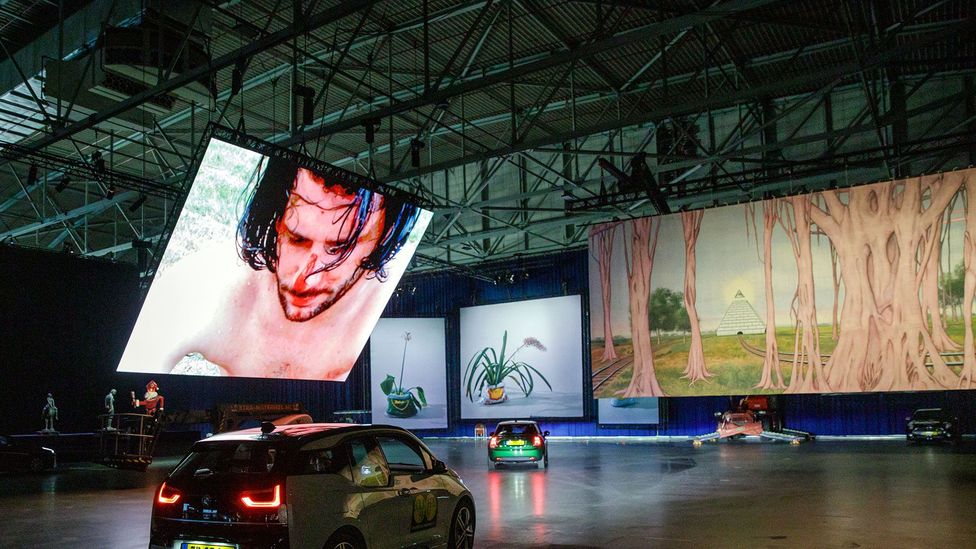 The Museum Boijmans van Beuningen ran a drive-through museum in a convention centre in Rotterdam during August; its exhibition sold out
For such a classic concept, the drive-in is being subverted in all sorts of ways – not least in the art world. In Rotterdam, the Museum Boijmans Van Beuningen – currently closed for refurbishment – teamed up with convention centre Ahoy to run a drive-through museum during August in the 10,000 sq m arena.
Thirty cars could drive in at a time (entrance was restricted to electric vehicles only, but there were ones available to loan for those who needed them) and see more than 50 works – including five new commissions and others specially adapted for the new setting. "At the beginning, I was afraid it could have been seen as a gimmick but as the process unfolded, and the car became the solution and not the starting point, it became very interesting," co-curator Francesco Stocchi tells BBC Culture.
"We were confronted with this giant space, but in a car it's a similar scale to a human inside a museum space. You find all sorts of imaginative solutions, and there were a number of liberating actions I could take that you usually cannot have, like blowing a video up to 11m on a billboard."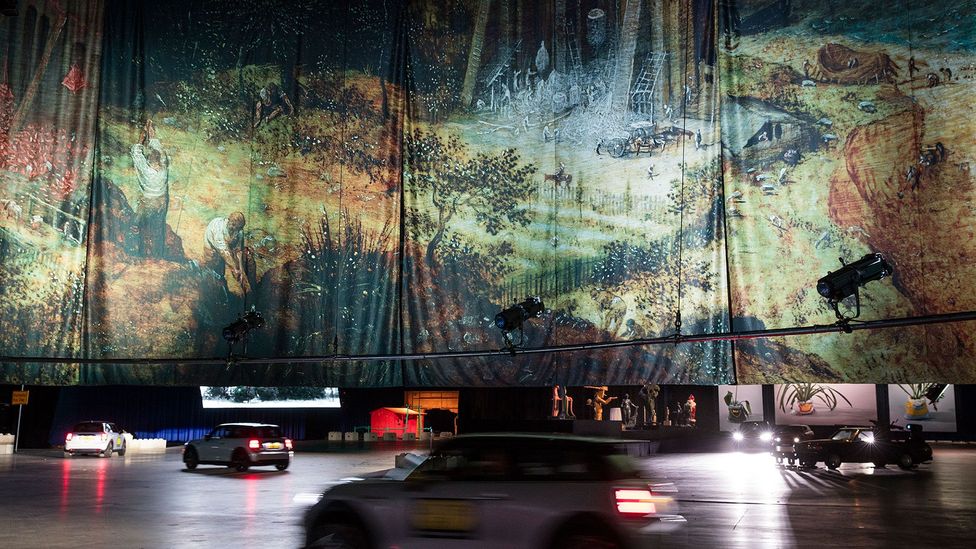 Featuring works from the museum collection and installations by contemporary artists, the Boijmans drive-through exhibition explored the boundary between humanity and nature
The drive-in exhibition follows another in Toronto, Canada. The Immersive Van Gogh Exhibition – in which visitors move through 600,000 cubic feet of projections of the painter's work – had been a year in the planning and due to open in May when coronavirus and lockdown put the show in jeopardy.
"We had to make a critical decision as to whether we were going to stop doing what we were doing and lay off all the arts workers on the project, or if we were going to plough on through with it," the show's co-producer Corey Ross tells BBC Culture. "I really didn't feel right about laying everyone off. So we needed to stop dwelling on what we couldn't do and focus on what we could."
There's a real sense that you're floating through the artwork in the car – Corey Ross
One day he was driving into the vast building – a former newspaper printing press – to check on the exhibition's progress. "I realised if I could drive up the ramp then anyone could drive up the ramp," he says. "That was the seed of the idea."
He called up 14 friends to bring their cars down to the building and test out how much they could see. When they were convinced it would work, the idea was announced to the public. The original plan was to have the drive-in open first for a short period, then revert to the original walk-in, but ongoing restrictions in Toronto meant their opening date had to be pushed back further. To honour all tickets sold, they took over another gallery next door, and since opening in early July the show has run simultaneously as both a drive-in and a socially distanced walk-in.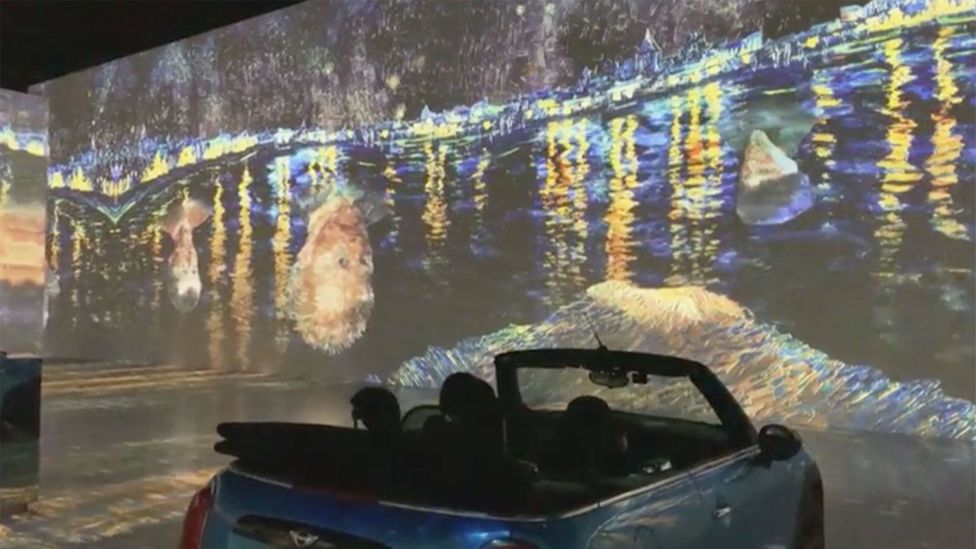 Housed in the building that formerly held the Toronto Star's printing presses, the Immersive Van Gogh exhibition projects the Dutch painter's works onto walls and floors
"They're exactly the same content but on the drive-in we've lowered the horizon and made some small modifications," says Ross. "There's a real sense that you're floating through the artwork in the car. There's one moment where things start to move in the animation of the show and every car always hits the brakes because they think they're moving."
It's proved so popular that the run has been extended until 12 October. But while Ross is pleased they've found a safe way for people to enjoy art – and keep all 100 of their staff employed – he's not convinced it's the future. "There's a curiosity factor because people have never seen an art exhibition in a car. They're coming to this because it's cool and something different, but I don't see it as a long-term thing," he says. "I think the way we experience art may change in a lasting way, and safety in galleries will stay on the agenda, but in my mind it's not going to change into us all experiencing art in cars from now on."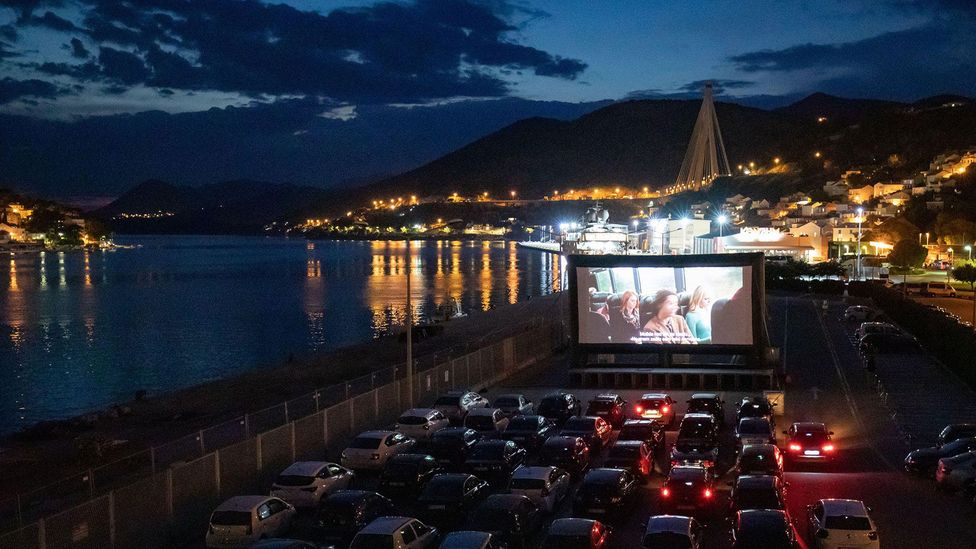 In May, films including Bonnie and Clyde and Rainy Day in New York were shown at a pop-up drive-in cinema at the Croatian Port of Gruz, the first of its kind in Dubrovnik
The ENO's Annilese Miskimmon sees things differently – for opera, at least. For her, a drive-in show offers the chance to do something she was planning to do anyway – take live opera out of London and to places that don't normally get to experience it. "We've had huge interest from right across the country to take it on tour. Drive and Live is something we're investing in as a long-term vision for how opera can hit parts of the UK and different types of audience."
She believes times of crises have always been the catalyst for great moments in culture, and now is no different. "So many of the masterpieces that we take for granted only happened through really difficult situations. Now it's time for our generation to take the difficult and really find things in it that enrich our audiences, and inspire going forward in a positive way."
As for the more traditional drive-in, as cinemas slowly reopen again, can they still hold our interest? One person confident in their future is filmmaker Spencer Folmar, who plans to open what he says will be the world's largest drive-in in Florida. "I grew up going to drive-ins and those are some of my most fond childhood memories," he tells BBC Culture. "I believe that the drive-in experience will be here to stay and continue to thrive because people are now remembering how wonderful it is."
Always a cult favourite, the story of the drive-in is getting an unexpected sequel in 2020. Whether we'll still be as enthralled once the pandemic is finally over, we'll have to wait and see.
Source: BBC