by Arianna Huffington: There's nothing touchy-feely about increased profits…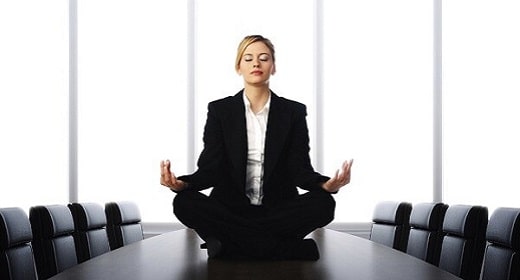 This is a tough economy, and it's going to be that way for a long time. Stress-reduction and mindfulness don't just make us happier and healthier, they're a proven competitive advantage for any business that wants one.
On Tuesday I'll be guest-hosting CNBC's Squawk Box, a program that bills itself as the show that "brings Wall Street to Main Street." As well as discussing Cyprus and a possible euro-crisis, we are going to discuss the growing trend in corporate America of taking steps — meditation, yoga, mindfulness trainings — to reduce stress and improve health and creativity.
One of my guests will be Mark Bertolini, CEO of the third-largest health insurer in the country with 30,000 employees insuring 17 million people. In 2010, Aetna partnered with Duke University's School of Medicine and found that regular yoga substantially decreased stress levels and health care costs. Following this, Bertolini made yoga available to all Aetna employees nationwide and has a much bigger mission: to make sure there is research available to facilitate private as well as state and federal coverage of yoga and mind-body therapies.
Even a quick look at what's happening in the American workplace shows that it's a seriously split-screen world. On the one hand, there's the stressful world of quarterly earnings reports, beating growth expectations, hard-charging CEOs, and focusing on the bottom line — the world that is the usual focus of CNBC and Squawk Box. On the other hand, there's the world populated by the growing awareness of the costs of stress, not just in the health and well-being of business leaders and employees, but on the bottom line as well.
There is a growing body of scientific evidence that shows that these two worlds are, in fact, very much aligned — or at least that they can, and should, be. And that when we treat them as separate, there is a heavy price to pay — both for individuals and companies. The former in terms of health and happiness, and the latter in terms of dollars and cents. So yes, I do want to talk about maximizing profits and beating expectations — by emphasizing the notion that what's good for us as individuals is also good for corporate America's bottom line. To do that, I'll be featuring guests who have had great success at bringing these two worlds together and putting what at first might seem like abstract or esoteric concepts to very productive use in the workplace.
When we separate these two worlds, the costs come in two forms. First, there are the direct costs due to stress and its associated medical conditions, and, second, there's the cost of lost creativity and diminished performance and productivity.
According to the World Health Organization, the cost of stress to American businesses is as high as $300 billion. And unless we change course, this will only get worse. Over the last 30 years, self-reported levels of stress have increased 18 percent for women and 25 percent for men.