by Dr. Maximilian Holland: Norway, the electric transport leader, saw plugin electric vehicle share of 85.1% in May 2022, up from 83.3% year-on-year…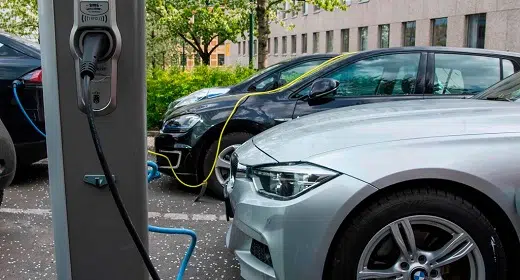 Full electrics grew their share by 1.2x year-on-year to over 73%, whilst plugin hybrids halved their share. Overall auto volumes were down 18% year-on-year, at 11,537 units.
Market Share Trends
May's combined plugin share of 84.2% consisted of 73.2% full battery electrics (BEVs), and 11.9% plugin hybrids (PHEVs). BEVs have grown 1.21x from 60.4% share YoY, while PHEV share has fallen by almost half, from 22.9% YoY.
In an overall auto market 18% down compared to May 2021, BEV volumes were static YoY, whereas PHEVs were down by nearly 60%. Plugless volumes combined were down by some 27% YoY.
Best Sellers
May saw the Volkswagen ID.4 take Norway's bestseller spot, with the Polestar 2 in second, and the BMW iX in third.
Other notable performances included the BMW i4 in 7th spot, with monthly volume over double its previous best (March). The MG Marvel R, in 11th, saw volume 2.5x above its previous high (back in November). Likewise the BYD Tang, in 12th, had its best performance of the year so far.
Stepping back for a broader 3-month view of the market leaders, we see Tesla still strongly dominating, off the back of its March volumes.
There are no big surprises in the upper part of the table, though the €80,000+ BMW iX being in #4 says a lot about Norway's relative wealth. It's good also to see the comparative newcomer BMW i4 now in 15th spot, and soon surely climbing higher.
Potential new entrants to the chart over the coming months are the MG Marvel R and the Cupra Born, so let's keep an eye open for those. Perhaps the Born, with more exciting styling and handling, can make up for the recent weak performance of its VW Group sibling, the VW ID.3?
Outlook
As we know, the current political and economic instability in Europe is having an impact on the auto market, both in disrupted supply chains, increased energy costs of production, and in consumer demand.
Additionally, with the Shanghai gigafactory on lockdown over much of the past 3 months, we can't expect Tesla's June deliveries to Europe to reach anywhere close to normal levels. This will put a dent in the normally strong end-of-quarter results across the continent. Don't fall for any FUD from folks trying to spin this dent negatively.
By the end of Q3, Tesla volumes should be returning to trend. By the end of Q4, Tesla's European gigafactory output volume may be starting to move the needle also.
With energy prices at record highs, folks who are still daily-driving a combustion-only vehicle should be considering their switch to EV. A big problem at the moment is inadequate supply volumes of BEVs, and very long waiting lists. Inevitably then, overall auto sales volumes will continue to be a long way down from seasonal norms, in the months ahead.