Did you know that if your windows are outdated or damaged, you could be wasting 25-30% of your home's heat or air conditioning?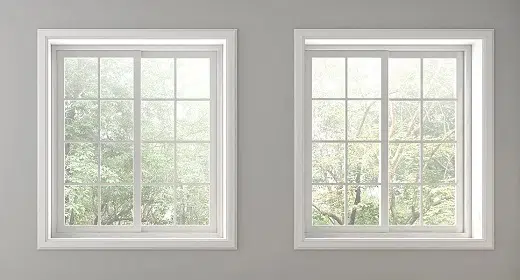 That's not only a waste of resources, but it means you're paying every month for heating and cooling you're not even using. In fact, Energy Star estimates that switching to energy-efficient windows can save the average homeowner up to $583 per year.2
But what type of window installation do you need, and how much will it cost?
Let's start with pricing. The typical cost of a single window replacement in the U.S. is about $600, but this can range from about $200 to $1,200. The factors that will determine your window installation costs include:
The size of window you need
The type of material you choose
The number of windows you need
The location of your home
The installer you choose
The type of installation you need
Generally, there are two types of window installation services: full-frame and pocket installations. Full-frame installations are total window replacements, including removal and reinstallation of the window, sill, exterior trim and interior trim. Pocket installations involve replacing a window within its existing frame. Full-frame installations are more costly, as they require more materials, labor and time to complete.
The decision to go with a pocket or full-frame installation is generally based on things like the age and condition of your home, your home's material, and your budget and time restrictions. A certified installer can help you determine the best choice for your home.
More Energy-Efficient Home Upgrades
Best Window Companies in Austin, Texas
Need new windows in Austin? See our top picks for energy-efficient options in ATX. We go through:
Top window installers
How to choose a window company
The cost of windows in Austin
Which window services you might need
And more
Sustainable Home Improvements for 2022
We give ideas both big and small for making your home more sustainable this year. These include:
Investing in energy-efficient appliances
Starting a compost bin
Using reclaimed materials when possible
Installing efficient lighting
And more
Why Windows?
At EcoWatch, we're focused on helping our readers make the best decisions possible to improve the health of the environment (and save money). Even if something like replacing your windows doesn't seem like a big step forward, each of our actions has a ripple effect, and the small stuff adds up pretty quickly.
How much can these changes really make a difference? Let's look at the facts:
As you can see, the impacts of upgrading to efficient windows aren't insignificant.
Advancements in Windows
Window design professionals generally recommend that homeowners replace their windows every 15 to 20 years. While it might seem like windows haven't changed much in the past two decades — they're just panes of glass, after all — you may be surprised to find out just how far the technology has come. Some of the biggest improvements include:
Materials: Solid wood and aluminum frames and spacer bars used to be the go-to choice, but many alternatives have risen in popularity over the years, mainly for their added efficiency. For example, warm edge spacer bars provide better insulation than their aluminum counterparts because they don't conduct heat as easily.
Gas insulation: Double-pane glass windows have a layer of gas between the panes to increase thermal insulation. This type of window has been around since the 1950s, but while they used to be filled with regular air, they're now often filled with argon or krypton gas, which have better insulating properties.
Coatings: New energy-efficient windows have Low-E, or low-emissive, glass coatings. These thin, see-through coatings control the amount of ultraviolet light and infrared light that can enter your home — without blocking visible light. This provides optimal thermal insulation.
Glazings: You may have double-glazed windows installed on your home, but there's a better option on the market — triple-glazed windows. These provide even more insulation to keep heat inside in the winter and outside in the summer. This type of window is also best for reducing outside noise if you live by a busy street or in a loud area.
In the window installation guides linked above, you'll see our top recommendations for companies that can help you choose which type of window will be the best fit for your home. Or, you can click here to get connected with an installer right away.