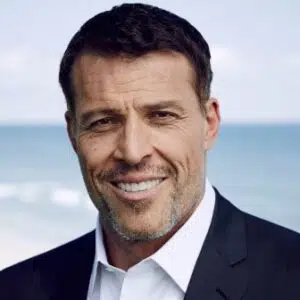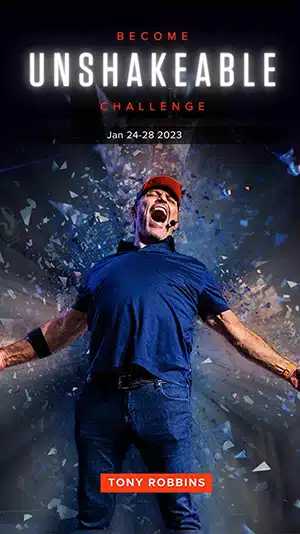 Home Base
Palm Beach, Florida USA
Foundation of Teaching
Motivational, Health, Energy, Relationships,
Excellence
Example of Teaching
"I think Awaken means to get outside of your history, outside of your conditioning, outside of your culture and become present in this moment and see what's real, right now, without the filters. It's the ability to witness the mind and be the master of the mind, instead of having the mind master you. This mind is not going to cooperate and say, "well, let's do this together." I've found in my life that your heart, your soul and your spirit have got to direct that mind, to take charge of it, and use it…or it will use you. And so, I think awakening is learning how to step outside of mind's control and step more into heart's control and to really experience the joy of whatever is happening in your moment."
Total Views: 24,093
Books
Contact
9888 Carroll Centre Road Suite 100 San Diego, California 92126 1-800-466-7111
support@tonyrobbins.com
Anthony (Tony) Robbins
For the past three decades, Anthony Robbins has served as an advisor to leaders around the world. A recognized authority on the psychology of leadership, negotiations, organizational turnaround, and peak performance, he has been honored consistently for his strategic intellect and humanitarian endeavors.
His nonprofit Anthony Robbins Foundation provides assistance to inner-city youth, senior citizens, and the homeless, and feeds more than three million people in 56 countries every year through its international holiday "Basket Brigade." Robbins has directly impacted the lives of more than 50 million people from over 100 countries with his best-selling books, multimedia and health products, public speaking engagements, and live events.
Robbins is an internationally best-selling author with five books published in 14 languages, and he is the creator of the #1 personal and professional development system of all time, Personal Power; more than 40 million audiotapes have been sold worldwide. Robbins has created a system of total immersion that produces the education, strategies, and momentum for measurable and lasting change.
Robbins is also the founder of Mastery University, which brings together the world's leading experts from their respective fields. In the past, Robbins' co-facilitators have included General Norman Schwarzkopf and Secretary of State Colin Powell on leadership, Dr. Deepak Chopra on psychoneuroimmunology, Peter Lynch and Sir John Templeton on finance, and Vice President Al Gore on creating peace in troubled times.
Highly respected as the nation's foremost authority on the psychology of peak performance and personal, professional, and organizational turnaround, Robbins has advised and counseled Fortune 500 CEOs, world-renowned medical doctors, legends in entertainment, and championship sports teams including America's Cup winner, America 3; Stanley Cup finalist, Los Angeles Kings; NBA Champion San Antonio Spurs; and other teams from the National Hockey League, Major League Baseball and the National Basketball Association.
As a recognized catalyst for developing systems and strategies for accelerated and lasting transformations in individuals worldwide, Robbins has been sought after by psychologists and psychiatrists for training. Robbins, along with his partner Cloe Madanes, created almost ten years ago the Robbins-Madanes Center for Strategic Intervention, which produces training materials and programs for the therapeutic community. Together they have trained more than 100,000 therapists.
Robbins' commitment to creating an enduring legacy that will impact the world is surpassed only by his passion for family as a dedicated father of four children and a loving husband to his wife, Sage "Bonnie Pearl" Robbins.
Quotes
"I've come to believe that all my past failure and frustration were actually laying the foundation for the understandings that have created the new level of living I now enjoy."
"A real decision is measured by the fact that you've taken a new action. If there's no action, you haven't truly decided."
"Beliefs have the power to create and the power to destroy. Human beings have the awesome ability to take any experience of their lives and create a meaning that disempowers them or one that can literally save their lives."
"If you can't you must, and if you must you can."
"The path to success is to take massive, determined action."
"In essence, if we want to direct our lives, we must take control of our consistent actions. It's not what we do once in a while that shapes our lives, but what we do consistently."
"Every problem is a gift - without problems we would not grow."
"When you are grateful, fear disappears and abundance appears."
Read More Quotes >>>