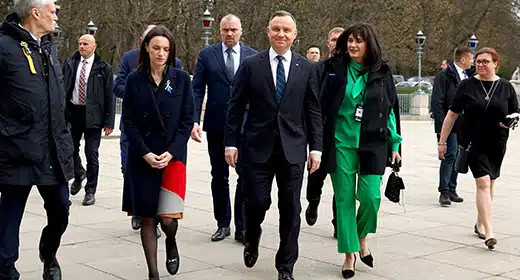 It started with a call to action, grew into a movement, and now world leaders are making new commitments and reaffirming pledges to deliver humanitarian aid to support refugees and displaced people from Ukraine and all around the world.
More than 40 world leaders from Germany to Qatar and Switzerland to Slovakia made and renewed their commitments to Ukraine and all global refugees on Saturday, April 9, as part of a pledging event in Warsaw, Poland for the Stand Up for Ukraine campaign.
The campaign, inspired by Ukrainian President Volodymyr Zelenkyy's call to action, and launched by European Commission President Ursula von der Leyen and Canadian Prime Minister Justin Trudeau, in partnership with Global Citizen, brought together organizations, businesses, artists, actors, advocates, and Global Citizens, to call on world leaders to pledge humanitarian aid to refugees from Ukraine and around the world — to help fill the UN Refugee Agency's $10 billion funding gap.
Since the Russian invasion of Ukraine began on Feb. 24, thousands of lives have been taken while more than 10 million people have been forced to leave their homes and families behind. With an estimated 13 million people in Ukraine in need of urgent assistance and at least 82 million refugees worldwide in need of aid, humanitarian efforts are struggling to reach all those who need help.
Artists, actors, creators, musicians, and Global Citizens banded together on Friday, April 8 to amplify advocates' voices on Twitter, Instagram, Facebook, YouTube, and TikTok in a social media rally piling pressure on world leaders ahead of  Saturday's pledging event. With the call to action ignited across the world, Stand Up for Ukraine saw $10.1 billion (9.1 billion euros) pledged in new grants and loans to support those who have had to flee their homes in Ukraine and around the world.
Although the participation of so many around the world showed the powerful strength of unity and collective action, and what we can achieve when we raise our voices together, there's still more that world leaders can do to continue their support for people facing forced displacement, whether due to conflict, climate change, human rights violations, and more.
Before Russian aggression exacerbated the global refugee crisis, people from Afghanistan, Yemen, South Sudan, and many more regions were already being forced to flee their homes and these displaced people deserve global support too. Take action in support of all refugees globally here, and take this action today to urge world leaders to act now to prevent a global food crisis being triggered by the conflict in Ukraine.
Here are quotes and pledges from the dozens of world leaders that answered the call to action to Stand Up for Ukraine and for all refugees globally.
1. Scott Morrison, Prime Minister of Australia
"We might be separated by half an earth but Australia stands with Ukraine," said Morrison.
Morrison announced no new pledges but reiterated Australia's commitment to support Ukrainian efforts. He also mentioned that along with prioritizing Ukrainian visa applications, Australia has provided $65 million toward refugee relief efforts and is working with the UN and UK to provide additional humanitarian assistance.
He added: "The courage of Ukrainians is inspiring the world, we stand with them in this struggle, in their struggle for freedom."
2. Alexander Schallenberg, Minister of Foreign Affairs of Austria
"In these dark hours, Austria stands with Ukraine. What the Ukrainian people desperately need and what they deserve is peace," Schallenberg said. "So my message to President Putin is simple: Silence the gun, pull back your troops, and end this war."
3. Mustafa Alsayed, Secretary General of The Royal Humanitarian Foundation, Kingdom of Bahrain
"We wish the people of Ukraine a safe and quick end to their suffering, and we support all the initiatives taken to provide support and bring peace and stability to this important part of the world," Alsayed said.
4. Alexander de Croo, Prime Minister of Belgium
"We're all brokenhearted by what is happening. Everyday we're shocked by the sheer inhumanity," de Croo said. "Homes and hospitals being destroyed. Families torn apart. Grandparents not knowing if their grandchildren are still alive. From the first hour, the first day, people in Belgium have opened their hearts and their homes for families on the run."
De Croo announced that the Belgian government would continue to support Ukraine and Ukrainian refugees with an 800 million euro pledge.
"At this very moment, Belgian trucks are on the road to Ukraine with medical assistance and food. We'll continue our efforts as long as needed," he pledged. "Belgium will not leave anyone behind."
5. Kalina Konstantinova, Deputy Prime Minister of Bulgaria
"We have full confidence that we are capable and prepared to welcome and take care of more people in need," said Konstantinova "Bulgaria is a small country with a big heart. Bulgaria stands for peace. Bulgaria stands with Ukraine.
6. Andrej Plenković, Prime Minister of Croatia
"Croatia pledges another 100 million euros in assisting Ukrainian refugees that we shall be receiving in our country in these dire times for the Ukrainian people," Plenković announced.  "We will continue our support, our solidarity, and our help in these moments when we are standing by Ukraine and the Ukrainians."
7. Carlo Monticelli, Governor of the Council of Europe Development Bank
"The Council of Europe Development Bank stands passionately behind Ukraine and their people," said Monticelli.
On behalf of the Council of Europe Development Bank, Monticelli announced a 1 billion euro loan to member states to support long term needs of refugees and the areas they have evacuated to.
"We are proud to be part of the Stand Up for Ukraine campaign and join forces with others to stand up against this war and to contribute for peace in Europe.
8. Nicos Anastasiades, President of Cyprus
"In addition to our commitments so far, which are exceeding 2 million euros, I would like to announce a fresh and symbolic financial commitment of 100,000 euros to support the humanitarian work undertaken in Ukraine and neighboring countries by the relevant entities of the United Nations agencies."
9. Petr Fiala, Prime Minister of Czech Republic
Fiala emphasized the need for more assistance for the 300,000 Ukrainian refugees who have arrived in Czech Republic, most of whom are women and children, and announced that 200 million euros would be released in support of those refugees.
"We will also continue to help directly in Ukraine," he said. "You can count on that. The Czech Republic stands behind Ukraine."
10. Mette Frederiksen, Prime Minister of Denmark
"Our world changed six weeks ago. A brutal aggressor invaded a peaceful and democratic country. We have all seen the horrible pictures from the war. The total lack of humanity. It is heartbreaking," Frederiksen said. "Denmark stands in full solidarity with Ukraine. We support your fight for freedom and peace. And we open our hearts and homes to Ukrainians fleeing the war."
Frederiksen added that Denmark has donated $53 million toward support in Ukraine and neighboring countries along with $22 million to the World Bank's budget support package for Ukraine. She also stated that her country is "ready to do more."
She said: "I speak for all of Denmark when I say: We stand by you and we believe in Ukraine."
11. Odile Renaud-Basso, President of The European Bank for Reconstruction and Development
"The invasion and war is a tragedy for the country and its people, and we are determined that we should stand up for Ukraine alongside our many friends and partners," said Renaud-Basso. "Millions of people have been displaced either within Ukraine or forced to live as refugees, and alleviating the impact on them is one of our main priorities."
Renaud-Basso and the EBRD announced a pledge of 1 billion euros to support Ukrainian refugees as part of a larger resilience package that will also benefit surrounding countries taking in refugees. The plan also includes investments in municipal infrastructures such as funding companies so that refugees can find work.
"I congratulate you on organizing this initiative, and I'm sure that together we can make a difference," Renaud-Basso told Global Citizen.
12. Werner Hoyer, President of the European Investment Bank
Hoyer announced that the European Investment bank plans to mobilize 4 billion euros toward investments and refugee assistance by the end of 2023.
"As millions of Ukrainians flee their homes seeking safety, we cannot be paralyzed by horror," he said. "We must live up to the exemplary bravery and resilience of the Ukrainian people. We have to support them and those who are hosting them in Poland and elsewhere."
13. Sanna Marin, Prime Minister of Finland
"Finland is ready to assume its responsibility in this common effort. There is no time to waste," Marin said, describing the concerted efforts of Finland and the EU.
Marin emphasized the importance of providing assistance to vulnerable groups including children and refugees with disabilities. She also announced that her government has decided to allocate 700 million euros to help those seeking refuge in Finland, with an additional 40 million euros for humanitarian aid in Ukraine, and 1 million euros for aid in Moldova.
"Our entire society is with the Ukrainian people," she said. "We [will] do our best to help Ukraine and those fleeing from the atrocities of the war."
14. Olaf Scholz, Chancellor of Germany
"Only a few hundred meters from here, at Berlin Central Station, trains with Ukrainian refugees are pulling in by the hour. I met with some refugees a few days ago. Their stories are heart wrenching," Scholz said. "I told them that they are welcome here and that in a joint effort, the federal government, our lender, and our local communities are doing all we can to provide shelter, health care, schools, and a safe future."
Scholz added that Germany has pledged 425 million euros to humanitarian assistance for Ukraine and its neighbors plus 70 million euros for medical supplies through the European Civil Protection Mechanism.
He said: "Germany stands with Ukraine and side by side with all of you."
15. Kyriakos Mitsotakis, Prime Minister of Greece
"When the war is over, we should rebuild what was destroyed and make it better for the heroic people of Ukraine," said Mitsotakis. "That is why Greece commits to rebuild Mariupol Maternity Hospital as we stand up for Ukraine and lift our sights for the future. What better way to do so than by securing the best conditions for welcoming new life?"
16. Ignacio Galán, Chairman and CEO of Iberdrola
"I can announce today a further donation of 1 million euros to international organizations. Iberdrola is and will remain committed to help," Galán said, adding that Iberdrola and its employees have also provided electrical equipment and humanitarian supplies to Ukraine.
17. Micheál Martin, Taoiseach [Prime Minister] of Ireland
"We pledge from within our national resources and in line with the Temporary Protection Directive to provide our state support to them, including social welfare, accommodation and housing support, education, and health care, as we have said to the many thousands of Ukrainians who have fled to Ireland," said Ireland's Taoiseach Micheál Martin. "Our home is your home."
Martin announced a commitment of over 50 million euros for humanitarian aid and pledged ongoing support including 20 million euros to support people in Ukraine and in neighboring countries.
18. Mario Draghi, Prime Minister of Italy
.@Draghi_Italy Thank you for joining Global Citizens to #StandUpForUkraine, and for your €360M in humanitarian aid. https://t.co/UhjOZGe78Qpic.twitter.com/xlg5QwlXb5

— Global Citizen Impact (@GlblCtznImpact) April 9, 2022
"Italians have thrown open the doors of their homes and of their schools. We will not look the other way," said Draghi, alluding to new governmental funding for Ukraine that would come in addition to the 500 million euros that has gone toward assisting refugees in Italy and 110 million euros for the Ukrainian government.
19. Katrín Jakobsdóttir, Prime Minister of Iceland
"Iceland stands in full solidarity with Ukraine in the face of Russia's brutal military aggression," Jakobsdóttir said.
Jakobsdóttir also added that Iceland has welcomed 600 Ukrainian refugees, contributed roughly half a billion Icelandic króna (US$3.8 million) to humanitarian efforts in Ukraine, and has allocated funds to the UN Office for the Coordination of Humanitarian Affairs (OCHA), the UN Refugee Agency (UNHCR), the UN Population Fund (UNFPA), the UN Children's Fund (UNICEF), the International Committee of the Red Cross (ICRC), the Icelandic Red Cross, and the World Bank's Reconstruction Fund.
"I thank the organizers of the Stand Up for Ukraine campaign," she said. "Iceland is ready to do more and the people of Iceland stand with the people of Ukraine."
20. Fumio Kishida, Prime Minister of Japan
"Japan stands with the people of Ukraine who are facing a national crisis," said Japan's Prime Minister Fumio Kishida. He announced that Japan will provide a total of $300 million — including $200 million in emergency humanitarian assistance through international organizations and NGOs, for example of health and medical care, food assistance, and protection of displaced people, and $100 million in loads to support Ukraine's economy.
"Japan will continue to implement assistance in solidarity with the Ukrainian people," he continued. "Stand up for Ukraine!"
21. Egils Levits, President of Latvia
"Ukrainians will withstand this tragedy and once the war is over, they will rebuild their beautiful country with our help. We stand with Ukraine," said the President of Latvia, which has provided both humanitarian and military aid to Ukraine.
22. Gitanas Nausėda, President of Lithuania
"Today I call on every country of the free world and all their citizens to join forces. We must all act united to stop the war. We must save and protect the innocent whose lives are being destroyed by this brutal aggression," Nausėda said. "Our moral duty is to help Ukrainian refugees by all means possible."
23. Xavier Bettel, Prime Minister of Luxembourg
"Luxembourg stands up for Ukraine too. My government is fully committed to helping those fleeing the horrors of the war in Ukraine, be they in or outside of Ukraine," Bettel said.
The Prime Minister added that Luxembourg has been able to help 4,000 refugees so far and arrangements have been made to guarantee education for every child attending primary or secondary school. Ukrainian students will also be able to attend the Luxembourg University to continue their studies.
Bettel added: "Let me also take this opportunity to express my great satisfaction and gratitude for the solidarity that the people of my and many other countries have shown by letting people share their homes, by organizing charitable events, or by donating to organizations active in helping refugees and displaced people."
24. Robert Abela, Prime Minister of Malta
"We have not been blind to the urgency and scale of this tragedy and to the impact it has had on internally displaced people and refugees," said Abela. "The international community and the EU, including Malta, have welcomed refugees fleeing from Ukraine with open arms and supported the basic needs of those suffering from the consequences of war."
25. Andrés Manuel López Obrador, President of Mexico
"Peace must be reached so that neither the people of Ukraine, nor the people of Russia, nor any other nation in the world continues to suffer from such absurdity; because wars are disgraceful and must never be sought," Obrador said. "That is why we join the peace efforts and humanitarian relief because we must support the victims of this preposterous war and, again, make every attempt to stop it immediately so that the people stop suffering. I send a fraternal hug from Mexico."
26. Jonas Gahr Støre, Prime Minister of Norway
Støre announced that Norway would soon contribute 100 million euros to its partners in the EU, UN, the Red Cross, and Norwegian humanitarian organizations.
"We are now welcoming Ukrainian refugees to Norway," he said. "My government is working hard to make sure they are received and settled in a good, decent, and hospitable way. Norway stands up for Ukraine as we all should."
27. Mark Brzezinski, US Ambassador to Poland
Brzezinski reiterated the US support for Ukraine and announced that the US is preparing to provide over $1 billion in new funding to those affected by the war. The assistance would provide access to food and water in addition to emergency health supplies.
He said: "On the ground here in Poland, I am immensely impressed by the support for Ukraine and simply could not be more proud to serve as the US Ambassador to Poland."
28. Lolwah Rashid Al-Khater, Assistant Foreign Minister of the State of Qatar
"The world is going through difficult times and multiple crises that force many people around the world to move to a safer place and look for a better future," Al-Khater said.
"This is the situation we see today for the Ukrainians who are going through a bleak period of their history," she continued. "This is the situation for the millions of refugees who have suffered from the scourge of wars and from ignorance of the international community to their suffering, such as the Syrian refugees, not to mention the longest refugee tragedy in modern history, which is the tragedy of the Palestinian refugees."
Al Khater also announced a $5 million pledge through the Qatar Fund for Development in humanitarian aid for Ukrainian refugees and displaced people.
She added: "I reiterate my thanks to all those in charge of this conference, with our sincere condolences to the families of the victims and our wishes for an urgent solution to this human tragedy."
29. Nicolae Ciucă, Prime Minister of Romania
"Romania stands with you, people of Ukraine, millions of children, women, seniors [who have] abandoned their homes, fleeing an atrocious and illegal war," Ciucă said. "These are times for solidarity, courage, and kindness. We all hope for peace, but until then we stand up for Ukraine."
30. Thomas Triomphe, EVP, Sanofi Vaccines & Vanina Laurent-Ledru, Head of the Foundation at Sanofi
Triomphe and Laurent-Ledru announced a 5 million euro donation and added that Sanofi had donated nearly 300,000 vaccines to Ukraine and three neighboring countries in partnership with the EU, Hera, and the ER Civil Protection Department.
"Through our Sanofi Foundation, we have been able to donate essential medicines which, added to our vaccines donation, can now amount to 22 million patients in Ukraine and neighboring countries," Laurent-Ledru added.
31. Eduard Heger, Prime Minister of Slovakia
Heger announced a commitment of 530 million euros to Stand Up for Ukraine, with an additional 5 million euros to the Slovak Ukrainian cross-border cooperation. He added that the Slovak government is also supporting the digital platform School To Go which brings online education to Ukrainian children.
He said: "Slovakia stands in solidarity with Ukraine, and as a loyal neighbor, we want to help both refugees fleeing the war as well as the internally displaced persons in Ukraine."
32. Janez Janša, Prime Minister of Slovenia
"I commend especially neighboring countries for their unprecedented hospitality and taking care of millions of Ukrainian refugees," Janša said. "Slovenia is also accepting all the refugees coming from Ukraine to our country and stands ready to assist further."
Janša pledged nearly 1 million euros through the International Committee of the Red Cross and the World Food Programme, as well as assistance for Ukrainian refugees in Moldova, Slovakia, and Poland.
He said: "We stand in solidarity with Ukraine, Slava Ukrani."
33. Pedro Sánchez, Prime Minister of Spain
"As impossible as it might seem, war has returned to Europe. We witness terror, death, and destruction. We hear and see increasing reports of unspeakable war crimes against civilians," Sánchez said. "Four million people are fleeing while they can, at a speed unknown in previous crises. We need the world to stand united to stop the war and help Ukraine face a terrible humanitarian emergency."
Along with mention of welcoming centers being opened in Spain and temporary protection status for refugees, Sánchez emphasized that the Spanish government has committed 31 million euros in aid, 23 million of which will go toward internally displaced people in Ukraine while the remaining 8 million euros will be given to the neighboring countries taking in the majority of refugees.
"It's about solidarity, but also about not standing still in the face of the horror of war," said Sánchez. "Spain was there before and will also be today."
34. Magdalena Andersson, Prime Minister of Sweden
On behalf of Sweden, Andersson pledged 300 million euros in support of Ukrainian refugees arriving in the country, in addition to the 72 million euros in humanitarian aid that had been contributed since Russia invaded Ukraine.
"I am glad and proud to be part of [this] campaign," she said. "Stand up for Ukraine. Slava, Ukraine."
35. Ignazio Cassis, President of the Swiss Confederation
Cassis announced a pledge of 80 million Swiss francs (over 78 million euros / about US$85.5 million) in support of Stand Up for Ukraine, while urging more leaders to lend support.
"We commend the immense solidarity shown [to] Ukraine, by Ukraine's neighbors. We stay ready to further support them according to their needs and in close collaboration with the EU," he vowed. "We call on the international community to respond to the needs of displaced people in a way that is consistent with international law."
He continued: "Switzerland condemns the Russian military aggression against Ukraine in the strongest possible terms and urges Russia to withdraw its troops from Ukraine territory without delay."
36. Boris Johnson, Prime Minister of the United Kingdom
"Our Ukrainian friends are fighting back heroically, but every day they're paying a terrible price. Almost 11 million men, women, and children — that's a quarter of Ukraine's entire population — have been driven from their homes," said Johnson.
He also reiterated the UK's support, announced in the last two months, of £400 million in humanitarian and economic aid in addition to £500 million of credit guarantees for Ukraine. No new commitments were made.
37. Kamala Harris, Vice President of the United States
"To all those fleeing the violence, you are not alone. Around the world, we feel a strong sense of responsibility to help," Harris said.
Harris spoke about her recent experience visiting refugees in Warsaw and hearing their stories. She reiterated the US' commitments to Ukraine and spoke on the country's recent decision to grant $1 billion in renewed funding and the announcement that the US would take in 100,000 refugees from Ukraine.
"Our work is part of a partnership, and we are proud to take these actions alongside the EU and Canada, dozens of other countries, and thousands of people around the world," she said. "A humanitarian crisis of this scale will require our continued attention. We stand united with the people of Ukraine and we will continue to stand up for them."
38. Kaja Kallas, Prime Minister of Estonia
"Russia's war against Ukraine is an attack against humanity. The world must help Ukraine in every possible way," Kallas said. "Estonia has donated over 1 million euros in direct humanitarian aid and today I pledge 100,000 more. With our businesses and citizens our aid is 12 million euros and more support to internally displaced people and refugees will be on the way. Now is the time for all of us to go that extra mile. Now is the time to stand up for Ukraine."
39. Albin Kurti, Prime Minister of Kosovo
"To stand up for Ukraine, we pledge to host up to 5,000 refugees. We have already allocated funds as humanitarian aid for Ukraine, as well as a specific fund to host 20 Ukrainian journalists and provide them with living and working conditions in Kosovo," Kurti said.
40. Jasem Al Budaiwi, Ambassador of The State of Kuwait to the Kingdom of Belgium
"I am pleased to announce, and upon direct instruction from his highness the Emir of the State of Kuwait,  the allocation of $2 million to specialized United Nations agencies," Al Budaiwi announced. He continued to share that the $2 million would be directed toward the UN Refugee Agency, the International Organization for Migration, UNICEF, and more humanitarian organizations.
41. Bisera Turković, Minister of Foreign Affairs of Bosnia and Herzegovina
"Bosnians, if anyone, can understand the pain and suffering of the Ukrainian people," Turković said. "In an effort to meet massive and urgent relief and protection needs for civilians across the country and in support for refugees and internally displaced persons from Ukraine, the Council of Ministers of Bosnia and Herzegovina approved 300,000 marks (around 153,000 euros) from the current reserve of institutions of Bosnia and Herzegovina to be delivered to the Red Cross of Ukraine from the Red Cross in Bosnia and Herzegovina."