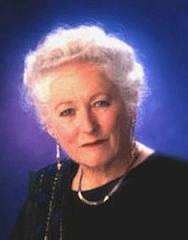 Place of Birth
Larwill, Indiana, USA
Foundation of Teaching
Psychology, Bioenergy, Energy Field Work
Example of Teaching
"Lower vibrations exist with material reality, higher ones with mystical reality, and a full vibrational spectrum with expanded reality."
Total Views: 24,108
Valerie Hunt Ed.D.
Born in Larwill Indiana, Dr. Valerie V. Hunt (July 22, 1916 – February 24, 2014) was a scientist, author, lecturer and Professor Emeritus of Physiological Science at the University of California, Los Angeles.
Best known for her pioneering research in the field of bio energy, her visionary approach coupled with a rigorous adherence to the highest scientific standards won Dr. Hunt international acclaim in the fields of physiology medicine and bio engineering.
She was the first to develop the protocols and instrumentation necessary to detect and record the body's high frequency energy fields with the spectral analysis of bio energy patterns. She discovered the neuromuscular patterns of non-verbal communication and her groundbreaking research has led to the first truly scientific understanding of the relationship between energy field disturbances, disease, emotional pathologies, human field communication and the energy spectrum of consciousness.
She continued her research abroad with analysis of ritualistic healing and mystical beliefs in the Orient, South America, Africa and the Pacific Islands. Dr. Hunt has consulted for NASA, served with the US Department of Health, Education & Welfare, taught courses in 20 medical colleges and universities, held professorates at the University of Iowa, Columbia University and U.C.L.A., and is an honored listee in the Marquis Who's Who lists for America (American Women) and the World (Education, Medicine and Healthcare, and Science and Engineering).
A popular author and coveted public speaker, she maintained a full calendar of writing, lecturing and interviews in addition to her continued commitment to advancing research as Director of the BioEnergy Fields Foundation.
Dr. Hunt is the author of Naibhu, Infinite Mind, Mind Mastery and most recently, Uncork Your Consciousness. She made her home overlooking the Pacific Ocean in sunny Malibu, California, where she lived until her passing in 2014. She was 97 years old.
Quotes
"Lower vibrations exist with material reality, higher ones with mystical reality, and a full vibrational spectrum with expanded reality."
"When you embrace the greatness of your soul you can model for yourself, others and the world the moral and lofty truths with the broadest wisdom and unencumbered love."
"Recognize that the soul's greatness cannot be discovered when strong emotions of anger and fear hide the soul's brilliance."
"From these bodily sensations we create a reality in which our body is constantly present."
"Is meditation important? Yes, it becomes a habit of time, place and focus on the etheric, with more possibilities than quiet contemplation. But because of the formality of most techniques and beliefs systems, it has also the potential weakness of becoming an escape for peace."
"The energy of  fear and anger protects our soul and body; love embellishes both."
"Empowering means action, energy, strength, dedication, passion, and caring deeply."
Read More Quotes >>>