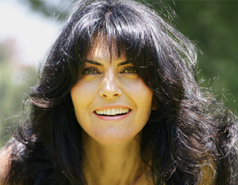 Home Base
Santa Barbara & Bevelry Hills, California
Expertise
Doctor of Depth Psychology
Quote
"The goal of our work together is for you to know that you can meet anything…. You need not be afraid of yourself; you need not be afraid of your life."
Total Views: 14,901
Dr. KD Farris
Dr. KD Farris's roots as a therapist, healer, and bodyworker have seeded over the past thirty years, bringing substance and depth to her one-on-one sessions with couples and individuals, as well as to the workshops and speaking engagements she tours across the country.
She is currently touring a workshop series dedicated to people in transition—be the transitions natural stages of life, sudden or unexpected changes, by choice or thrust upon us. This aspect of our lives is also known as "liminal space." While KD has always specialized in working with people in transition, it is only recently that she began speaking and teaching on the subject of liminality.
She is also the creator of MESHE, HESHE, MISON & ORBIT, a body of work best described as "an artistic soulful journey into the interweaving relationship of self, life and other" that is our experience of being alive. In 2000, she authored a book that wraps these principles into a spiritual coming-of-age story. She has been writing and teaching on this subject since 1985.
For nearly thirty years she has maintained a private practice, which has grown and evolved over time but has always consisted of process-oriented consciousness work—a means by which to enter safely and deeply into the inner landscape of the psyche for positive and real world change. Her results-oriented approach to psychology is derived from the commitment to a conscious process and the intrapsychic relationship one can access when choosing to turn toward—and look at—oneself.
KD holds a Ph.D. in Depth Psychology from Pacifica Graduate Institute of Santa Barbara, California. Her emphasis of study was in Jungian Psychology and Liberation Psychology. She has also studied closely with a dharma teacher since 1994.
Since 2001, she Dr. Farris has written a column entitled Being Present for award winning online magazine SoulfulLiving.com.
KD is also a contributing developer and co-lead facilitator of the workshop series Archetypes of the Feminine & Masculine.