by Hopper.com: Towering mountains, deep canyons, dry deserts, wide meadows, craggy coasts, dense forests…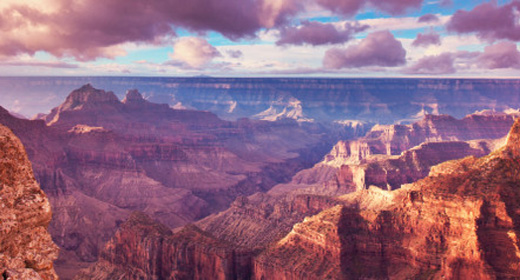 an immensely varied natural world covers the United States. This collection of 10 of the most scenic American national parks captures this variety at its most extreme. It moves from desert to glacier to coast, and features national parks in California and Maine as well as Hawaii and Alaska.
10. Check out the hoodoos of Bryce Canyon, Utah
Bryce Canyon at Sunrise, by Al King.
Limestone, easily eroded by ice and rain water, gives rise to some of the oddest-looking landscapes in the world. Bryce Canyon undoubtedly numbers among them – it's a great vista of carved pillars, twisted plinths and natural tunnels, dotted with clusters of pine trees clinging on to the sharp red rock. These strange formations are known as "hoodoos," and they are an incredible sight.
9. Discover the unique ecosystem of the Channel Islands National Park, California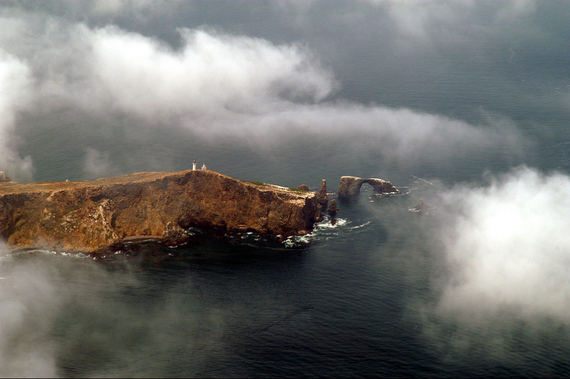 Channel Islands National Marine Sanctuary, by NOAA's National Ocean Service's.
An archipelago of eight islands off the coast of California, the Channel Islands are a vibrant natural world containing a great diversity of plant and animal species. Like the Galapagos, its isolated position miles from the American mainland meant that plants and animals were able to evolve to suit the precise characteristics of the land which they colonized. This has created a unique ecosystem and natural world, encircled by the sparkling blue ocean which kept it separate for so long.
8. Hit the heights in the ice-carved Glacier National Park, Montana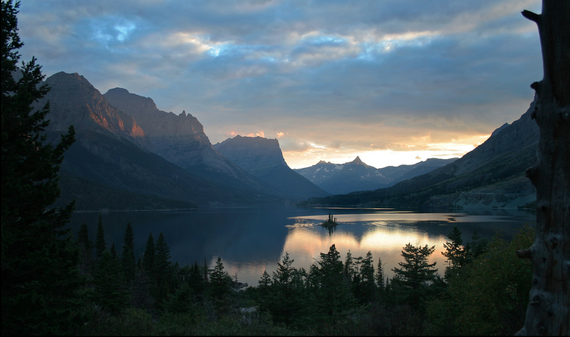 Glacier National Park sunset, by B D.
Just above Yellowstone, Glacier National Park has further challenges for dedicated hikers and adventure-seekers. It largely lacks the selection of simpler trails and amenities that exist in parts of Yellowstone, and consequently is a great place for nature lovers to escape into solitude and commune with the wilderness. Hike and sleep in mountains, meadows and forests, all raised to a high elevation.
7. Join the packs of wolves and bears in Yellowstone National Park, Wyoming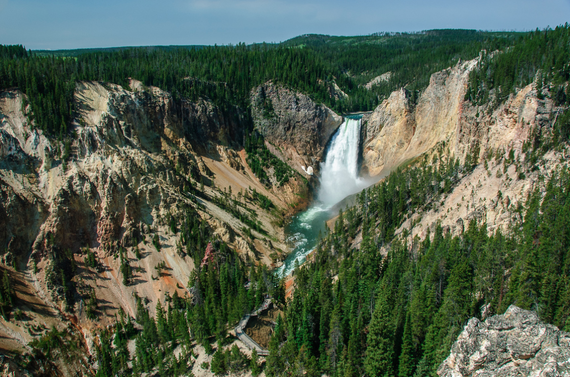 Yellowstone waterfall, by Loren Kerns.
Yellowstone's seething geysers, snow-blanketed mountains and pine-filled valleys inspired the very concept of the national park: It was the first site to be designated as such, all the way back in 1872. It remains a true wilderness today, roamed by wolves, bears and herds of bison and elk.
6. Gaze over the plateaus and canyons of Zion National Park, Utah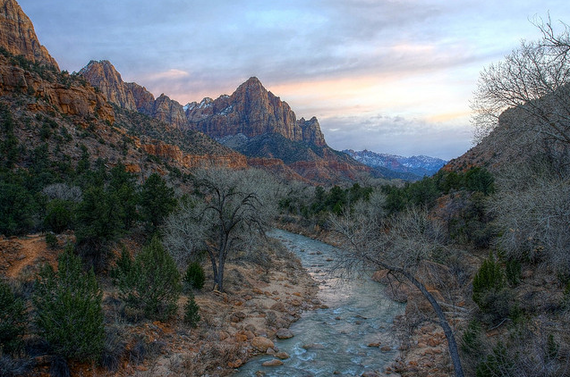 Zion National Park, by Rene Schwietzke.
Zion is a place of melodramatic nomenclature — along with its epic name, its sharply cut sandstone cliffs loom above the Virgin River. But when walking along the high plateaus, peering into the sudden slot canyons, and winding down the side of a vertiginous gorge, it's easy to see why the early pioneers who named it in English were drawn to such drama. Its many hiking routes lead to some of the most expansive and spectacular views in the United States.
5. Roam Maine's exposed coastal terrain in Acadia National Park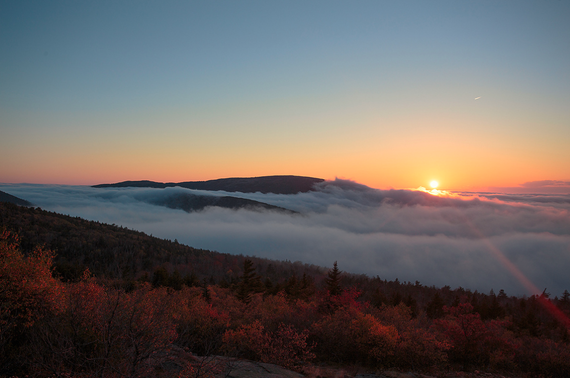 Sunset from Cadillac Mountain, by Mr Seb.
Acadia National Park runs along the Maine coast, looking out over the blue expanse of the Atlantic Ocean. It encompasses a craggy shoreline of foaming waves, exposed rock and the occasional sheltered cove. Inland, the terrain rises and falls dramatically, with craggy mountains looming over marshy meadows. Broken stone roads, built for horse-drawn carriages in the late 19th century, make for great hiking and cycling routes through this coastal wilderness.
4. Peer into the great rusted gulf of the Grand Canyon, Arizona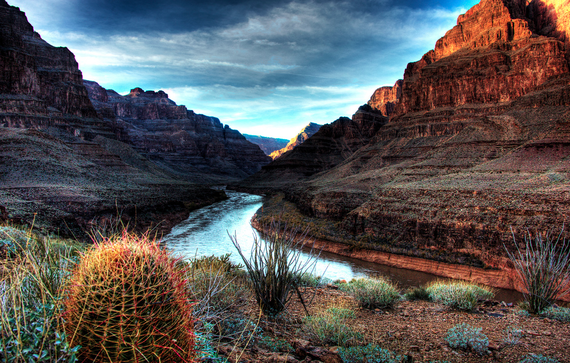 Grand Canyon, by Randy Pertiet.
Carved by the Colorado River, the Grand Canyon is one of the world's great geological wonders: up to 18 miles wide and a mile deep. Condors swoop above the jagged canyon sides, which fall steeply down to the river below. There are a variety of ways to experience it: You can drive up to one of its many lookout points, the most popular being the South Rim; or the more adventurous can delve down into its depths, on foot, mule or kayak.
3. Explore forests and encounter wildlife at Yosemite National Park, California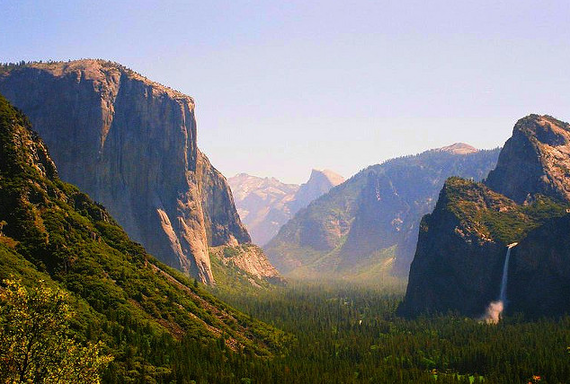 Tunnel View, Yosemite NP, by Navin75.
Cutting through the heart of California, Yosemite National Park is a sublime wild world of crashing waterfalls, swaying meadows, giant forests and granite cliffs. Eight hundred miles of hiking trails run through all this, guiding visitors up and down the dizzying landscape. Yosemite is also a haven for wildlife, with bobcats, red foxes and black bears moving between the open meadows and the cover of the forests.
2. Step into a tundra wilderness at Denali National Park, Alaska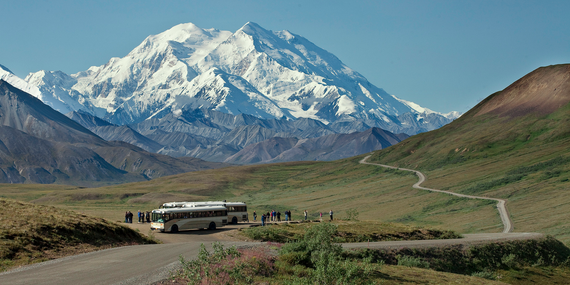 Denali National Park, by Denali National Park and Preserve's.
Travel north into Alaska and discover an ecosystem unlike anything in the rest of the United States. Denali National Park is a vast tapestry of coniferous forest, alpine tundra and mountain slopes. Overlooking it all is the towering peak of Mt McKinley, the tallest mountain in North America. One cool way to reach Denali is with Alaska Railroad on its Denali Star, which travels between Anchorage and Fairbanks and has a stop at Denali.
1. Visit the volcanic birthplace of Hawaii at Volcanoes National Park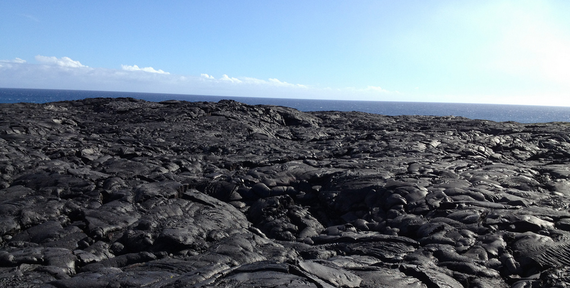 Hawaii Volcanoes National Park, by Colleen McNeil.
This national park encompasses two of the gargantuan volcanoes whose activity created the islands of Hawaii millions of years ago. Named Mauna Loa and Kilauea, they remain two of the world's most active volcanoes — and Mauna Loa has the greatest mass of any mountain on earth. But despite these formidable characteristics, their terrain has been altered by millennia of migration, both plant and animal – including, of course, human. All these varied influences are etched on the contours of this barren and strikingly beautiful national park.
Source: Huffington Post