by Itamar Eichner, Dudi Goldman, & Yaron Kelner: Research ranks quality of Israeli nutrition as ninth in the world, best among Western countries.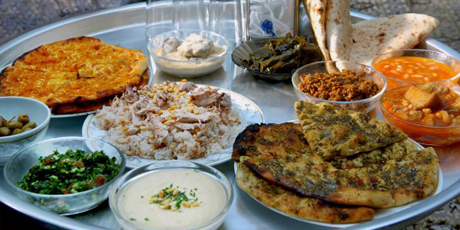 Israel's is the country with the healthiest diet in the West, and the nine healthiest diet in the world, according to a new global study published in The Lancet Global Health journal.
Israel's Mediterranean neighbors – especially Turkey, Greece and Italy – received compliments in the research as well.
The Israeli nutrition is considered healthy because it is based on increased consumption of fresh vegetables, olive oil, fruit and grains and on moderate consumption of proteins.
In addition, Israel does have a culture of eating processed food, but not as much as in the United States, Canada and other Western countries. In fact, the study places Israel in the same category as poor African countries like Somalia and Sierra Leon, which have alarming hunger rates, but the research shows that there is no correlation between money and the quality of nutrition: Vegetables and grains, which are considered the healthiest food items, cost very little compared to processed foods which include flavoring and preservatives.
The study was led by Dr. Fumiaki Imamura of the University of Cambridge, who looked into the eating habits in 187 countries with almost 4.5 billion adult residents.
According to the researchers, healthier people eat more grains and legumes, milk, dietary fiber, omega-3s, fish and fruit.
The researchers explained that African countries received the highest ranking thanks to their simple and unprocessed menu and the lack of junk food. While these countries' residents suffer from hunger and poverty, they actually have the healthiest food in the world.
Chad, one of the poorest countries in the world, was ranked as the country with the healthiest diet overall, followed by Sierra Leon, Mali, Gambia, Uganda, Ghana, Ivory Coast, Senegal, Israel and Somalia.
The country with the least healthiest diet overall is Armenia, followed by Hungary, Belgium, the Czech Republic and Kazakhstan.
According to British newspaper The Independent, the study shows that high-income nations, such as the US, Canada, Western European nations, Australia and New Zealand, have better diets based on healthy items but substantially poorer diets when unhealthy food was considered.
Countries in sub-Saharan Africa and some Asian nations, including China and India, saw no improvement in their diets over the past 20 years.
The study also found that women's eating habits are healthier than men, and that older people eat better than younger adults. The researchers expressed their concern over the increase in the consumption of junk food around the world despite nutrition's critical effect on life expectancy.