This month marks 50 years since martial arts superstar Bruce Lee opened his Los Angeles kung fu studio…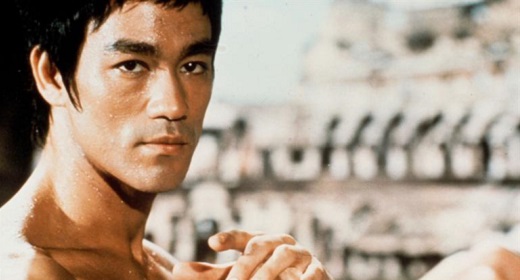 It's where he trained Hollywood's elite, from Steve McQueen and James Coburn to Chuck Norris and James Garner. But these days, Lee's pen is proving to be even mightier than his punches.
It was only a few years ago that Lee's family regained control of his licensing rights and likeness, reports CBS News correspondent Ben Tracy. Although his wife, Linda, has stepped out of the spotlight, his only surviving child, Shannon, has taken over her father's legacy – and she's making sure the world knows her dad was as much a deep-thinking poet as a hard-hitting warrior.
Lee, recognized all over the world, made fight scenes look like some sort of brutal ballet. He popularized martial arts in the western world and changed the way Asians were portrayed on the big screen.
Shannon Lee was 4 years old in 1973 when her father died from a traumatic brain injury. He was just 32.
"What I remember most about him … is the feeling of him, his energy, how it felt to be in his presence," Shannon said.
Now we're learning Lee the fighter was also a philosophical writer.
"I think a lot of people don't understand the depth of his character, his knowledge and what was really foundational about the man, which was his philosophy," Shannon said.
In her mid-20s, Shannon discovered dozens of letters and essays her father left behind, including one he continuously re-wrote during the last year of his life.
"I have always been a martial artist by choice, an actor by profession, but above all, am actualizing myself to be an artist of life," Lee wrote.
"What do you make of the fact that he has nine drafts?" Tracy asked.
"He's in process, he's working it out on the page, you can see it. He has crossed out things and written in other words in different pen colors," Shannon said. "It was a moment in time for him to very intentionally try to communicate, who is Bruce Lee? What is he really about?"
It was a difficult moment in his life. He was finally achieving his goal of making a mainstream Hollywood film, the 1973 classic "Enter the Dragon."  But Shannon said the studio wanted to take out all of the philosophical elements he insisted on adding to the script.
"And he fought. He fought with the writer, he fought with the producers … and he said 'No, I am not coming onto set until you guarantee me that this is going to be in the film,'" Shannon said.
He got his way.
"What a gift this must be for you as a daughter who lost your father when you were young, to have all of this?" Tracy said.
"Yeah, it's such a gift," Shannon responded.
But finding this gift came with a great loss.
"Right before my 24th birthday, my brother was killed, and that plummeted me into quite a depression for many years," Shannon said.
The 28-year old Brandon Lee died in 1993 after accidentally being shot on the set of the movie "The Crow." Shannon found comfort in her father's words.
"I came across this quote that started with 'the medicine for my suffering I have within me' … and I remember it hitting me so clearly right in the chest. You have the ability to shift out of this, you just have to look for the path, and find the way. And so I did," Shannon said.
She's now sharing her father's philosophy with the world through her podcasts.
"He had his quote, you know, 'under the sky, under the heavens, we're all one family,'" Shannon said during one of the podcast recordings.
They've been downloaded more than 1.3 million times.
"It's mostly millennials, it's mostly young people," Shannon said. "It thrills me that people are grabbing onto the philosophy, they're getting the message. They're getting to know who he is beyond the movies."
Shannon said she's aware some people think she is just trying to make money off of her father's celebrity. But she said Bruce Lee was all about reaching people through entertainment, and now she is doing the same.