by Dr. Wayne W. Dyer:  "Imagination is more important than knowledge. Knowledge is limited. Imagination encircles the world."  — Albert Einstein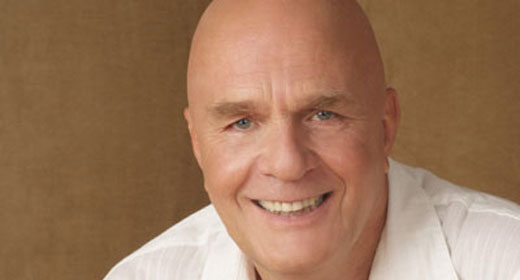 While walking down a crowded street in London many years ago, I noticed a window display devoted to the English poet William Blake. There was a quotation on a sign in the window that I read over and over. The words seemed to touch my soul, and I was prompted by an internal calling to write those words on the back of an envelope. Blake's 200-year-old words resonated strongly with me. I had a curious knowing that I'd one day be writing about what he'd had to say.
Fast-forward some ten years later to the day I began writing a chapter for my new book Wishes Fulfilled about that most mysterious function of our human lives—our imagination. During the morning before settling in to write, I was searching for some tax records in a desk drawer. Unsought, the Blake quote scribbled on the back of an envelope, which had long ago been misplaced, appeared. As I grabbed the ten-year-old envelope, I pondered for a moment how Divine synchronicity is always working, moving the pieces around while our ego believes we are in charge. Here I was, ready to begin writing about how to use your imagination, and today of all days, these scribbles reappeared after a decade of being "lost." How could I ignore this synchronicity?
So I share these words with you from my spiritual mentor back in the 18th century:
"The tree which moves some to tears of joy is in the eyes of others only a Green thing that stands in the way. Some see Nature all Ridicule and Deformity. . . . and some scarce see Nature at all. But to the eyes of the Man of Imagination, Nature is Imagination itself."
The greatest gift you were ever given was the gift of your imagination. Within your magical inner realm is the capacity to have all of your wishes fulfilled. Here in your imagination lies the greatest power you will ever know. It is your domain for creating the life that you desire, and the best part of it is that you are the monarch with all of the inherent powers to rule your world as you desire.
The essence of this great gift is found within another observation made by William Blake, the intuitive poet who lived at the time of the American Revolution. Writing inThe Marriage of Heaven and Hell, he made this wry comment that is the great secret for living a life of creative manifestation: "What is now proved was once only imagin'd." Allow yourself to contemplate this. As this one line of great wisdom sinks into your consciousness, your imagination will then begin to take over.
Look around you. Everything that you can experience with your senses was once in someone's imagination. This is the great truth that you must come to realize for yourself. In order for something to get into this world where things exist and are proved, as Blake says, they must first be placed firmly into your imagination. Without your imagination as the reason for future creations, the process of creativity is halted. You have this great power within you. It is a power that is virtually unlimited, and it has been given to you as your birthright.
Before putting this gift to work, it is crucial for you to know that virtually all spiritual teachings have spoken of the power that Blake comments on in that insightful sentence, "What is now proved was once only imagin'd." In the year that I spent researching and living the Tao for my book Change Your Thoughts—Change Your Life, this truth jumped out at me in the lines of the 40th verse of the Tao Te Ching. "Being is born of nonbeing" was Lao-tzu's observation 2,500 years ago. The visible world of being originates in nonbeing. Some 500 years later Jesus would tell his followers, "It is the Spirit who gives life" (John 6:63). I could go on through all of the great spiritual traditions and offer you quote upon quote that states that it is in the invisible formless realm that the originating spark of life begins.
Today, the world of quantum physics confirms that the universe is made of formless (spirit) energy, and that particles (that is, things) do not originate from particles (things). Everything springs from something that is akin to your imagination. You can't touch, taste, see, hear, or smell it. It has no boundaries. You can't prove it with mathematical formulas or scientific verification. Yet we all know that it exists. These invisible thoughts that you have—these ideas that continue to percolate within you, these fanciful images that are always with you—are beyond the scope of science to prove or disprove.
I love this observation made by Max Planck, the father of quantum theory: "Science cannot solve the ultimate mystery of nature. And that is because, in the last analysis, we ourselves are part of nature and, therefore, part of the mystery that we are trying to solve." You simply know that you have an imagination, and that this imagination is the Source of all being. It is up to you to channel and use this magnificent endowment to work in the creation of all that you choose to place in that imagination.