Maranda Pleasant: What makes you come alive?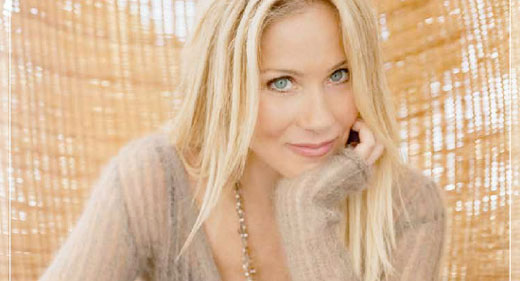 Christina Applegate: Hearing my daughter laugh is the best way to lift my spirit.
MP: You are vegetarian and gluten-free. Is it challenging to prepare meals? Care to share any favorite recipes?
CA: I've always tried to be pretty healthy, eating well and exercising regularly. I definitely give myself treats. When Sadie was born, my priorities shifted a bit. Instead of hitting the treadmill six days a week, I try to spend as much time with my daughter and fit in a bit of cardio during the week. Although, running and playing around with my three-year-old keeps me pretty active as it is. I've been vegetarian for so long now that I don't remember anything different, so it's easy for me to put meals together and make sure my family is eating healthy, too. I love a good cookbook like Candle Cafe's. I like making quinoa pasta with tons of veggies and feta. Jennifer's Way makes great pancake mix.
MP: If you could say something to everyone on the planet, what would it be?
CA: If you're too in your head and you're not in the moment, life passes you by.
MP: Why is incorporating humor into one's life so important? How do you manage to do so?
CA: Comedy can be very freeing. Laughter truly is the best medicine. There is something about laughter that can take away all the darkness.
MP: Tell us about your latest projects.
CA: Anchorman 2: The Legend Continues comes out December 20. I am so happy they asked me back for the sequel. The entire cast and crew is such an incredible group. I am lucky to have been able to work and hang out with this group of dudes and keep making people laugh—something I love to do.
In 2008, I created Right Action for Women, a foundation that works to educate women about what it means to be at high-risk for breast cancer and encourage them to get the appropriate screenings. We have been able to assist so many women with the high cost of MRI screening. We partnered with ASICS, who created a special edition pink product line, ASICS Right Action for Women Collection. Proceeds go toward assisting women who are fighting the disease.
I am also a creative partner at Fabkids, a website that offers monthly outfits styled just for your kids. I joined Fabkids because it encapsulates everything I believe in for kids and want as a mom—celebrating kids and empowering them to express their individuality through their own personal style in a way that builds confidence and lets them shine.
I am also the spokeswoman for Fruitwater. I love the brand. I like how fun and fresh they are.
MP: How do you keep your center in the middle of chaos? Do you have a daily routine?
CA: It's hard. Sometimes I find myself not breathing, so breathing helps. We are teaching Sadie this since she's just starting to have tantrums. We say, "Breathe it out, girl," and she calms down.
MP: What's been one of the biggest lessons in your life so far?
CA: Take no moment for granted.
MP: What truth do you know for sure?
CA: Thought is creative. Be mindful of where your attention is, because the universe doesn't know the difference. It only knows where your focus is. Life will surely manifest where you put that attention.