by David Welch: I just wanted to let the Awaken community know how important Guru Singh is to me, personally.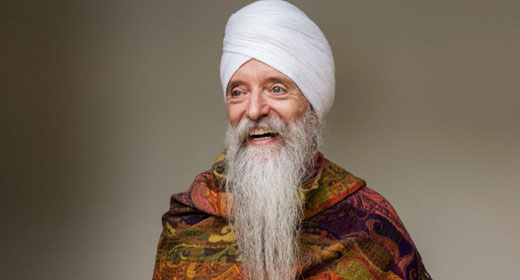 Although Awaken represents many highly gifted teachers and luminaries, and I learn from all of them, it is Guru Singh, renowned teacher of Kundalini Yoga and one of my primary teachers for over a decade now, who has impacted my growth and practice in incomparable ways. What I have gained through doing Yoga and sitting in presence with this consummate master is immeasurable. I have found that this form of Yoga, with its combination of methods, provides the most effective means for awakening into this infinite, eternal now, and for deepening my experience of true presence.
With that in mind, it is Awaken's deep and heartfelt pleasure to endorse and recommend this opportunity to become a member of the 13 Moons Kundalini Yoga community. We believe that this program will be of tremendous benefit in your own awakening experience, and also to our own awakening, as a global culture. At the deepest level, Yoga is a means of uniting our individual consciousness with Universal Consciousness. The Present Moment Is The Doorway To The Eternal.
David Welch: Founder and Chief Editor of www.awaken.com.
The following is from Guru Singh:
Sat Nam Beloved Sisters and Brothers,
I'm inspired to announce what I consider a 'game-changer'. I've imagined and worked toward this idea my entire life, so here's the bottom line up front. My ongoing "big life dream" has always been to provide classes of ancient-future-wisdom at a super affordable price to reach the reachable and teach the teachable everywhere.
Therefore, because we are ready — I'm bringing my weekly classes inside our interactive platform 'The 13 Moons'. Beginning with this Sunday's class — Sept 06, 2022 @ 9:30-11:00 am Pacific time — I'm offering everything at the same low membership price of $33 per month. You'll now receive all of what The 13 Moons already offers, plus every one of my classes and workshops.
This is a super deal — Sign up Here: One Month for One Dollar >>
Until now, my weekly classes have only been available on the Kundalini Foundation's online Union platform. They will still be available at Kundalini Foundation for the next two months for your convenience. Then beginning on October 28, 2022, these weekly classes will be exclusively accessed through The 13 Moons.
As I said earlier, this urge has been with me since I was a young child learning meditation from my Great-Aunt, my Mother and my Father — all yogis of Swami Sri Yukteswar Giri. I imagined sharing these ancient-future-wisdom teachings — that always made a huge difference in our world — to make that same difference in the world of others. People need to feel more at peace, more prosperous and truly appreciated. These wisdom teachings do just that. As a child I would hear the incredible stories of great masters and pretend they were all my best buddies. The masters were my invisible friends.
Once I grew up to understand a bit more about reality, life and business, I imagined a team of dedicated souls to work with me, for I knew I couldn't accomplish this alone. I imagined gathering a like-hearted team and community from all around the world, made up of the people wanting to increase their life skills with meditative awareness; wanting to raise healthy and happy children with compassionate attitudes; wanting to create loving environments filled with generosity, and to help others achieve extraordinary success and abundance pursuing their own dreams.
It took awhile for everything and everyone to come together in my "big dream" — you all know how that goes — you keep working, mostly invisible, until it all succeeds. This has been two years in development with a team of miracle workers. It's ready now filled with its ancient-future-wisdom reaching globally and affordably.
Remember, beginning on October 28, 2022, my weekly classes will be exclusively at The 13 Moons. I will still participate with Kundalini Foundation in other ways like my Equinox and Solstice workshops.
____________
Here are the details of how your 13 Moons membership can serve you. Check out everything you receive with my offering.
FULL ACCESS MEMBERSHIP: We're adding value and accessibility at no extra cost! The monthly price of $33 remains the same.
LIVE classes every week based around themes that uplift your state of wellbeing.
EVERGREEN REPLAY LIBRARY: As long as you are a member, you have access to ALL live class replays. [Even the yoga, humanology and chanting classes]
28 Day meditation journey

13

of these every year with New Moon and Full Moon LIVE group meditations followed by Q&A with Guru Singh.
ON-DEMAND CLASSES: With your membership you'll have unlimited access to my library of Kundalini krya [movement] and meditation classes. Here you will find breath meditations, guided meditations, and mantra meditations, along with my library of mantra music
WORKSHOPS WILL BE INCLUDED at no extra charge to members: The specialty workshops like Equinox and Solstice are all included in the $33 membership. (NOTE: these will also be available to non-members to purchase at Kundalini Foundation's website.)
INTERACTIVE COMMUNITY:

13

Moons

has a social message platform where people gather to exchange ideas, recipes, inspirations, ask questions, discover where to find resources and much more.
Always with gratitude,
Guru Singh & Guruperkarma Kaur
for support email: info@the13moonswithgurusingh.com
The following is a teaching graphic explaining why our community is called "13 moons." In honor of the sacred feminine, our heritage recognizes the basic tenet of elementary biology, that mitochondria — the cell's powerhouses — and their DNA, are inherited exclusively from mothers. In this regard, our lineage acknowledges the 13 Matriarchal Grandmothers that rule our DNA from the center of every body cell. And hence we have the "13 Moons."