by Marissa Muller: Meghan Markle, Jennifer Aniston, and George Clooney have lived breakups in the public eye. This is how they got through it…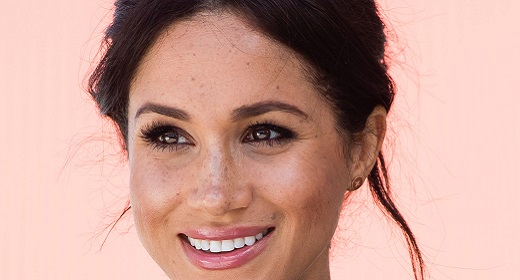 As painful as breakups are, they do provide us with the chance to reassess what we really want and need in a relationship and realize who we really are. After all, it's impossible to be in a healthy relationship if you don't first have a strong relationship with yourself.
Still, as universal as that knowledge is, it doesn't make getting through an actual breakup easier. And celebrities are not immune to that pain, although many areforced to live it out in the public eye. The good news is there are plenty of strategies we can use to soften the blow of a breakup, as relationship veterans from Meghan Markle to Gwyneth Paltrow have realized from their own experiences. Take a look at their advice for how we can all heal after a breakup.
Jennifer Aniston: Face the pain and rise above
"It's sad, something coming to an end," Aniston told Vanity Fair. "It cracks you open, in a way — cracks you open to feeling. When you try to avoid the pain, it creates greater pain. I'm a human being, having a human experience in front of the world. I wish it weren't in front of the world. I try really hard to rise above it."
Gwyneth Paltrow: Take responsibility for your role
"I wanted to turn my divorce into a positive," Paltrow told "The Edit" after her split from Chris Martin. "What if I didn't blame the other person for anything, and held myself 100 percent accountable? What if I checked my own sh*t at the door and put my children first? And reminded myself about the things about my ex-husband that I love, and fostered the friendship? What I put myself through to get there was the most difficult thing I've ever done in my life."
George Clooney: Being alone is better than being in a relationship that's not right
"I've had some absolutely great relationships and some not so great relationships," Clooney told the Daily Mirror. "I've been in some relationships where I've felt terribly alone. Just because you're with someone it doesn't mean you're incredibly happy and complete."
Madonna: Busy yourself with work
"I think work saved me," Madonna told Rolling Stone after her breakup from Guy Ritchie, "And I'm very grateful that I had work to do. I may have thrown myself off a building. Life is an adjustment. It's different."
Taylor Swift: Write about it to let it go
"The only way that I can feel better about myself — pull myself out of that awful pain of losing someone," Taylor Swift told Vogue, "is writing songs about it to get some sort of clarity."
Anne Hathaway: Find the lessons in why it didn't work out
"I think the thing that I have learned is that a bad love experience is no reason to fear a new love experience, but you have to be very honest at every single stage with the person about how you've been hurt, and hopefully they will be supportive about whatever it is that you have to go through," Anne Hathaway told Telegraph. "Everybody has bad relationships and, at the end of the day, they are just a great way to set yourself up for a good relationship."
Blake Shelton: Good things come in waves
"I wasn't [in a good place], but I am now," the singer said in an interview at an awards show after his divorce from Miranda Lambert. "It's amazing how quickly life can turn around for you. I've had some pretty cool things in recent times that have happened, and I'm loving it."
Cameron Diaz: Your sadness means you're capable of loving again
"When I was going through a bit of a heartbreak a little while ago, I said to a friend, 'Wow, this really hurts!' And he said to me, 'That just shows you what your capacity for loving is,'" Cameron Diaz told InStyle. "I would rather have my heart broken a thousand times than never to love at all."
Rihanna: Know there will be better days ahead
"Once you're back on your feet — if you ever make it back on your feet — that's the ultimate achievement," Rihanna told Marie Claire UK. "I remember I was in New York… and I woke up and I just knew I was over it. It was a different day. I felt different. I didn't feel lonely. I felt like I wanted to get up and be in the world. That was a great, great feeling."
Meghan Markle: Practice self-care
"I think you need to cook that beautiful dinner even when it's just you," Meghan Markle wrote on her former lifestyle website The Tig, about a breakup she went through. "Wear your favorite outfit, buy yourself some flowers, and celebrate the self love that often gets muddled when we focus on what we don't have."
Mariah Carey: Focus on you
"I think before you can really move on you just have to really be able to let go of the anger, and then you focus on yourself and do you, and then look to someone else for whatever you're looking for," Mariah Carey told Refinery 29. "But you just have to focus on you and just know that you didn't do anything wrong. And if you did do something wrong, blame it on the other person!"