by Kate Braner: I'm not a yogi. I do not consider myself flexible or spiritual. I used to have a hard time keeping a straight face when a yoga teacher sang out "om" to the class…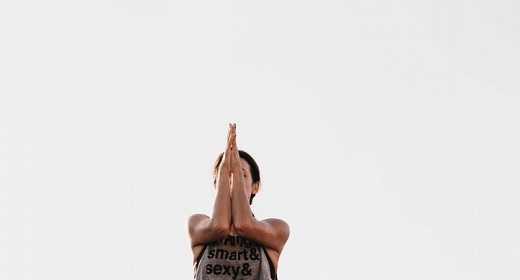 So, how did I find myself writing for a yoga blog? Great question. Truthfully, yoga and I have had an on-again, but mostly off-again relationship for the last 10 years. I started yoga because my mom said I should, not because I wanted to.
I have always been the kind of girl who was into high-impact sports, always choosing a 10-mile run over a 1-hour yoga class. However, running can take a toll on your body, especially if your poison of choice, like mine, is distance running. After years of training for 200-mile team relays, half marathons and a slew of other races, my body started to feel the effects.
At just 24 years old, I had hip surgery due to a labral tear and severe osteoarthritis. That injury sidelined me from most exercise for over a year and has sidelined me from running for the last three and a half years (save for a few very slow 5ks). I haven't been able to feel the wind in my hair or the sun on my face the way I used to on a long run by the East River in Manhattan. In addition to the physical ailments I developed, my anxiety and depression worsened. The funny thing about that was my mental health worsened because I couldn't run, while my physical health worsened because I did run.
I was in a conundrum. Again, I was told to do yoga, but this time by both my doctor and my physical therapist. I tried to pick it up, but the poses frustrated me. I still felt pain in my hip. I couldn't even reach my toes. Looking around the room at all of the strong yogis made me feel like a failure. Off again.
I then developed a serious relationship with a spin class; you may know it as SoulCycle. I loved it because I could do it in the dark (aka without judgment) and because it was almost as intense as a good run. I started to build my confidence back up, but was still not feeling strong enough to get out for a run, and while spinning helped me better handle my anxiety and depression, I still struggled with these issues regularly.
I went to a therapist, and again I was told to do yoga. My therapist insisted that its meditative qualities would help me feel less stressed out about my job, my family, and my relationships. So, again I found myself on the mat and within a few weeks, I was off the mat again.
Over the next year, my therapist would move to Florida and I'd get laid off from my startup job in Manhattan, all while dealing with another surgery due to a rare condition in my sinuses called Silent Sinus Syndrome. Again, I found myself sidelined from exercise for months and again I felt the major effects of anxiety and depression.
Once more, I found myself on the mat, but this time felt different than the others. What made this time so different? I found myself there, not because someone told me to go, but because I wanted to go. I was ready to accept my body for what it was and what it was not. I was ready to breathe in completely and exhale completely. I stopped worrying about how inflexible my back was and started concentrating on how to improve that flexibility and – most importantly – how to improve my mindset.
In the last month, I have developed a regular yoga practice, attending classes about four times a week. I've even been dabbling in different types of yoga like Aerial yoga and the Bikram series. I find myself craving the mat instead of dreading it. In fact, I find myself feeling better overall, inside and out.
I learned that you don't have to be the most flexible, muscular or healthiest person in the room. I also learned that no one goes to yoga to judge their fellow classmates. That's not what yoga is about, in fact, it's quite the opposite. Yoga is about you, achieving a better you, the best you.
Through my on-again off-again relationship with yoga, the most important thing that I learned is that, like most things in life, you have to want it for yourself.
Don't just do something because so-and-so said you should. Sure, they might be right. Looking back I know all of those people that recommended yoga to me were 100 percent correct, but at the time, it just felt like a chore. Now? It just feels awesome.