by Chanie Kirschner: Yoga isn't just for the ladies — and marketers know it…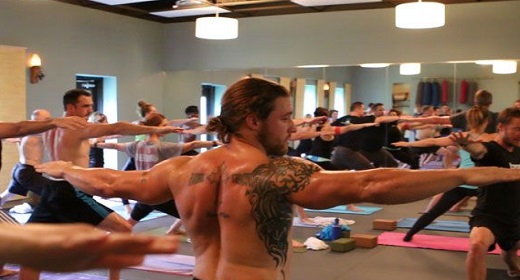 Broga Instructor Training Sizzle from Broga® on Vimeo.
If you're a man who has struggled through yoga class feeling self-conscious next to a woman who can touch her nose to her knees with ease, take heed. A Broga studio may be coming to a city near you.
But what is Broga, exactly?
Created and co-founded by Robert Sidoti in Massachusetts in 2011, Broga is a yoga class geared for men. The Broga website explains that "Broga combines the best core-strengthening, muscle-toning, cardio-working, stress-reducing, clarity-enhancing yoga postures with functional fitness exercises for an amazing workout." It also proclaims that it's a place where "it's OK if you can't touch your toes."
Where did the idea for a yoga workout tailored just for men come from? It all started with Sidoti's own passion for yoga. He'd been practicing yoga for over 10 years and found that it really helped him. "First of all, [yoga's] a great feeling. I played a lot of basketball, a lot of golf, it affected my flexibility in a real positive way, also the strength," Sidoti told NPR. "I was able to hit the golf ball longer. I was able to play longer, my stamina was increased. So I just really fell in love with it."
Though Sidoti embraced yoga, he knew that many men did not. The name was born after a get-together with friends in which one urged him to "do something for the bros … what about Broga?"
So the concept was born. And since its inception in 2011, Broga's popularity has taken off, with classes offered in studios and gyms across the country. How is it different from regular yoga? The classes are non-judgmental, there is no traditional yoga chanting, and new-age yoga music is replaced with music from the likes of Radiohead or The Black Keys.
That's not to say the spiritual side of yoga is checked at the door. To the contrary, explains Adam O'Neill, president and co-founder of Broga, to MNN. "The spiritual aspect of yoga is profoundly important to us — it isn't yoga without it — but how this is delivered and communicated is something we've thought a lot about and worked on a lot. We tend to think of what we're doing as helping inspire people," he explains. "We believe … that yoga can be a very effective practice in helping you find what you're looking for. What's important is that you show up on your mat and engage with your body and breath with positive intentions. That's it."
And what they're doing must be working. Within five years, the company hopes to be supporting 10,000 trained/certified Broga instructors in cities and towns globally, with each teaching 100 or more students each week. "To us, it's all about impact," explains O'Neill. "The more people we can reach with Broga, the better."
So what advice does O'Neill offer to men skeptical of making yoga part of their fitness routine? "Just try a few different classes — at least three — and get a feel for your options. There are a lot of great yoga classes and teachers out there, but you probably won't find the best fit on your first class." He continues, "If you're willing to assume that there is a great yoga option out there for you, go and try to find it. No matter your health or fitness goals, finding a good yoga class that you like may be one of the best things you can do for yourself."
Source: MNN