by (Car and Driver): The intriguing influx of electric pickup trucks gets even more interesting with the 2022 Nikola Badger, which will offer electric and hydrogen-electric powertrains…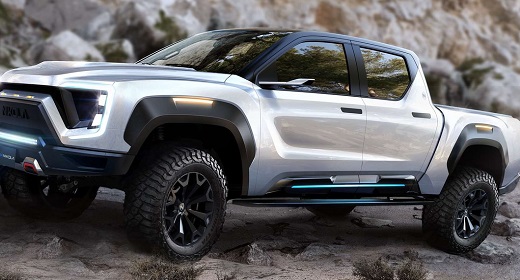 Although we've only seen renderings of the truck, which looks equally familiar and futuristic, Nikola has announced some tantalizing albeit unsubstantiated details. These include a driving range of up to 600 miles, peak outputs of 906 horsepower and 980 lb-ft of torque, and an interesting array of features. The latter list is highlighted by a waterproof cabin with a hidden refrigerator as well as a water fountain that's fed by the truck's optional fuel-cell system. While the 2022 Badger still has a lot left to prove, it's no less fantastical than the Tesla Cybertruck. Here's what we know so far.
What's New for 2022?
The Badger looks to be another entry in the burgeoning electric-pickup-truck segment. However, unlike EV competitors, it will also be available with a hydrogen powertrain. Nikola is mostly known for its fuel-cell-powered semi-trucks, and it will partner with an established and yet-to-be-determined automaker to build the Badger. What company that will be, as well as more details on the new pickup, will be announced on December 4, 2020, during the annual Nikola World event.
Pricing and Which One to Buy
 Badger EV: $60,000 (est.)
 Badger Fuel-Cell EV: $80,000 (est.)
Nikola hasn't settled on exact pricing for the forthcoming Badger, and it hasn't mentioned what options and trim levels (if any) will be available. However, the company has started taking deposits that range between $250 and $5000. Unlike other automotive startups, Nikola says it will reduce the final cost of the truck based on how much is deposited and will also match that amount in a rebate.
Engine, Transmission, and Performance
The Badger will be available with either a battery-electric or hybrid battery-electric/hydrogen fuel-cell powertrain. Nikola says its truck will feature a 160.0-kWh battery pack and an optional 120.0-kWh fuel cell. Those who initially buy the electric-only version will have the option to add the fuel-cell system after the fact. The company says the Badger will be able to generate a peak output of 906 horsepower and 980 lb-ft of torque, but it will have a continuous output of 455 horses. The quickest version will allegedly accelerate from zero to 60 mph in approximately 2.9 seconds, be able to operate on 40-percent grades, and even launch from a standstill without stalling on a 30-percent grade while pulling a fully loaded trailer and having a gross combined vehicle weight rating (GCWR) of 18,000 pounds.