by Amber D. Veverka: Fruits and veggies are supposed to be good for us (adulting lesson No. 1), but peering into the produce drawer can feel so uninspiring. You can only make so many salads and fruit trays…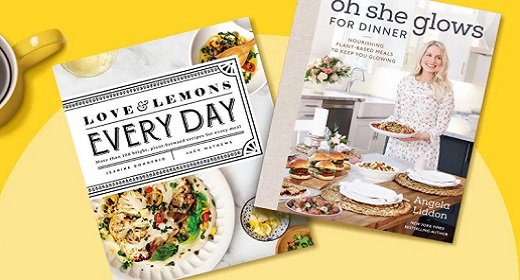 Don't feel defeated — sometimes you just need a little inspiration (especially inspo that comes with pretty pictures). That's why we rounded up some fab plant-based cookbooks to motivate you to get creative with your harvest.
These options will hit the spot if you're vegetarian, vegan, or just trying to incorporate more greenery into your diet.
How we chose
Nutrition. The recipes in these books have all the makings of a balanced meal that'll help you level up from that Flinstone vitamin.
Flavor. Plant-based does not mean boring. Our selections offer tasty creations to satisfy all your cravings.
Execution. Whether you can whip up cashew cheese in your sleep or you're just getting acquainted with a chef's knife, we selected a variety of books with recipes for every level of home cook.
Plant-based dictionary
Nowadays, there are more terms than ever to describe eating plants. Since the term "plant-based" can include a wide variety of plant-focused diets, here's how we're labeling these books for extra clarity:
Vegan. Recipes do not contain any animal products.
Vegetarian. Recipes do not contain meat or seafood, but may contain eggs, dairy, or animal products.
Plant-based. Some recipes may include meat, seafood, or animal products.
$ = under $15
$$ = $15–$25
$$$ = over $25
1. Plant-Based Meal Prep: Simple, Make-ahead Recipes for Vegan, Gluten-free, Comfort Food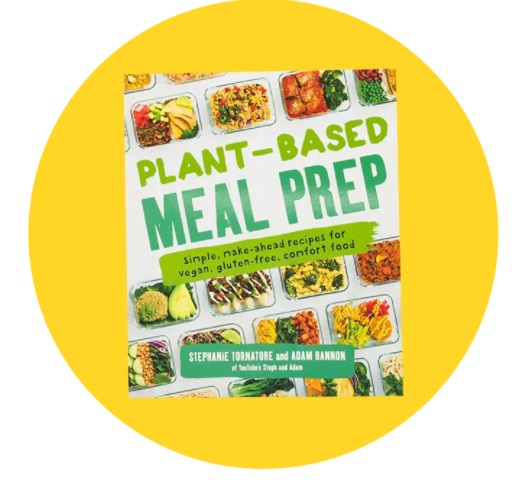 If you're the type who eats on the run or forgets to eat entirely (coffee doesn't count as lunch, sorry), this cookbook can help you get organized.
Authors Stephanie Tornatore and Adam Bannon have taken the best of their wildly popular plant-focused YouTube channel and crammed it into this delightful book.
All their recipes are designed to be made ahead, and you'll find lots of helpful meal prepping tricks alongside tips for going fully plant-based (if that's your desire). Goodbye stale donut, hello homemade feast!
Price: $
Recipe type: vegan
2. Love and Lemons Every Day: More Than 100 Bright, Plant-Forward Recipes for Every Meal
Equal parts art gallery and cookbook, Love and Lemons Every Day is packed with photos so tasty, you'll want to eat the page. With 100 recipes at your fingertips, you'll have no trouble finding a meal to satisfy your cravings.
We're also fond of Jeanine Donofrio's helpful cooking tips, which cover everything from preventing waste to picking the perfect bunch of carrots.
Price: $$
Recipe type: vegetarian
3. The High-Protein Plant-Based Instant Pot Cookbook: Wholesome, Oil-Free One Pot Meals with 8-Ingredients
If you want to look like an amazing cook without putting any effort in (or even that many ingredients), you don't have to look much further than these bounteous buckets of protein and flavor.
Dropping in October 2020, these soul-warming one pot wonders will be coming to us courtesy of Stephan Vogel, an engineer turned chef with qualifications in plant-based nutrition. That's us told.
Zero effort, millions of yum… this is looking like a pretty surefire culinary hit to get you through the fall.
Price: $$
Recipe type: vegan
4. The Plant-Based Diet for Beginners: 75 Delicious, Healthy Whole Food Recipes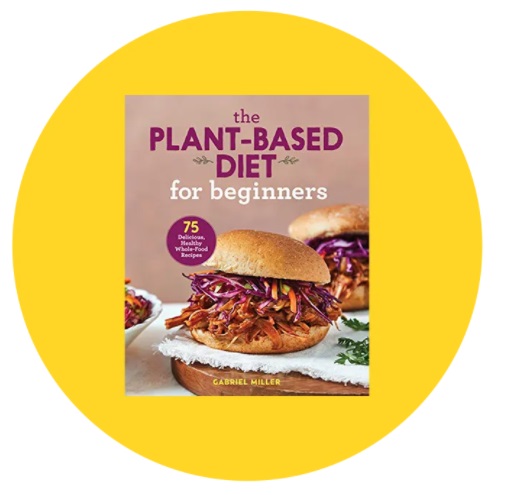 With a degree in Animal Sciences from the University of Nebraska, Gabriel Miller understands what it's like to enter the wild world of plant-based eating after years as a devout meat-eater.
Miller's recipes don't contain obscure ingredients (adios, Nooch), come with helpful shopping lists, and feature complete nutritional breakdowns so you know exactly what you're getting with each dish.
Price: $$
Recipe type: vegan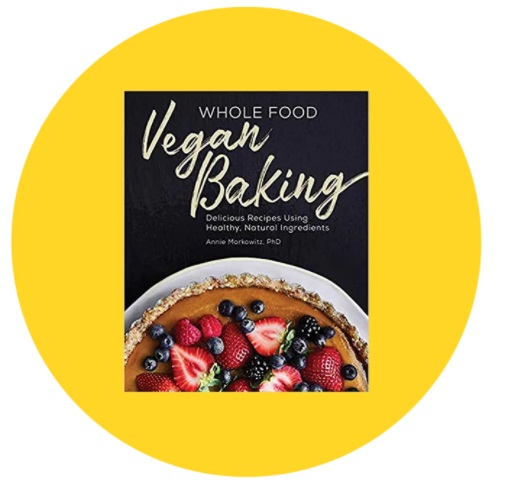 Annie Markowitz uses her PhD in nutrition to show us that baking without dairy and sugar doesn't have to be depressing — in fact, it can be pretty sweet.
Her desserts rely on whole foods to deliver the creamy, fluffy, sugary flavors we've come to love in a good treat. Since preservatives don't make an appearance in these recipes, you'll also appreciate her thoughtful instructions for keeping leftovers fresh. (That is, if there's any left!)
Price: $
Recipe type: vegan
6. The Budget-Friendly Vegan Cookbook: Healthy Meals for a Plant-Based Diet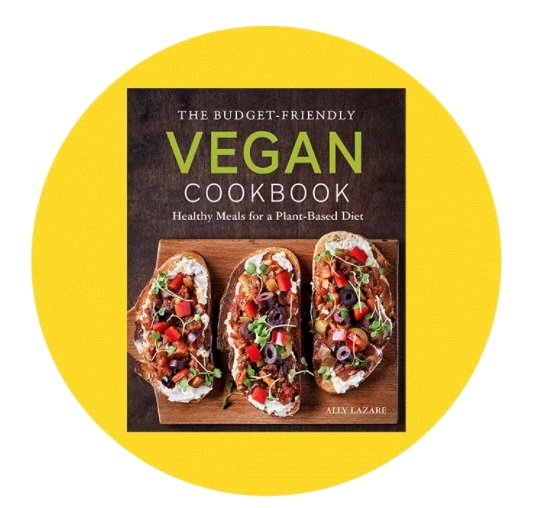 Not everyone has a limitless budget to burn on expensive veggies. But that doesn't mean you should sacrifice either the health benefits or ethical grounding that a vegan diet can give you.
The great thing about this collection of more than 145 cost-effective, simple recipes is a focus around getting the most protein available for your buck, so expect heaps of chickpeas, tofu, and beans.
There's also a pretty unique focus on keeping your dollars in your pocket through savvy use of your pantry and avoiding waste. Which is great for the planet and your ailing bank account.
Besides, what doesn't sound great about Sweet Chilli Mango Tofu?
Price: $$
Recipe type: vegan
7. Vegetables Illustrated: An Inspiring Guide with 700+ Kitchen-Tested Recipes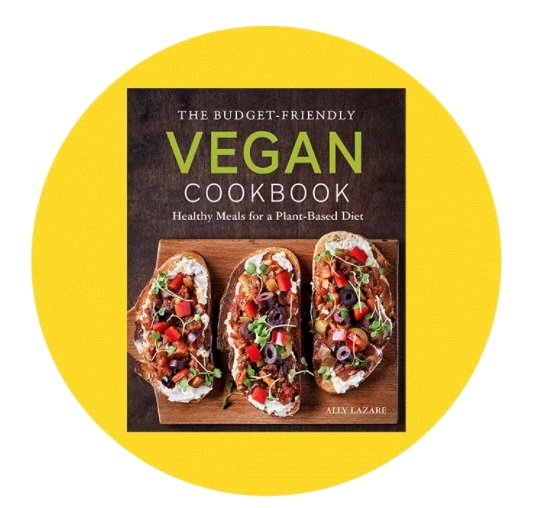 If you're unfamiliar with America's Test Kitchen (the authors of this veggie-focused book), they're pretty much the epitome of where art and science meet in the kitchen.
ATK uses a team of test cooks and tasting experts to find the best way to make every recipe, making this cookbook essential reading for home chefs. In Vegetables Illustrated, they offer hundreds of innovative ways to cook just about every vegetable.
Chapters are organized by veg and include storing and cooking techniques for each one. You'll even learn pro tips for selecting produce at the grocery or farmer's market. (Did you know an artichoke should squeak when you squeeze it?)
Price: $$$
Recipe type: vegan
8. Healthy Vegan, Happy Body: The Complete Plant-Based Cookbook for a Well-Nourished Life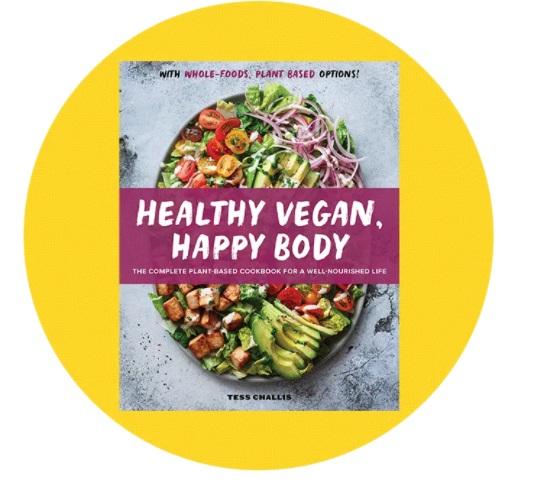 If you've ever sat down with a Moving Mountains or Impossible Burger that is still dripping in sauce, you'll know that vegan doesn't necessarily mean healthy.
With at least 130 ways to keep your diet nutritionally dense and vegan, life coach Tess Challis keeps the recipes easy and delicious. The author also explains how these dishes will help you look and feel, providing a clear link between what's on the plate and what's in your life.
And who's going to say no to a vegan, healthy take on a raspberry chocolate cheesecake? Not us, that's for sure.
Price: $$
Recipe type: vegan
9. Oh She Glows for Dinner: Nourishing Plant-Based Meals to Keep You Glowing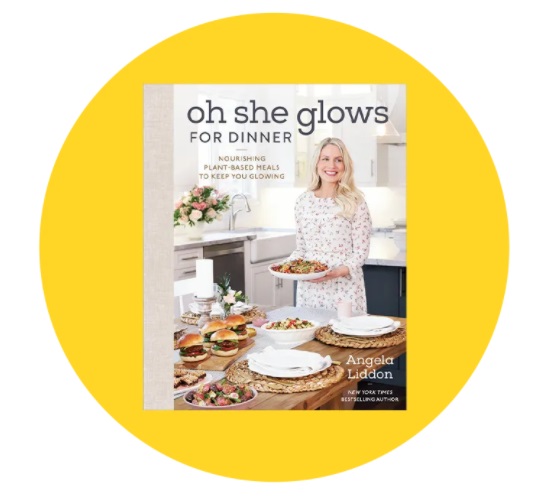 Angela Liddon's plant-based cookbook won't hit shelves until October 2020, but early reviews are glowing (har har).
You can expect family-friendly recipes that don't take hours to make and can satisfy even the pickiest palates. Plus, a clever index organizes recipes (think gluten and nut-free, one pot, etc.) for super-easy browsing.
If the sound of Dreamy Peanut Butter Crunch Veggie Noodle Bowls doesn't make you salivate, perhaps Spiced Maple Cream Torte with Warm Apple Pie Compote will wake up your tongue.
Price: $$$
Recipe type: vegetarian
10. Vegetable Kingdom: The Abundant World of Vegan Recipes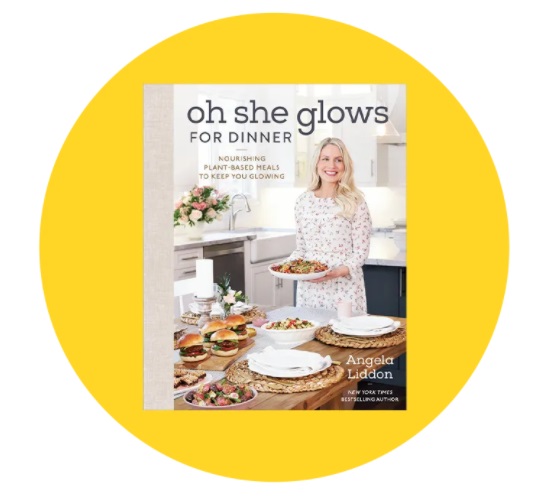 Chef Bryant Terry knows his plants, with five vegan cookbooks under his belt. Vegetable Kingdom is a fusion of popular pantry staples and Afro-Asian flavor.
You'll get an intro to the basics of vegan cooking, but some of these recipes are on the more complex side. Our favorite part? Terry includes a culinary playlist for each recipe, so you can sashay while you sauté.
Price: $$
Recipe type: vegan
11. Meal Prep & Meatless Power Cookbook for Vegan Athletes: 200 High Protein Recipes to be Muscular and Plant-Based Diet Meal Plans for Beginners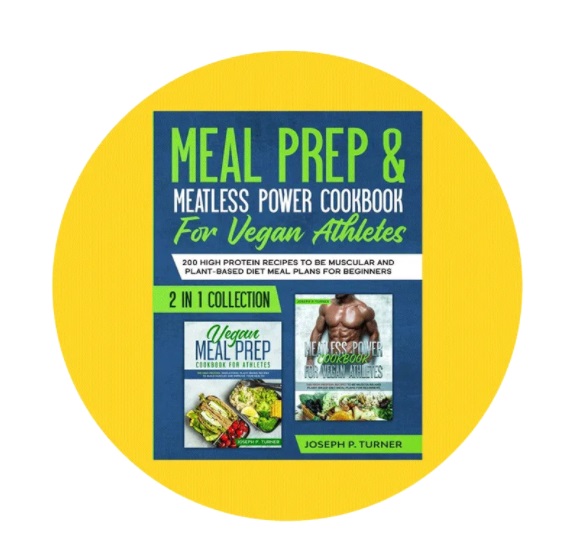 Here you have a bundle, because one vegan cookbook is obviously never enough. One book is on getting your meal prep on, because who wants to prepare a whole meal after pumping iron?
The other takes you into ways to gain strength and bulk up on a vegan diet alone — and it's way less out of reach than carnivores would have you believe.
You might be looking to line up your diet and exercise regimen after a recent switch to that vegan life. Alternatively, you could be after a gains boost or a better lap time.
The average meal prep time in this book is 15 minutes, perfect for that post-gym whip-up where you can't quite move your arms all the way. It's high-protein, sustainable goodness.
Price: $$
Recipe type: vegan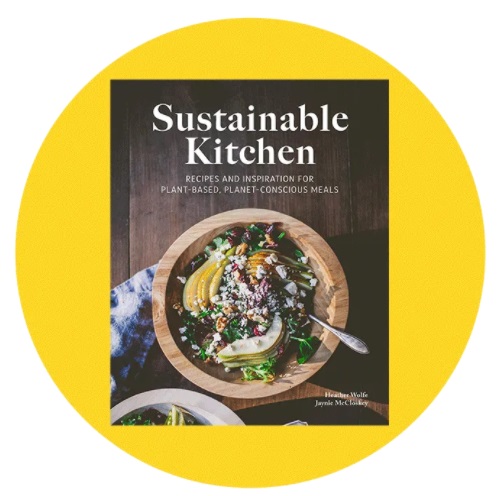 For recipes with a sense of community, dietitian Heather Wolfe and designer Jaynie McCloskey have you covered.
Sustainable Kitchen will help you keep Mother Earth in the back of that brain of yours while your shop, cook, and eat. Giving you the tools to buy local, in-season produce and produce nutritious, virtually-zero-waste meals is no small potatoes (unless the recipe involves small potatoes).
You can feel pretty darn good about those Morning Glory Muffins if you're making them the way this book suggests.
Price: $$$
Recipe type: plant-based
13. Plants-Only Kitchen: Over 70 Delicious, Super-Simple, Powerful and Protein-Packed Recipes for Busy People
Wake up. Throw on your least-average-looking shirt. Run into the office screaming after throwing whatever overpriced breakfast offerings Starbucks has to offer inside your face. Rinse. Repeat.
Alternatively, grab this entirely vegan cookbook for the less time-rich. Gaz Oakley is a vegan social media whizzkid who makes fancy food out of non-fancy ingredients. Plants can equal tasty, even those with frantic lifestyles.
Price: $$
Recipe type: plant-based