by (GreenMedInfo): The most in-depth analysis to date confirms the importance of omega-3 fats for heart health…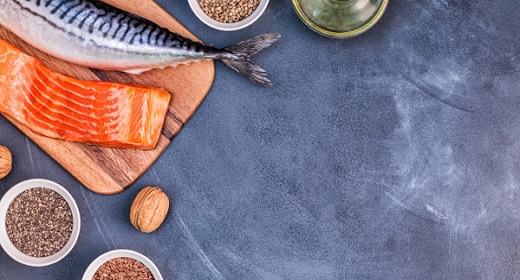 If fatty fish is not a regular part of your diet, you may need to consider supplementing omega-3 fatty acids to keep your heart happy and healthy
The most in-depth analysis to date confirms the importance of consuming sufficient quantities of omega-3 fats for preventing cardiovascular disease.
The meta-analysis, published in the peer-reviewed journal Mayo Clinic Proceedings, reviewed 40 clinical trials, and the multi-disciplinary team of researchers delivered an authoritative rallying cry for including more EPA (eicosapentaenoic acid) and DHA (docosahexaenoic acid) omega-3 fats in your diet, citing their significant cardioprotective effects.
Omega-3 Fats: Are You Getting Enough?
This expanded review of a previously published meta-analysis analyzed the observed effects of all randomized control trials with EPA/DHA supplementation and cardiovascular outcomes published before August 2019. Examined outcomes included myocardial infarction (MI) — commonly called heart attack — coronary heart disease (CHD) events, CVD events (a composite of MI, angina, stroke, heart failure, peripheral arterial disease, sudden death and non-scheduled cardiovascular surgical interventions), CHD mortality and fatal MI.
The study[i] found that EPA and DHA supplementation is associated with significantly reduced risks of having a cardiovascular event and reduced risks of dying from such an event. The risk reduction broke down as follows:
Fatal myocardial infarction — 35% lower risk
Myocardial infarction — 13% lower risk
CHD events — 10% lower risk
CHD mortality — 9% lower risk[ii]
According to the World Health Organization, cardiovascular disease is responsible for nearly 18 million deaths each year and is the No. 1 cause of death globally.[iii]
Benefits of Omega-3s Are Dose-Dependent
Study authors noted that whatever amount of EPA and DHA you are getting in your normal diet, supplementation is likely required to receive maximum cardioprotective benefits. A 1,000-milligramincrease in daily omega-3 consumption decreased the risk of cardiovascular disease events by 5.8% and heart attack by 9%. The study examined dosages of up to 5,500 milligrams (mg) per day and discovered that benefits are dose dependent.[iv]
The new research corroborates a 2019 meta-analysis by Harvard School of Public Health researchers and represents all of the research to date, encompassing more than 135,000 study participants.[v] Study co-author Aldo Bernasconi, Ph.D., stated:
"When separate analyses arrive at similar results, that's not only validating, it also underscores the science base needed to inform future intake recommendations. Because this paper included more studies and all dosages, the estimates for a dose-response are more precise and the conclusions stronger."[vi]
Supplemental Omega-3s Protect Against Heart Disease
EPA and DHA are the primary omega-3 polyunsaturated fatty acids of marine origin.[vii] Foods like anchovies, sardines and wild-caught salmon are highly nutritious options for getting these heart-healthy fats into your diet, however study co-author Dr. Lavie suggests that any patient with CVD should consider supplementing as well.
Dr. Lavie suggests omega-3 supplementation at doses of 1,000 to 2,000 mg per day — far higher than what is typical, even among people who regularly eat fish, adding:
"Given the safety and diminished potential for interaction with other medications, the positive results of this study strongly suggest omega-3 supplements are a relatively low-cost, high impact way to improve heart health and should be considered as part of a standard preventive treatment for most patients with and those recovering from myocardial infarction."[viii]
As demonstrated on the Greenmedinfo.com database, Omega-3 fats have been shown in numerous studies to decrease the risk of heart attack death[ix] and to reduce the risk of all-cause mortality in CHD patients.[x] With at least 61 distinct health benefits, omega-3 fats have been shown to improve mood disorders such as bipolar depression[xi] as well as blood pressure[xii] and diabetes[xiii] symptoms, making them important not only for heart health but your overall health as well.