The grandfather of all self-help books, which spawned an industry devoted to self-improvement, is being updated for the age of Facebook and Twitter.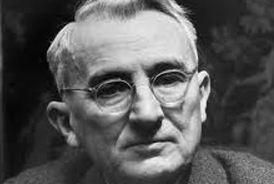 Dale Carnegie's How to Win Friends and Influence People was first published in 1936. Its updated version provides an unlikely transplant of 1930s precepts to the modern age of social media and the internet.
Three-quarters of a century after the original, How to Win Friends and Influence People in the Digital Age has hit the shelves. Out goes much of the old advice on how to impress and befriend people with face-to-face interaction or letters. Instead there is advice on how bloggers should interact with their readers and a caution about how celebrities mishandle their public wrongdoings.
The original book was based on a series of lectures given by Carnegie, who had risen from an impoverished childhood in Missouri to become one of the most famous public speakers in the world.
Carnegie's appeal was his relentlessly positive attitude and belief that cheerfully showing respect and interest in other people would reap dividends. His book was a sensation and has remained on the bestseller lists, notching up an estimated 15m sales worldwide. But how does it cope with being translated into the digital world?
Badly, according to some reviewers. The New York Times was scathing. "Were Carnegie alive to read this grievous book, he would clutch his chest … smile wanly for a few minutes (he didn't like to make others feel bad), then keel over into his cornflakes," wrote Dwight Garner. He slammed the use of hard-to-penetrate corporate language, adding: "So let me conclude with the good news. His original book, unmolested, can still be found on bookstore shelves."
That sentiment chimes with many social media and PR experts. Though the world that Carnegie wrote for has changed beyond all recognition, his essential message remains relevant. "It works because he is talking about basic human characteristics: don't lie, be forthright and pleasant. Facebook and Twitter have speeded up communication but they have not completely changed it," said Ed Zitron, of Manhattan-based TriplePoint PR, which specialises in digital media.
Carnegie taught very simple rules of interaction, such as try to use someone's name when talking to them or first meeting them. Listen to what they have to say and let other people do a lot of the talking when discussing your ideas. Be enthusiastic and never let an opportunity to make a new friend pass by as you never know when you might need them.
The book was aimed originally at the emerging middle classes of the 1930s and 1940s. But many experts say it is as relevant today, even though social networking rather than a handshake might be the more common way to make new contacts.
"It is all alive and well. It is still with us today," said Marc Hoag, chief executive of Venturocket, a job search website.
He has little time for those who use the informal style of Facebook and Twitter for their communications. It might be OK to use abbreviations and poor spellings in messages between friends, but it is still not acceptable in formal communication.
"Sometimes when I get job applications it blows my mind. There are simple punctuation errors. There is still a place to be prim and proper," Hoag said.
But there are areas where, clearly, the rules have changed. Carnegie placed a huge stress on verbal interaction and smiling. But, said Zitron: "People don't follow people on Twitter because they are nice. They follow people because they have an authority on something."