by Rebecca Deczynkski: Less as a lifestyle choice…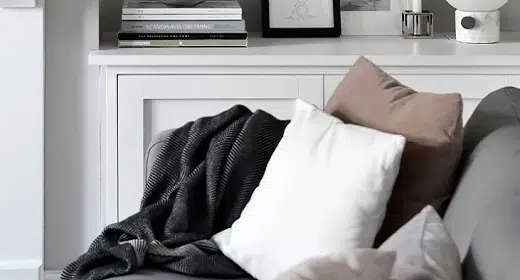 When you think about minimalism, you probably imagine an all-white room containing few furniture pieces. There are no colors or patterns in sight and no decorative accents that don't offer some kind of function. But that image is a fantasy. After all, even real minimalists' homes don't look like that.
With the second coming of Marie Kondo and increased mainstream emphasis on conscious consumption (i.e., concern about fast furniture), minimalism has once again become a major buzzword. The movement garnered attention four years ago when Matt D'Avella's Minimalism documentary was released, shining a light on the benefits of living with less. It's a major lifestyle choice that can seem tempting to lots of people yet ultimately a little intimidating to adopt. The prospect of giving up your unnecessary belongings may feel freeing, but what if you lose your sense of personal style or identity in the process?
Here's the thing: There is no one single way to lead a minimalist life. In fact, minimalism can look quite different from one person to the next, and pictures of inspiringly organized shelves and sleek, neutral-palette interiors can only tell you so much. So, we tapped four minimalists to find out what it's really like living with exactly what you need—nothing more, nothing less. Here's what they had to say.
Minimalism draws people in for different reasons
Here's a draw that shouldn't come as a surprise: Minimalism can help you save money. "Our jobs were highly demanding, low-paying, and just tapping into our talents enough," says Roe Cummings, who documents her minimalist journey with her partner, Erin (E) Johnson, on their joint Instagram, @brownkids. "Instead of racking our brains about how we could make more money, we coincidentally contemplated the opposite. What would a life look like that didn't cost so much? A couple years later, the word found us. Ahhh, minimalism."
After all, minimalism is about making due with less. It's not just a visual aesthetic—it's a specific lifestyle choice that's also an emotional appeal. For Christine Platt, @TheAfrominimalist,  the desire to live more consciously segued into a full-on minimalist life. "I had just started my career as a full-time creative, and spending 90% of my day at home made me realize how much house we didn't use," she says about making the leap to minimalist. "Being at home allowed me a moment to pause and assess everything I owned and, more importantly, what I really needed. The idea of conscious living and of maintaining a simple life were the ideals that attracted me to minimalism."
What many minimalists find is that after undergoing the hard work of simplifying their life and their interiors, they feel more at peace and in charge of their surroundings. For Abi Dare of These Four Walls, this is especially the case. "I think part of minimalism's appeal for me lies in the fact that I have a condition called synaesthesia, which is where one sense merges with another rather than being experienced separately. It can manifest itself in all sorts of different ways, but in my case, it means I see each letter, number, and day of the week as a different hue, and as a result, my mind is constantly buzzing with color," she says. "Taking a simple approach to life and decor is a bit of an antidote to that."
Personal adjustments are expected (and necessary)
People are drawn to minimalism for different reasons, so it's not surprising they would execute the style in their own way. That's right: It's not all neutral-toned bedrooms and Scandi-chic design. For both Cummings and Platt, that meant infusing a bit of pattern and color into the mix. "Like many people, I felt pressured to adhere to the mainstream aesthetics of a proudly barren, neutral palette," Platt says. "[But] for my home to feel happy, to be my sanctuary, I needed colors and textures. I needed to incorporate family heirlooms and elements that reflected my culture and history of the African diaspora."
For Cummings and Johnson, their interior design all comes down to a simple shopping philosophy. "Our buying and furnishing choices hinge on a different question: Does this matter and does this make us free? As deep admirers of Scandinavian design and its impacts on what the whole world might interpret minimalism to be, we are, however, unapologetically rebellious about pattern and African epherma," they say. "If you lose yourself and your culture, even in simplicity, you're living someone else's tale."
After all, it's important to note that minimalism isn't supposed to make life feel more restrictive or more complicated. "Life is messy, hectic, and often out of our control, so there's no point giving ourselves additional pressure to behave in a certain way," Dare notes. "That kind of goes against the whole grain of minimalism anyway."
The challenges can be a bit stressful
Anyone who has attempted to Kondo their home knows that decluttering can be emotional, which is why getting started on the road to minimalism can actually be the hardest part. "Once I really started to assess how much I owned (and didn't use), it was overwhelming. I had so much guilt. I couldn't stop thinking about much money I'd wasted. And then there was confronting the sheer amount of clothing, purses, shoes—I literally cried," Platt says.
Then again, once you do go through the process of getting rid of things that you don't need, there comes another emotional factor: If you break something, you'll likely be more upset about it than you would be otherwise. "Pricelessness is stressful, y'all," Cummings says. "No one ever told me that you'd both grieve things when you broke them like a besotted relative at a funeral and walk yourself into a practical problem because now you don't have enough and, silly you, it was one of a kind. I really started to empathize with people who hoard or buy way more than they need. I look at my small wardrobe and housewares, and near all of it would be hard to replace." When you live with just the things you really love, accidents do feel way more dramatic, but that also means you don't take anything for granted.
But the benefits are real
The benefits of paring down, like minimalism itself, are pretty simple. When you cut out the unnecessary things in life, you can better focus on what really matters, which ultimately can mean less work for you. "The most gratifying thing for me is the ease of managing my responsibilities. I am responsible for all of my things—their care, their placement in my home, their maintenance and repair, etc." says Johnson. "Since becoming a minimalist, I have personally made sure that everything in my life was there intentionally."
While the philosophy behind minimalism may begin at home, it can rapidly expand to other areas of your life—like your relationships, thoughts, and general attitude. "Being intentional very quickly starts to intersect with every area of your life: how you spend your time, who you spend your time with, and what projects or goals you focus on," says Platt. "I find myself constantly in a state of gratitude—being thankful, knowing that I have everything I need."
When it comes to the bottom line, a bit of decluttering can do a whole lot of good. Whether you become a full-on minimalist or not, you should never underestimate the power of a good tidying sesh."There's something incredibly liberating about clearing out things you no longer want or need," says Dare. "Whether that means getting rid of clutter at home or saying no to commitments that drain your time and energy."