by Kevin Dickenson: Perfectionism is on the rise, and its consequences for mental health can be devastating. The Japanese philosophy of "wabi sabi" can help…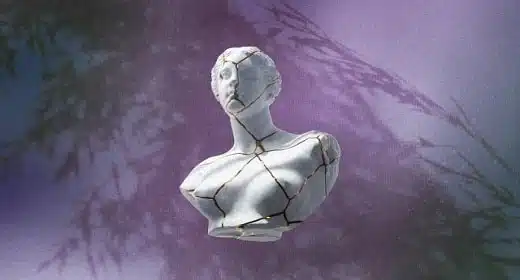 I'm a bit of a perfectionist. I plan vacations to a T, my mind replays blunders on loop, and the thought that there might be typos in my articles makes my jaw clench in agitation. Okay, maybe more than a "bit."
The thing is, I know I shouldn't be this way. The pursuit of the perfect is not synonymous with the pursuit of excellence or even the worthwhile, and whether that drive is self-motivated or foisted on us by a boss, parent, or partner, its cost far outweighs the goal. Research has shown the potential fallout of perfectionism: anxiety, depression, social aversion, lower life satisfaction, reduced self-worth, and difficulties emotionally self-regulating.
Even knowing this, I have a hard time accepting my shortcomings and embracing my mistakes. And sadly, I'm not alone. Perfectionism has been increasing over time. College students and workers in a variety of fields have perfectionist impulses. To escape this self-laid trap, I've been exploring the Japanese philosophy of wabi sabi, which doesn't just ask us to accept that nothing and no one is perfect; it entreats us to go a step further and find the value of the imperfect.
What is wabi sabi?
As is often the case with cross-cultural borrowings, there's no one-to-one translation for wabi sabi in English. Then again, there's no clear-cut definition in its native language, either. As Andrew Juniper, author of Wabi Sabi: The Japanese Art of Impermanence, notes:
"Wabi sabi is an aesthetic philosophy so intangible and so shrouded in centuries of mystery that even the most ambitious Japanese scholars would give it a wide berth and uphold the Japanese tradition of talking about it in only the most poetic terms." 
Chasing halfway decent
One doesn't need to become a Zen Buddhist to adopt a wabi sabi worldview. You can find elements of wabi sabi tucked away in the Western tradition, too. An Italian proverb — popularized by Voltaire but predating him — states, "The best is the enemy of the good." Shakespeare wrote in King Lear that "striving to better, oft we mar what's well." And the Book of Ecclesiastes warns against life's many vanities in favor of enjoying its simple pleasures.
In an interview, entertainer Nick Offerman expressed a more contemporary take when discussing his approach to life and work: "I often espouse a general philosophy in my life of pursuing a discipline of one sort or another… But it's not to ever approach any level of perfection." He added, "Instead, what keeps us living and what keeps me vitally engaged is a constant pursuit of betterment. So I gave up on perfect a long time ago. Now I'm just chasing halfway decent."
How do you adopt wabi sabi in your life? As you've probably guessed, there's no methodology. You bring the worldview into your experiences and see if the mindset helps you overcome the many potential ways perfectionism manifests.
If your perfectionism leads to procrastination, for example, you may find bringing wabi sabi into the mix helps you get started faster. If you constantly compare yourself to others, it may help you appreciate both your accomplishments alongside failures. And if you feel like you're never good enough, it may help you move beyond these holdups and see the gold in the cracks.
As Offerman notes: "If you make mistakes, it means you're out there trying. It means you're taking a swing at achieving something. And if you're not making mistakes, it means you've given up."