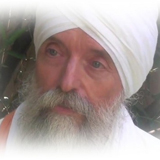 Home Base
Los Angeles, CA USA
Foundation of Teaching
Kundalini Yoga, Meditation, Peace, Compassion, Presence
Example of Teaching
"In the simplest terms, awakening is a spectral process. There is a spectrum of being awake, being slightly awake, being moderately awake, being quite awake, being extremely awake and being you know…fully awake. Whether being fully awake in this moment will achieve the same result as the next moment, is the key to the definition, in that, awakening is not a condition; it's a process. A replacement word is enlightenment which has now become a cliché. So, awaken and enlightened are synonymous with each other."
Total Views: 21,531
Guru Singh
Guru Singh is a celebrated third-generation yogi, master spiritual teacher, author, and musician.
He teaches conscious living through the tools of Humanology, Kundalini yoga, meditation, and sacred sound. He was born in Seattle in 1945 into a yogic spiritual household to an artist father and musician mother. His teachings grew from an esoteric curiosity inspired by his family's deep connection to the masters of India and the blessings of being ready when teachers appeared.
Paramahansa Yogananda was his first teacher. Guru Singh's great-aunt met Yogananda in Calcutta in 1916 and travelled with him from India to America in 1919. She studied with and served him until his passing in 1952.
In January 1969, Guru Singh met Yogi Bhajan, a spiritual leader from northern India and master of Kundalini yoga. From that moment on Guru Singh has been studying and teaching Kundalini yoga and meditation, a science taught in India for over five thousand years. He has spread this ancient science with passion and a practical fusion of Eastern mysticism into Western pragmatism.
Guru Singh's books, music, yoga/meditation classes, blog posts, podcasts, and humanology lectures uplift thousands worldwide. Based in Los Angeles at Yoga West and Golden Bridge yoga studios, while traveling the world, he also teaches Kundalini Level I and II teacher training courses. He meets students privately for consultations and sound healing sessions when in Los Angeles.
Guru Singh lives and teaches globally with his wife Guruperkarma Kaur. They have raised and guided two lovely children—as well as countless "adopted" ones, all of whom continue this path of service. These vibrant lives exemplify a masterful balance for the 21st century yogic family. This lifestyle is known as Grishtha Ashram in Sanskrit—the life of an enlightened householder. It's a spiritually purposeful life of service that follows a path of enlightenment while raising families and participating fully in the real-world of work, worship, and community building.
Come Join A Nurturing 13 Moons Community with Guru Singh.
Learn to create an extraordinary life — the life you've wished for in those moments of challenge, and the one you've imagined in those other moments of tremendous optimism. Learn to achieve this within a compassionate community of [like hearted – like minded] people surrounding and supporting you each step of the way.
In this community you'll engage with Guru Singh's own life mastery and increase yours. You'll embrace a new relation with the intuitive science of Kundalini to self-discover the answers and solutions on your life-path.
Quotes
"When you walk into any room, make it your home. Then help every one in the room to feel at home. Remember, you are uniquely you and you have every right to be exactly that. Do not try to fit in, you fit perfectly in you."
"When we are inspired to seek guidance from our higher consciousness; we access much higher frequencies of the collective ancient human mind. As an individual incarnation we achieve this through our sacred disciplines."
"When you stop holding the world around you to its old capacities and expectations, it can develop new ones in your presence. This is the power of time . . . never living in the past, but being present for the future to arrive in the hands of your present moment."
"After all—materially—from 'nothing' we come and to 'nothing' we return, but we are really always 'something' forever . . . we are forever the form of our infinite envisioning. Such is the nature of nothing being everything being nothing."
"The illusion of time is in fact an illusion; this doesn't mean however that it is unnecessary to work with . . . it means it is an illusion, a puzzle, a riddle to master, to work through and to not be ruled by."
Read More Quotes >>>