From Asia to the Americas, here are some of the top religious and spiritual sites in the world…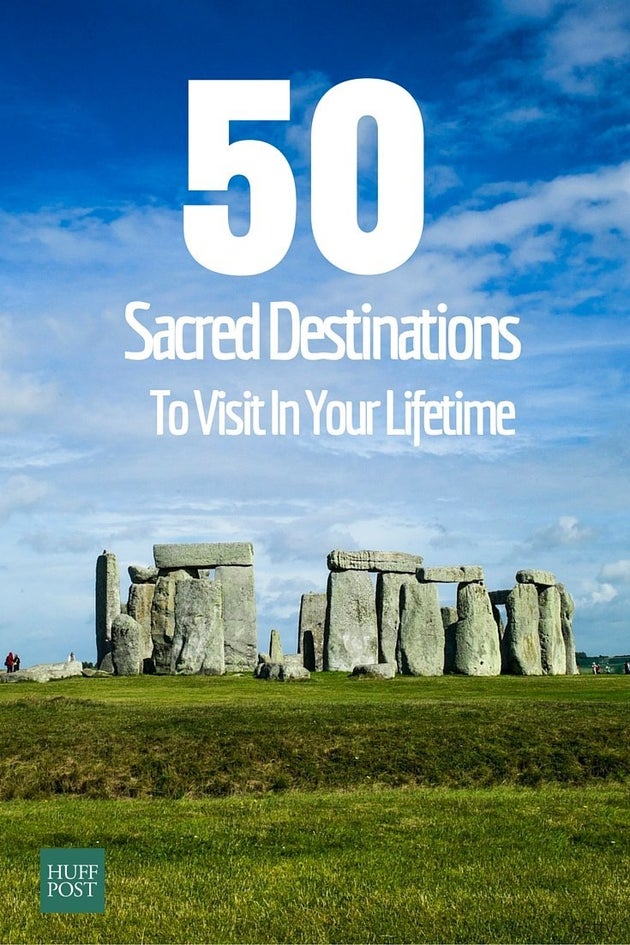 What makes a place sacred?
Émile Durkheim, one of the founders of modern sociology, believed it was society. The collective conscience of a community comes together to touch certain mountains, trees, buildings and other ordinary objects and infuse them with a divine power, setting them apart for holy purposes.
Our world is filled with natural wonders, churches, synagogues, mosques, pilgrimage sites and other places where people have experienced the power of God and of community.
Here are 50 awe-inspiring sacred sites that you must experience in your lifetime.
*Visit sites marked with an asterisk with extra caution and reverence — our research indicates that there may be tension between indigenous people and national governments about who should have access to these sacred spots. 
1

Vortexes, Sedona, Arizona

Tom Bean via Getty Images

Richard Cummins via Getty Images

3

Washington National Cathedral, Washington, DC

The Washington Post via Getty Images

Dennis Flaherty via Getty Images

5

Majorville Medicine Wheel, Alberta, Canada

Forgotten Alberta Archive/Flickr

JoseIgnacioSoto via Getty Images

7

Our Lady of Guadalupe Shrine, Mexico

Niciak via Getty Images

Miami Herald via Getty Images

9

Lake Atitlan, Guatemala

Matthew Stallone via Getty Images

10

Salt Cathedral of Zipaquirá, Colombia

Wolfgang Kaehler via Getty Images

11

Christ the Redeemer Statue, Brazil

Timur Emek via Getty Images

DEA / N. CIRANI via Getty Images

13

Easter Island Stone Giants, Chile

Walter Bibikow via Getty Images

14

Santiago de Compostela Cathedral, Spain

WIN-Initiative via Getty Images

15

Sagrada Familia Cathedral, Spain

narvikk via Getty Images

Peter Adams via Getty Images

17

Grotto of Massabielle, Lourdes, France

John Elk III via Getty Images

19

Saint Michel D'Aiguilhe, France

Andia via Getty Images

20

St. Peter's Basilica, Vatican City State

Hiroshi Higuchi via Getty Images

Jean-Pierre Lescourret via Getty Images

22

The Temple of Apollo at Delphi, Greece

Kelly Cheng Travel Photography via Getty Images

23

The Great Synagogue, Hungary

Walter Bibikow via Getty Images

24

Spanish Synagogue, Czech Republic

Izzet Keribar via Getty Images

Ken Welsh via Getty Images

26

Sultanahmet Mosque (Blue Mosque), Turkey

Silvia Otte via Getty Images

27

Saint Basil's Cathedral, Moscow, Russia

Nutthavood via Getty Images

28

Stone Circles of Senegambia, Gambia and Senegal

David Tipling via Getty Images

29

Victoria Falls, Zambia and Zimbabwe

Paul Souders via Getty Images

30

Table Mountain, South Africa

fivepointsix via Getty Images

31

Sacred Mijikenda Kaya Forests, Kenya

Victor O'/Flickr

32

Bete Giyorgis, Ethiopia

© Santiago Urquijo via Getty Images

33

Moulay Idriss, Morocco

MadrugadaVerde via Getty Images

robertharding via Getty Images

Cosmo Condina via Getty Images

Yadid Levy / robertharding via Getty Images

Renaud Visage via Getty Images

38

Golden Temple, Amritsar, India

Westend61 via Getty Images

Subir Basak via Getty Images

41

Bodhi Tree, Bodh Gaya, India

Lissillour via Getty Images

altrendo travel via Getty Images

Doug McKinlay via Getty Images

Hiroyuki Nagaoka via Getty Images

45

Potala Palace, Lhasa, Tibet Autonomous Region

Photograph by Shuo Yang via Getty Images

46

Temple and Cemetery of Confucius, Shandong Province, China

William Perry via Getty Images

47

Temple of Heaven, Beijing, China

Allan Montaine via Getty Images

Bloomberg via Getty Images

49

Uluru, Ayers Rock, Australia*

Michael Dunning via Getty Images

50

Baiame Cave, Australia

kateausburn/Flickr