by Laura McMullen, Jennifer Aniston's yoga teacher: Whose body is more scrutinized than that of Jennifer Aniston?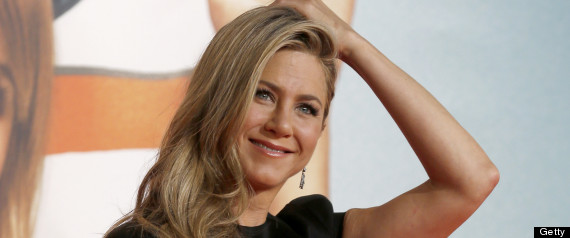 This post is dated and still pertinent to today's need to stay happy, healthy and holistically balanced.
It seems that at any given checkout lane, Aniston can be found posing on magazine covers, flashing a super-likeable smile and beaming superhuman sex appeal — her hair meticulously tousled, her body professionally sculpted and svelte. Over the last few years, the standard headline with these photos has been something like, "Look how good Jen looks at 41 … 42 … 43 years old."
Aniston is now 54, and the obsession with her body continues. In addition to the endless hallucinations of baby bumps, media and fans are buzzing about her starring role in "We're the Millers," a comedy released on August 7. Aniston plays a stripper who's hired to pose as a "normal" mom, and (of course), there's a scene in which she dances in teeny tiny underwear.
The consensus seems to be that her body looks even fitter, tighter and more toned than usual, thanks to healthy eating and some serious training. And she didn't train alone. Mandy Ingber, Aniston's longtime yoga instructor, is one of a few professionals that helped the actress shape up for "We're the Millers." Based in Los Angeles, Ingber has worked with several statuesque celebrities, including Jennifer Lawrence, Kate Beckinsale, Helen Hunt and Brooke Shields. In May, to follow up her 2009 "Yogalosophy" DVD, Ingber released a best-selling book titled "Yogalosophy: 28 Days to the Ultimate Mind-Body Makeover."
U.S. News talked with Ingber about working with Aniston and her own personal tips for looking and feeling fit enough to work the red carpet. Her responses have been edited.
You've been working with Jennifer Aniston and many others for a long time. When training began for "We're the Millers," what specific results were you and Aniston aiming for — especially given that risqué strip scene?
The main result we wanted was for her to feel comfortable in her body. Jen has a really good natural connection to her body, and I think that really shows. With the yoga portion of her workouts, obviously I am looking for things like balance and agility, in addition to the transition from movement to movement, which primarily involves core strength, presence and focus.
How did you shape the new regimen to achieve those results?
Through balancing poses and taking poses to a more aspirational level, like lifting the fingertips off of the mat in half moon, or extending both arms in a basic triangle. Also, the flow part of a yoga class lends itself to body control through constant movement. And Jen having a strong foundation to start with was helpful. She also worked with a dance instructor to rehearse all of her moves.
Let's talk about your workout routines — what are a few of your go-to snacks for before and after exercising?
I love nuts. A handful of almonds, cashews or walnuts will get me through a couple of hours. They're a no-sugar, highly nutritious snack.
Also, it's important to have some healthy fats to curb hunger. I love a good old fashioned sliced apple sprinkled with salt and cinnamon, and sometimes cayenne, to enhance the flavor and give it a kick. I'm a big green tea drinker from way back. My favorite is jasmine green tea. I also love all green vegetable juices to sneak in my greens while I hydrate. I also love coconut and almond milks. And I love chocolate.
It seems like you have a packed schedule that can get a bit stressful. What techniques help you relax?
I meditate. They say meditate 20 minutes a day, and if you are really busy, meditate for 40. And I write — I actually write a gratitude list daily. This helps me focus on the right things, as opposed to a list of must-do items.
I love to take a walk to get myself present and to wind my mind down. Sometimes being active and getting the body moving, while very simple, is incredibly grounding. I have my own yoga practice, and I love to do cardio as well — I'm also a spinning instructor. These things help me to keep my head on straight.
Mainly, I try to bring balance into my life. I schedule "me" time because just like everyone else, I need to unwind. I try to remember to take it easy and breathe. Everything is going to get done. And no one thing is going to make or break me.
Many of our readers are likely reading this as they sit at a desk, perhaps at work. Do you recommend any quick, office-friendly exercises or yoga poses so they can sneak some exercise into their workday?
Yes, you can do a seated pigeon position by just crossing your ankle over your knee, which will stretch the outer hip. Also from a seat, you can forward fold your whole body so that your belly is resting on your thighs — that's a wonderful stretch. A great abdominal exercise is bracing yourself in the chair and pressing down, using your arms, in order to lift your butt off the chair and feet off the floor — Ellen DeGeneres style!
Also, a five-minute dance party in the office never hurt anybody. Or even a short lunchtime walk will lift spirits and improve happiness. I actually work with the staff of the "Chelsea Lately" show, and they get a yoga break instead of a coffee break.