Gary Zukav appeared on "The Oprah Winfrey Show" more than 30 times, helping viewers learn how to find more meaning and purpose in life.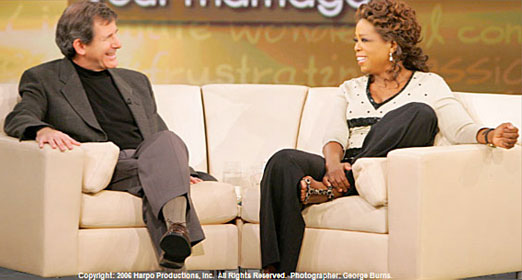 Zukav's book, New York Times best-seller Seat of the Soul, remains a constant on Oprah's nightstand and includes one quote in particular that has stuck with her for more than a decade.
During Zukav's appearance on an encore episode of "Super Soul Sunday," Oprah reveals the specific sentence that made such a lasting impression. "One of the things that impressed me the most — it really just, I think, stayed with me forever — is on page 31 when you say, 'When the personality comes fully to serve the energy of the soul, that is authentic power,'" she reads. "That was one of the first things I highlighted in that book 13 years ago."
This spiritual definition of authentic power sparked an aha moment for Oprah. "That awakened a spark of knowing in me that I never knew existed," she tells Zukav. "I realized, 'Oh, when my personality comes to fully align with the energy of my soul and I allow my soul to be the guide, that is when I am the most powerful.'"
Oprah also refers to this internal alignment as her "sweet spot," which Zukav everyone has the potential to access. "That's how we're all evolving now," he says. "I'm talking about an expansion of your perception beyond the five senses. Beyond what you can see and taste and touch and hear and smell."
In the above video, Zukav then recites a poem called "I Am Not I" by Juan Ramón Jiménez, which Zukav believes captures the idea of the soul as a part of the self that is immortal. "Millions of us are acquiring that sense," he explains. "The question becomes, what now?"
"All right, Gary, what now?" Oprah asks with a chuckle.
"That is for each of us to decide," Zukav responds. "Multisensory perception does not make us more kind or patient or caring or less angry. It makes us more aware. And when you get that sense, the spiritual work begins."