by Ed Yong: On march 27, as the U.S. topped 100,000 confirmed cases of COVID-19…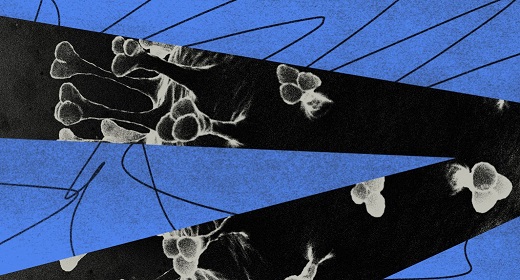 Donald Trump stood at the lectern of the White House press-briefing room and was asked what he'd say about the pandemic to a child. Amid a meandering answer, Trump remarked, "You can call it a germ, you can call it a flu, you can call it a virus. You know, you can call it many different names. I'm not sure anybody even knows what it is."
That was neither the most consequential statement from the White House, nor the most egregious. But it was perhaps the most ironic. In a pandemic characterized by extreme uncertainty, one of the few things experts know for sure is the identity of the pathogen responsible: a virus called SARS-CoV-2 that is closely related to the original SARS virus. Both are members of the coronavirus family, which is entirely distinct from the family that includes influenza viruses. Scientists know the shape of proteins on the new coronavirus's surface down to the position of individual atoms. Give me two hours, and I can do a dramatic reading of its entire genome.
The means of gathering data always complicate the interpretation of those data. Consider the reports that the coronavirus can "reactivate" in recovered patients, or that people can become "reinfected." This really means that patients are testing positive for the virus after having tested negative. But that might have nothing to do with the virus, and everything to do with the test. Diagnostic tests for COVID-19 produce a lot of false negatives, incorrectly telling 15 to 30 percent of infected people that they're in the clear. And even if these tests were better, the viral levels of a recovering patient would eventually fall below their threshold of accuracy. When such patients are sequentially tested, some will toggle between negative and positive results, creating the appearance of reinfection.
False positives are a problem, too. Many companies and countries have pinned their hopes on antibody tests, which purportedly show whether someone has been infected by the coronavirus. One such test claims to correctly identify people with those antibodies 93.8 percent of the time. By contrast, it identifies phantom antibodies in 4.4 percent of people who don't have them. That false-positive rate sounds acceptably low. It's not. Let's assume 5 percent of the U.S. has been infected so far. Among 1,000 people, the test would correctly identify antibodies in 47 of the 50 people who had them. But it would also wrongly spot antibodies in 42 of the 950 people without them. The number of true positives and false positives would be almost equal. In this scenario, if you were told you had coronavirus antibodies, your odds of actually having them would be little better than a coin toss.
None of this means that all bets are off and the pandemic is unquantifiable. The case count might be wrong, but it's almost certainly too low rather than too high, and it's more likely off by a factor of 10 than 100. The numbers still matter; they're just messy and hard to interpret, especially in the moment. On my phone, I can see weather patterns, the position of every plane in the sky, and the number of people currently reading this article, all in real time. But I cannot get the same immediate information about the pandemic. The numbers I see say as much about the tools researchers are using as the quantities they are measuring. "I think people underestimate how difficult it is to measure things," Dean says. "For us who work in public health, measuring things is, like, 80 percent of the problem."
If measuring the present is hard, predicting the future is even harder. The mathematical models that have guided the world's pandemic responses have been often portrayed as crystal balls. That is not their purpose. They instead describe a range of possibilities, and help scientists and policy makers to simulate what might happen pending different courses of action. Models reveal many possible fates, and allow us to choose one. And while distant projections are necessarily blurry, the path ahead is not unknowable. "The long-term is like modeling the trajectory of a falling leaf, but the short-term is like modeling a falling bowling ball," says Dylan Morris, an infectious-disease modeler at Princeton. Uncertainties about the year ahead shouldn't cloud "how devastatingly and terrifyingly certain we can be" about the immediate consequences if the pandemic isn't controlled, he adds.
VIII. The Narrative
In the final second of December 31, 1999, clocks ticked into a new millennium, and … not much happened. The infamous Y2K bug, a quirk of computer code that was predicted to cause global chaos, did very little. Twenty years later, Y2K is almost synonymous with overreaction—a funny moment when humanity freaked out over nothing. But it wasn't nothing. It actually was a serious problem, which never fully materialized because a lot of people worked very hard to prevent it. "There are two lessons one can learn from an averted disaster," Tufekci says. "One is: That was exaggerated. The other is: That was close."
Last month, a team at Imperial College London released a model that said the coronavirus pandemic could kill 2.2 million Americans if left unchecked. So it was checked. Governors and mayors closed businesses and schools, banned large gatherings, and issued stay-at-home orders. These social-distancing measures were rolled out erratically and unevenly, but they seem to be working. The death toll is still climbing, but seems unlikely to hit the worst-case 2.2 million ceiling. That was close. Or, as some pundits are already claiming, that was exaggerated.
The coronavirus is not unlike the Y2K bug—a real but invisible risk. When a hurricane or an earthquake hits, the danger is evident, the risk self-explanatory, and the aftermath visible. It is obvious when to take shelter, and when it's safe to come out. But viruses lie below the threshold of the senses. Neither peril nor safety is clear. Whenever I go outside for a brief (masked) walk, I reel from cognitive dissonance as I wander a world that has been irrevocably altered but that looks much the same. I can still read accounts of people less lucky—those who have lost, and those who have been lost. But I cannot read about the losses that never occurred, because they were averted. Prevention may be better than cure, but it is also less visceral.
The coronavirus not only co-opts our cells, but exploits our cognitive biases. Humans construct stories to wrangle meaning from uncertainty and purpose from chaos. We crave simple narratives, but the pandemic offers none. The facile dichotomy between saving either lives or the economy belies the broad agreement between epidemiologists and economists that the U.S. shouldn't reopen prematurely. The lionization of health-care workers and grocery-store employees ignores the risks they are being asked to shoulder and the protective equipment they aren't being given. The rise of small anti-lockdown protests overlooks the fact that most Republicans and Democrats agree that social distancing should continue "for as long as is needed to curb the spread of coronavirus."
And the desire to name an antagonist, be it the Chinese Communist Party or Donald Trump, disregards the many aspects of 21st-century life that made the pandemic possible: humanity's relentless expansion into wild spaces; soaring levels of air travel; chronic underfunding of public health; a just-in-time economy that runs on fragile supply chains; health-care systems that yoke medical care to employment; social networks that rapidly spread misinformation; the devaluation of expertise; the marginalization of the elderly; and centuries of structural racism that impoverished the health of minorities and indigenous groups. It may be easier to believe that the coronavirus was deliberately unleashed than to accept the harsher truth that we built a world that was prone to it, but not ready for it.
In the classic hero's journey—the archetypal plot structure of myths and movies—the protagonist reluctantly departs from normal life, enters the unknown, endures successive trials, and eventually returns home, having been transformed. If such a character exists in the coronavirus story, it is not an individual, but the entire modern world. The end of its journey and the nature of its final transformation will arise from our collective imagination and action. And they, like so much else about this moment, are still uncertain.