by Meredith B. Kile‍: Legendary rock star and guitarist Eddie Van Halen died on Tuesday after a lengthy battle with cancer. He was 65…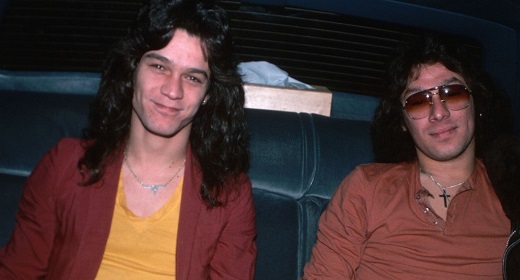 Eddie's son and bandmate, Wolfgang — whom he shared with ex-wife Valerie Bertinelli — announced the news on social media.
"I can't believe I'm having to write this, but my father, Edward Lodewijk Van Halen, has lost his long and arduous battle with cancer this morning," he shared. "He was the best father I could ever ask for. Every moment I've shared with him on and off stage was a gift. My heart is broken and I don't think I'll ever fully recover from this loss. I love you so much, Pop."
The news led to an outpouring of tributes to the Van Halen founder — who was widely regarded to be one of the greatest rock guitarists of all time.
Alex Van Halen, Eddie's brother and another founder of Van Halen, shared a childhood photo of himself and his sibling with ET, writing, "Hey Ed. Love you. See you on the other side. Your brother, Al"
David Lee Roth also honored his Van Halen bandmate on Twitter with a throwback photo of the two of them backstage. "What a Long Great Trip It's Been," he wrote.
"Heartbroken and speechless," Eddie's other former bandmate, Sammy Hagar, also shared on social media. "My love to the family."
On CBS This Morning, Jon Bon Jovi praised the rocker for what he brought to music. "Every teenager of my era couldn't look at an electric guitar and not wish they could play like Eddie Van Halen," he said. "He was an innovator of our generation, he will be remembered forever and sorely missed."
Meanwhile, KISS frontman Gene Simmons wrote on Twitter, "My heart is broken. Eddie was not only a Guitar God, but a genuinely beautiful soul. Rest in peace, Eddie!"
"RIP to my friend and man who changed guitar playing forever …F😪*K!!! no words," Motley Crue's Tommy Lee wrote.
"Crushed. So f**king crushed," Motley Crue's Nikki Sixx wrote. "RIP Eddie Van Halen. You changed our world. You were the Mozart of rock guitar. Travel safe rockstar."
"Rest in peace guitar legend Eddie Van Halen," Billy Idol shared. "We will miss you."
"Eddie Van Halen and Neil Peart were just too good for 2020. We all are," added Sebastian Bach. "My heart is broken."
E Roland, singer and guitarist of Collective Soul — who toured with Van Halen in 1995 — said in a statement, "As much of a talented monster he was on guitar, he also was one of the most kind, sweet and generous souls I've ever met. RIP Eddie."
Harvey Mason Jr., Chair & Interim President/CEO of the Recording Academy also issued a statement, saying, "During his legendary career, GRAMMY Award winner Eddie Van Halen contributed to some of the world's most iconic music. His explosive guitar playing and approach to the musical process solidified him as an undeniable force in his field and forever established his place as a true guitar hero. The world is lucky to have witnessed Eddie's genius as a guitarist, and we know he will influence and shape rock music indefinitely."
Longtime Van Halen manager Irving Azoff remembered the rocker as a "loving, gentle soul" and an "unqualified genius."
"You get this image of this bombastic, incredible, loud, prodigy," Azoff added, "but personally, he had a big heart. He did a lot of things for a lot of people that nobody knows about… I probably can't speak as well as others have spoken over the last 24 hours as to Ed's musical genius, but Ed the human being, especially as he had to come to grips with being human, really shined. He was a great father."