In the book The Four Agreements, don Miguel Ruiz offers the suggestion, "Be Impeccable with your Word."    Some people interpret this to mean, "keep your word."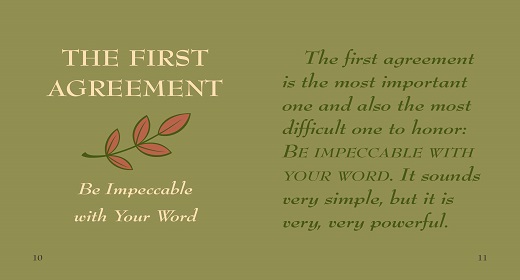 It doesn't.  Impeccability is not that simple.   For starters, being impeccable with your word has more to do with expressing your self in the direction of truth and love.  Other aspects are of significance, but this interpretation is most important.
It is important to use your word carefully. The way you express your self will impact your life, and others.  You have to be aware of what you say, and how you express your self to do this.  One of the results of impeccability is that you will say only what you mean, and you will mean what you say.   From the outside this appears to mean "keep your word."
When the meaning of "Be Impeccable with your Word"  is taught as "keep your word" it is because one of two reasons.  First, the person leading the teaching is not familiar with the more important expression of truth and love.   The second happens when the person leading the group has an attachment to controlling the behavior or actions of others.
If you subscribe to the idea that impeccability is really about keeping your agreements, then you subject your self to possible harm and abuse unnecessarily.  Very possibly you end up using these four agreements to inflict emotional suffering on your self instead of freeing your self from it the way they were designed to do.
Suppose that you make the agreement to get married.  You make a big commitment to love, honor, and respect another for all the days of your life.  But perhaps after months or years together, the person you are married to changes.  Perhaps they become abusive.  Perhaps they are emotionally withdrawn, involved in addictions, or have an affair.
At a certain point you become tired of being abused and you want to end the relationship.  But by now you have this new spiritually enlightening agreement to Be Impeccable.  You think the agreement means that you can't change your agreements.  With that interpretation you use the idea of impeccability to remain in a relationship that is abusive and disrespectful to your self.   This is not being kind and loving to your self.  This is not expressing love towards your self.  You are breaking the more important meaning of impeccability.
Besides, if you are in a relationship and your partner is disrespectful, unkind, and abusive, they have already broken the relationship contract.  They have not kept their side of the marriage agreement.  If someone is abusive to you, you do not have to keep your agreement to stay with them.  Staying with them all the days of your life was made within the context of love, honor, and respect in the relationship.  If they can not hold up their end of the agreement, then the agreement is broken.  You are free to go.  If you try to keep your half even when they have broken their half, that is not being honest and truthful about what has happened and therefore not impeccable.
Of course the two of you can each work on your half of how you treat each other.  It is very common to have lapses.   If your partner has lapses, but they have remorse, and they make an honest effort to improve, it can be worthwhile to work through the challenges.  However, it is very subjective to each person how much patience to have with someone.  No one can make that decision for you.
If and when you decide to end that relationship, you do it because of the love you have for your self.  You love your self so much that you want to be happy.  You also abide by the truth that you deserve to be happy.  With that impeccable expression of your love, you break your agreement to stay with the person abusing you.   In this case it is completely impeccable to break your previous  promises .
To be impeccable does not mean that you live your life according to the agreements you made in the past.  Practicing impeccability is just as much about freeing your self from the fear based and self limiting agreements of your past.