by Blythe Grossberg: Oprah Winfrey Leadership Academy for Girls (OWLAG) opened in 2007 near Johannesburg, South Africa…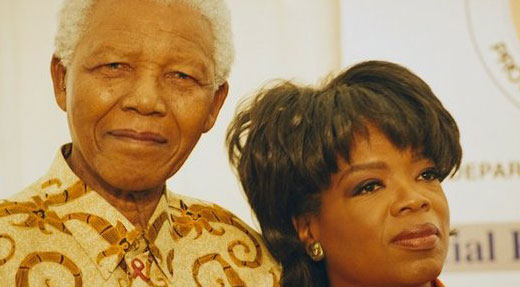 to provide leadership and educational opportunities for girls who have been denied those opportunities in South Africa to date. Oprah, TV talk-show megastar, philanthropist, actress, businesswoman, and other titles she holds, opened the academy with the belief that every child has the right to an education and with the inspiration of the words of Civil Rights leader Martin Luther King, Jr.: "My young friends, doors are opening to you – doors of opportunities that were not open to your mothers and fathers – and the great challenge facing you is to be ready to face these doors as they open."
Oprah first developed the idea for the school when she was visiting with then South African President Nelson Mandela in 2000. During her visit, Oprah discussed the educational situation and deprivation of children in South Africa. Oprah also comes from a tragic and poor upbringing in Mississippi. She was raped at age 9 and gave birth to a son at age 14, who later died. Her busing to a relatively wealthier school district allowed her talents to shine and gave her the inspiration and education to pursue further education. During her visit with Mandela, she pledged $10 million to open a school for girls who were at the top of their public school classes but who were also among the most disadvantaged in the country and came from houses with an income of less than $950/month. By the time the school opened, she had donated $40 million. The project created a 28-building campus with computer and science laboratories, a library, a theater and a wellness center.
Mandela, 88, attended the opening ceremony of the school in the small town of Henley-on-Klip, south of Johannesburg. He looked frail as he was helped onto the stage by his wife, Graca Machel, and Winfrey. But he beamed with joy and his speech resonated with pride.
"It is my hope that this school will become the dream of every South African girl and they will study hard and qualify for the school one day," he said in a firm voice.
Singers Tina Turner, Mary J. Blige and Mariah Carey, actors Sidney Poitier and Chris Tucker, and director Spike Lee also attended the opening.
Many of the students come from families affected by AIDS; an estimated 5.5 million of South Africa's 48 million people are living with HIV, which hits women disproportionately hard. "Girls who are educated are less likely to get HIV-AIDS, and in this country which has such a pandemic, we have to begin to change the pandemic," Oprah said.
OWLAG's curriculum follows the senior years program (grades 11 and 12) of the International Baccalaureate (IB), and a middle years program (for grades 8, 9, and 10). The school also is devoted to developing the leadership potential of its students, and part of the curriculum is devoted to cultivating leadership. The curriculum follows a college-prep coursework, including math and advanced math; sciences; arts; and social sciences, including information technology, business, history, and other areas. Language instruction is given in English and other local languages, including Afrikaans, Sesotho, and Isizulu. Students speak all 11 of the country's languages and come from all 9 districts in South Africa. Students live in well-appointed dorms on a campus that also features an exercise studio, a swimming pool, a dance studio, and tennis courts.
The school has enjoyed triumphs. All 72 students in the first graduating class went to college in a country where only 14% of blacks finish high school. In the second graduation in December 2012, graduating students attended schools in Africa such as the University of Cape Town (UCT), Wits University, the University of Johannesburg (UJ), Rhodes University, University of Pretoria (UP), Stellenbosch University, and the Cape Town University of Technology. In addition, many students attended American universities, including Spelman, Kenyon, Stanford, and Brown.