by Alex Lobrano; Alex Lobrano takes on the early-morning shift in a busy French bakery kitchen…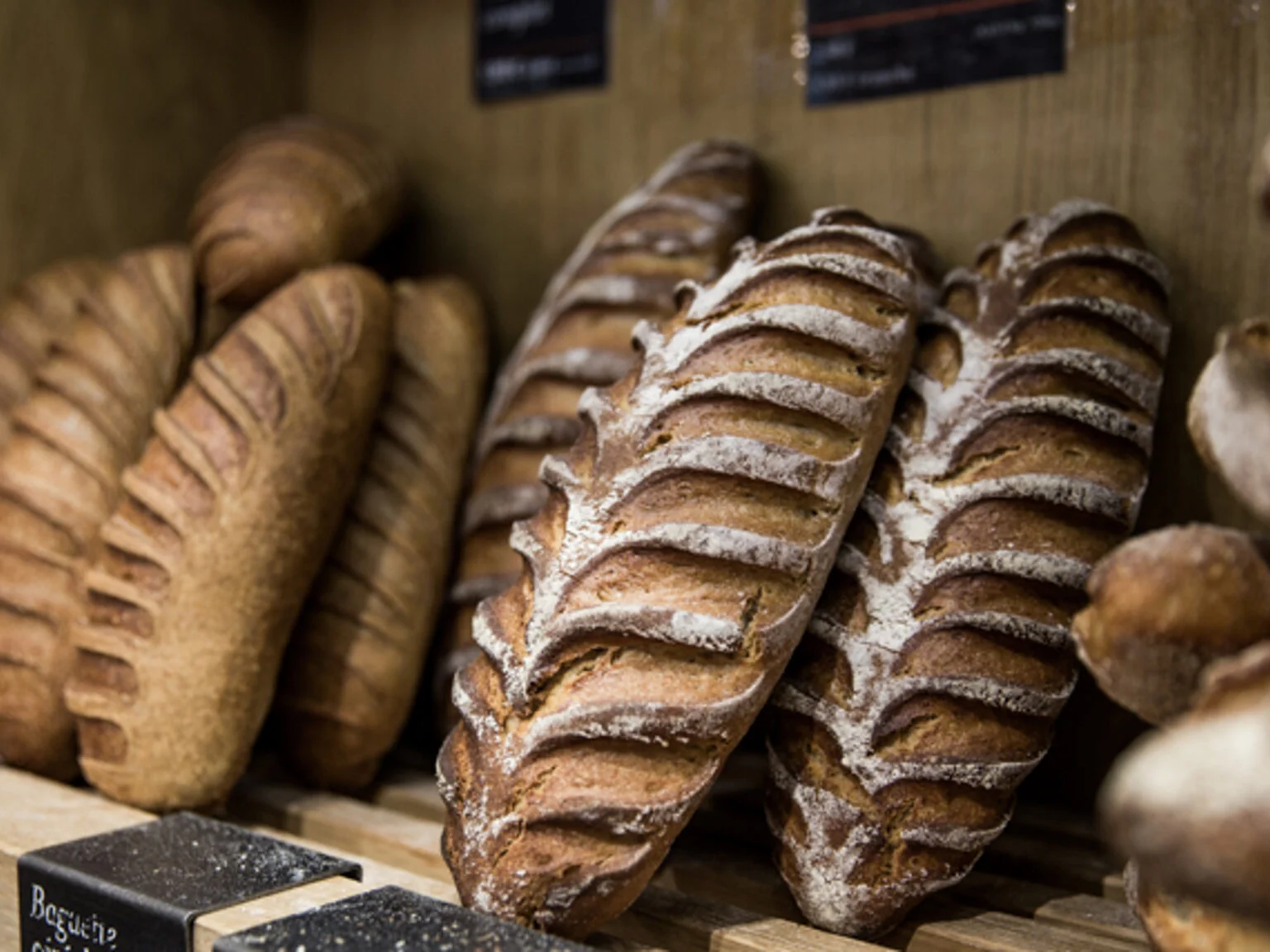 Not long ago I found myself sitting in a neon-lit bus shelter at 3:30 a.m. The sidewalks of Paris were black and shiny after a hard rain on a winter's night. I passed the time waiting for the bus, half reading a magazine and eavesdropping on a pretty African woman with intricate black-cherry-soda-colored braids who was chatting in a beautiful, lilting creole with a friend in faraway Mayotte, a French island near Madagascar.
After she ended her phone call, I could feel the lady staring at me. When I looked up, she smiled and asked, "Why are you here?"
"My job," I answered brightly. "I'm going to work as a baker."
She chuckled and arched her eyebrows. "Now that is some good honest work," she said.
Once on the bus, I wondered at my new friend's amusement: Did I really look so implausible as a baker? After all, I had once worked in a bakery—though that was a long time ago, in a New York kitchen where a messy mishmash of English, Spanish, Haitian French, and Yiddish was spoken and we drank beer and smoked joints all night while producing improbably decent scones and muffins.
As we churned along in the night, it struck me that I'd begun a new cycle of earnestness in my life. After years as a food writer in Paris for many illustrious publications and hundreds of meals in the most exalted restaurants of France, what I really wanted was good, simple, honest food. You see, the most important thing I've probably learned about French cooking is that its guiding reflex is an infallible preference for simplicity. Which is why I was headed for my first shift at a bakery on a quiet street in the city's silk-stocking 16th arrondissement. This working kitchen is one of several in Paris that belong to Frédéric Lalos, the baker who in 1997 was the youngest ever to win an M.O.F. (Meilleur Ouvrier de France), a supreme distinction of talent awarded to the country's best artisans.
I knew and loved Lalos' bread, because it's found on many of the best tables in Paris, including those at Guy Savoy, Taillevent, and Jean-François Piège's Le Grand Restaurant, and at seven neighborhood bakeries around the city. After an initially quizzical reaction, the baker had graciously agreed to let me join the team on the rue des Belles Feuilles for several shifts. Monsieur Lalos couldn't imagine why I'd want to get up in the middle of the night and trudge across town to do hard labor when my real job was, as he elegantly described it, "to give words to taste." But as I began my 30th year in the country, I realized that my relationship with French tastes had changed. I no longer wanted to be seated and waited on; I wanted to be standing and doing something generous and essential. Something like baking bread. For me, this was the most sincere homage I could possibly pay to the country that had adopted me.
I was not born to love pain. As a kid in suburban Connecticut I was unfamiliar with anything more exotic than an English muffin or foil-wrapped supermarket "Italian" loaves sprayed with something oily and yellow that turned them into "garlic bread" when toasted. Bread was as devoid of interest to me as tap water until my grade-school friend Peter Hoenig introduced me to the rock-salt-speckled pretzel bread that his Viennese mother baked herself and draped with a slice of smoky ham.
When I moved to France in 1986, I found that urgent uncontrollable desires could be learned—for oysters, for example, but also for 365 different cheeses, for Côte-Rôtie, and most of all, for bread. It started, of course, with baguettes. I'd finish one on my own in a day: half for breakfast, sliced horizontally and toasted, a process that filled my small kitchen with a savagely provocative scent of grilled grain and distant notes of yeast; the other half, an amply buttered canvas for a simple sandwich of ham and cornichons.
At a now vanished bakery on a side street near the Sorbonne I discovered square loaves of rye bread (to be eaten with oysters); breads packed with walnuts and figs (for cheese); a big miche, or round country loaf that was just right for a dinner party with friends—first toasted and served with soup or maybe some foie gras, then used to soak up the sauce of a good boeuf bourguignon or poulet au vinaigre, and then making a final appearance with the cheese tray.
Coming back to Paris after the first time I'd left the city for a vacation in the U.S., I surprised myself with a lupine hunger that had me shoving my suitcase through the door of my apartment and then rushing down the road for a baguette from my local bakery before it closed.
When head baker Damien Dedun excused himself a minute after we'd met and returned with a fluttery cellophane-weight visitor's apron, a disposable nicety unknown to men who worked in jeans and T-shirts, my heart sank. Damien, Dominique Levier, and Anthony Harmon, the bakers I had joined on the rue des Belles Feuilles, had a lot of hard work to do, as they did every morning, and now they had the additional encumbrance of a foreign journalist under their feet. I'd blundered into their fraternity and inadvertently put them on their best behavior.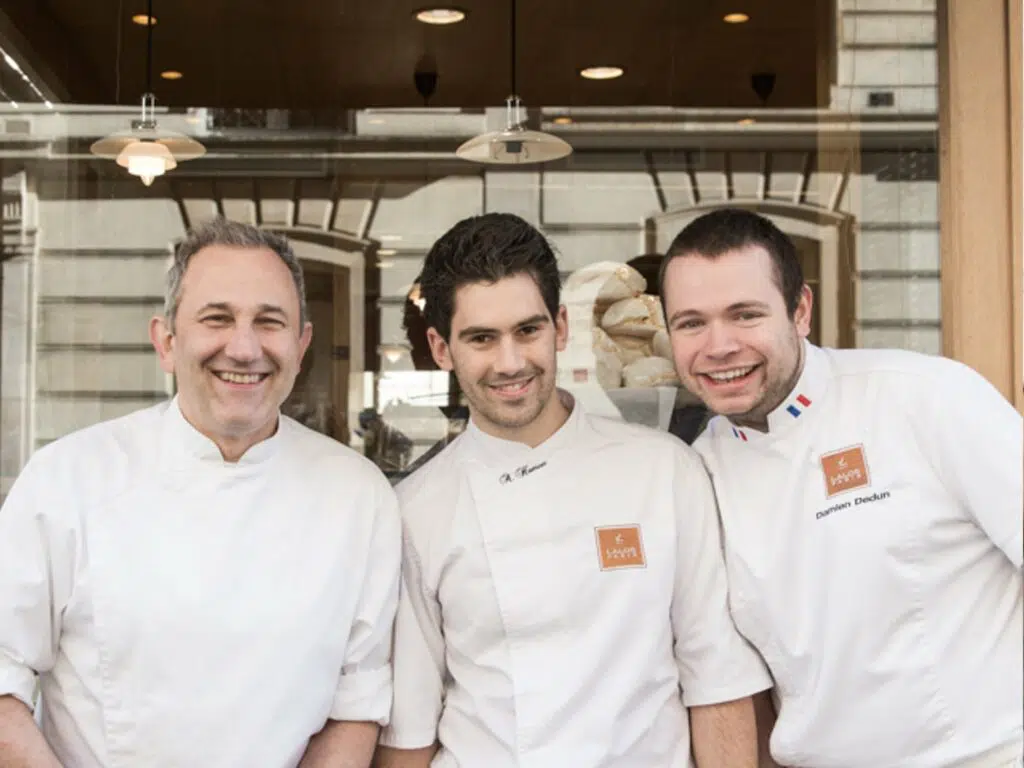 If this was going to work, I had to explain concisely why I was there, convince them I was serious about learning as much as I could about baking bread, and make them let go of the refined professorial vision of myself I saw in their eyes as quickly as I possibly could. So I offered them the short version of how I had fallen in love with bread, ending with the never-to-be-forgotten adage of my first French boyfriend, the one who insisted that "a meal without bread is even worse than bad sex." Needless to say, they loved that.
Damien showed me how to roll out the dough for ficelles, a diminutive of the baguette, and as we worked and talked—I mentioned to him that I'd once worked in a bakery, which amazed him, and also detailed my experiences working in restaurant kitchens and dining rooms when I was a student—his shyness evaporated and he relaxed. Finally accepting me as his pupil, he was, in fact, very proud to share with me what he knew.
He showed me a big, plump, white round loaf that had been rising in a brown linen-lined basket for 24 hours. "Touch it," he said. The surprising tautness of the dough made me think of the belly of a pregnant woman. "Oui, oui! C'est ça," Damien enthused. "It takes practice. But you'll learn, because you have baker's hands—cool, smooth, and strong."
From a small village in Normandy, Damien, now in his late 20s, decided to become a baker when he was 14 and apprenticed for five years before getting his first job. "What makes the quality of Lalos' bread is the flour," he explained. "The quality of French bread has declined in many bakeries because the bread is baked with terrible flour made from industrially grown, genetically modified wheat. Here we work with flour from small mills like the Terres de Margerides in the Auvergne. There is no good bread without good flour, and there is no good flour without good grain, so we have to fight to break the really bad system that's developed since World War II and return to growing old varieties of grain using the same methods our grandfathers did."
During the next seven hours, I moved from one baker to another, doing small tasks, helping as best I could, and learning about their work. Dominique was "le blanc," or the one who makes the dough. He once worked as baker to the King of Morocco, a job that involved baking fresh croissants for the regent and his court of 300 in the desert, in ovens powered by generators.
"Always remember, Alec, baking is the marriage of science and instinct," he told me, as we rolled out cigar-size lengths of sticky dough that would become ficelles. "You'll learn the chemistry of it, but then you have to hear, feel, and see what the dough really needs."
My morning shift ended around 11 a.m. I left the bakery and walked down the street feeling proud of my flour-dusted sweatshirt and the aching arches in my feet, but also humbled by the generosity and gentle friendship I'd been offered. I was startled when someone shook a paper cup of coins at me. I had no change for the hungry-looking stranger, but I'll never forget the astonished smile that lit up his smudged face when I handed him one of the big heavy loaves of warm bread I had just helped bake. It wasn't much of a sacrifice either, since I'd soon be savaging another favorite Lalos bread, the beaujolais-chorizo loaf, as part of a sandwich with a light smear of green-olive tapenade and a slice of Comté cheese.
It would, of course, take years for me to become a real baker, like the men I'd just worked alongside. But after just this one morning, I already felt slightly chastened: My work would never be urgently necessary, unlike the labor of these bakers. Their work forms the very bedrock of Gallic cuisine since a meal without bread is unthinkable in France. It's also a perfect expression of the exigent skills needed to accomplish French simplicity. "Bread is alive," Damien explained to me when we began working together. "You have to watch how much water the dough is drinking when you make it. You have to learn how to listen to it, because every dough has a soul."