by Laura Streeter: One of the giants of twentieth-century anthropology, cultural anthropologist Margaret Mead (1901-78) was also a collaborator and great friend of Alan Lomax.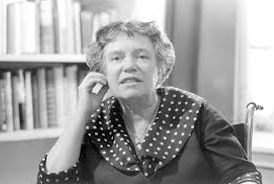 She advised him on his Cantometrics project, and it was she who introduced him to the anthropologist Conrad Arensberg who was for many years his partner and advisor on the project. Said Alan Lomax of Mead, "Once you were a member of her family, you remained one for good." Cutting a striking public image herself, with her customary long cape and forked walking stick, Mead played an important role bringing cultural anthropology to the public, in the process becoming a household word.
As the president of the Anthropological Film Research Institute, Mead, along with Lomax, argued for the creation of a national archive of ethnographic films to preserve important work that might otherwise be lost. Ethnographic films were integral to Choreometrics, a statistical cross-cultural study of dance as formalized, culturally-shaped communication, that Lomax developed in partnership with Irmgard Bartenieff, and Forrestine Paulay, beginning in the 1960s. With Margaret Mead's help, Lomax searched the world over for ethnographic films of dance and movement for the team to analyze.
Margaret Mead was born in Pennsylvania on December 16th, 1901, the oldest of four children. Her father, Edward Sherwood Mead, was a professor at the Wharton School of Business at the University of Pennsylvania. At a time when most married women did not hold jobs outside the home, Margaret's mother and maternal grandmother were both career women; her grandmother had been a teacher until Margaret was born, and her mother was a sociologist as well as an ardent suffragist. Margaret often tagged along on her mother's ethnographic expeditions to Italian immigrant communities in the New Jersey Pine Barrens. She also absorbed her mother's academic ambition, sense of social responsibility, and desire to make a difference. Mead attended DePauw University for one year before transferring to Barnard College in New York City, where she met anthropologist Franz Boas, who became her mentor and inspired her to pursue anthropology as a graduate student at Columbia University. In 1926 she joined Boas at the Museum of Natural History in New York, where she worked until her death, first as Assistant Curator of Ethnology (a title also held by Boas) and later as Curator.
With Boas's support, Mead, at the age of 23, traveled to the South Pacific to conduct research for her doctoral dissertation on adolescents in a Samoan village on the island of Ta'u. This work resulted in the seminal book, Coming of Age in Samoa (1928), which catapulted Mead into the public eye and became highly influential in the field of anthropology. Like Boas, Mead was a cultural relativist. Her cross-cultural approach, comparing Samoan cultural mores with those of Americans, and her focus on individuals were highly innovative at that time. In Coming of Age in Samoa, she reported that Samoan sexual attitudes were much more relaxed than American and that Samoan adolescents transitioned smoothly from children to adults without going through the emotional turmoil often experienced by their American counterparts. Mead thus argued that the American view of adolescence as a period fraught with emotional distress was not the universal human experience, but rather the result of cultural forces.
Her next book, Growing Up in New Guinea: A Comparative Study of Primitive Education (1931), was a ground-breaking study of comparative child development, a discipline she virtually invented. Subsequent essays on the childhood and the family in America emphasized the value of comparative interdisciplinary collaboration in the study and research of this field.
Mead, along with her third husband and fellow anthropologist, Gregory Bateson, was among the first to recognize what a rich resource video and photography could be to ethnographic research. Together they pioneered the integration of visual materials, especially film, with anthropological study, contributing to the founding of the discipline of Visual Anthropology. Between 1936 and 38 Mead and Bateson produced three films in Bali with cinematographer Jane Belo: Trance and Dance in Bali,Learning to Dance in Bali, and Karba's First Years. Mead also produced films on the differences in child-rearing practices across different cultures, including Bathing Babies in Three Cultures.
During World War II, Mead was Executive Secretary of the National Research Council's Committee on Food Habits, examining how Americans were adapting to the tinned war rations. As Curator of Ethnology at the Museum of Natural History (1946-69) she helped create the Museum of Natural History's Hall of Pacific Peoples, where her donated contributions can still be seen today. From 1954 to 1978 she was also an adjunct professor at Columbia University. She founded the anthropology department at Fordham University's Lincoln Center campus and was chair of the Fordham's division of social sciences from 1968 to 1970. Mead was the first woman to be elected to the board of theAmerican Association for the Advancement of Science and in 1975 served as its president. She was also president of the Society for Applied Anthropology, the World Federation of Mental Heath, and the American Anthropological Association.
Mead actively participated in public life both as a speaker and as a contributor of articles to popular magazines such as Redbook. She was frequently called upon as an advisor on public policy in matters relating to mental health, adolescence, ageing, and women and careers, to name a few. She was also a mentor to others, both those in the field, such as anthropologist and photographer Paul Byers(with whom she co-authored a book), and to outsiders like Alan Lomax. Mead also admired psychologist Erik Erikson, whose books, Childhood and Society (1950) and Young Man Luther (1958) explored child development and adolescence. She was a fan and advocate, too, of popular writer Gail Sheehey, author of Passages (1976), about the stages of adult life.
In 1963, Alan Lomax consulted with Margaret Mead about the feasibility of publishing a preliminary article on his Cantometric research. Mead advised Lomax to clearly lay out his methods in an undogmatic manner, in order to leave room for future inquiries, and she cautioned him not to include negative evidence in his presentation. She also stressed the importance of taking historical factors into account in the interpretation of culture. An audio recording of this discussion between Mead and Lomax is available in the archives of the Association for Cultural Equity. Mead also wrote to the Rockefeller Foundation on behalf of Lomax, recommending his Cantometrics project for a Rockefeller Grant.
In 1977, Alan Lomax was a member of the Honorary Committee that established the Margaret Mead Film Festival at the Museum of Natural History, honoring Mead's 75th birthday and fifty-year association with the museum. The Festival, showcasing hundred of ethnographic films from around the world, is still held every Autumn.
Margaret Mead died of pancreatic cancer on November 15, 1978. The following year, she was honored posthumously by Jimmy Carter with the Presidential Medal of Freedom. In 2001, the Library of Congress celebrated Margaret Mead's Centennial with a commemorative exhibition: Margaret Mead and the Power of Culture.
For more on Mead, and for a full list of her publications, many of which have been newly re-edited, see the website of The Institute for Intercultural Studies.
Photos: (top) Margaret Mead, (c. 1967); (inset) Margaret Mead Stamp, 1998.