from Book Rags: Margaret Mead (1901–1978) was America's best-known anthropologist of the twentieth century.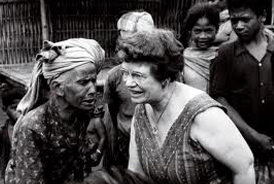 She grew up in Pennsylvania, briefly attended DePauw University in Greencastle, Indiana, and moved to New York City where she received her B.A. in psychology from Barnard College.
Mead completed her education with an M.A. in psychology and a Ph.D. in anthropology from Columbia University. In the mid-1920s she became a curator of anthropology at the American Museum of Natural History in New York, where she spent her entire professional life. In a career that lasted over fifty years, Mead was an energetic researcher, prolific author, sought-after public speaker, influential public thinker, and tireless champion for the young discipline of anthropology.
Mead's research on several cultures in the South Pacific during the 1920s and 1930s, including Samoans, Manus, Balinese, and the Arapesh, Mundugumor, Tchambuli, and Iatmul of New Guinea, led to a number of popular books and professional monographs. Her research focused primarily on childhood, youth, and adolescence, as well as kinship and social organization. She is also known as the founder of the culture-and-personality school of cultural anthropology. Although Mead is not well known for her contributions to the study of religion, she nevertheless wrote about religion for both professional and popular audiences.
Mead's research on religion in her professional work is reflected in her detailed monograph on Arapesh supernaturalism (1940). It is her most comprehensive description of an indigenous religious system, containing extensive data on this New Guinea tribal culture's cosmology, myths, ritual beliefs, and practices. In this work, she gave special attention to rites of passage. Mead also published articles on taboo, magic, and men's houses in New Guinea. Based on her extensive fieldwork on the island of Manus, off the coast of New Guinea, she wrote about the belief in animism among adults and children, as well as long-term religious change in New Lives for Old (1956). She also described a revitalization movement on Manus (1964).
In Balinese Character (1942), Mead and Gregory Bateson used photographic analysis to comprehend Balinese trance. Their documentary, Trance and Dance in Bali (1952), is considered a classic in ethnographic film. In most of Mead's work on indigenous cultures, though, religion was tangential to other topics. For example, in Coming of Age in Samoa (1928), she briefly discussed the role of Christianity in the lives of adolescent girls. Mead viewed Christianity as playing a relatively benign role in adolescent socialization and was subsequently criticized by anthropologist Derek Freeman for not fully addressing what he viewed as the harsh and puritanical Christian morality of the time (Freeman, 1983). Mead also wrote a chapter on the child and the supernatural in Growing Up in New Guinea (1930) and one on religious institutions in The Changing Culture of an Indian Tribe(1932).
Although she wrote about religion based on her fieldwork, Mead's detailed ethnographic work on religion did not provide major contributions to theories of religion. She favored a more scientific, psychological, and developmental approach to religion that was superseded by more humanistic, symbolic approaches in anthropology. Mead's pioneering descriptions published in the 1930s and 1940s yielded to the interpretive ideas of Clifford Geertz, Victor Turner, and Mary Douglas in the 1960s and thereafter. And, while Mead was a forerunner of feminist approaches to the study of culture in general, she did not offer a feminist approach to the study of religion.
Mead wrote a good deal about religion in her role as a public intellectual, especially in her later life. She was very interested in religion in her own life, in the United States, and in the world at large. Although her parents were atheists, at age eleven Mead asked to be baptized. Her first husband, Luther Cressman, was an Episcopalian minister, and early in their courtship Mead planned to be a minister's wife. As she became a professional anthropologist, her goals changed. Yet Mead continued to be a religious person, unlike most of her colleagues in anthropology. Unknown to many of her friends, she secretly maintained her Christian faith.
In the 1960s, she saw a new role for Christianity in the world community, involving issues like civil rights and ecumenism. She was asked to be a representative for the Episcopal Church to the World Council of Churches, which she attended for several years. Mead was deeply involved in this project and authored Twentieth Century Faith: Hope and Survival (1972) about religion in the age of technology. Mead also wrote a number of opinion pieces on religion for the lay public in religious magazines and for her long-running column in Redbook magazine. She discussed the spiritual dimensions of birth control, the right to die, women as priests, the contemporary fascination with the occult, and other issues of the day. Mead saw no conflict between religion and science, and she envisioned a world where the faiths of other cultures would not be considered inferior. In her role as a public intellectual, she wrote more extensively on religion for a popular audience than she had for her peers in anthro-pology.