Sri Gurudev began his public service in 1951 when H. H. Sri Swami Sivanandaji Maharaj sent him on an All-India Tour.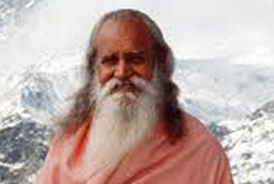 Then, in 1953, he was sent to Sri Lanka where he spent 13 years serving there. In 1959, Sri Gurudev was invited to lecture in Hong Kong, and then in April of 1961, he was invited to make a more extensive Far Eastern tour, including Japan and the Philippines, Hong Kong and Malaysia.
Coming to the West
In 1965, Conrad Rooks, a young American film director (Siddhartha), and heir to the Avon cosmetics fortune, came to Sri Lanka. Deeply moved by Sri Gurudev's quiet wisdom, Mr. Rooks quickly became his ardent student. When urgent business called him to Paris and made it impossible for him to return to Sri Lanka, Mr. Rooks sent Sri Gurudev a roundtrip ticket to Paris so that he could continue his study of Yoga. Sri Gurudev felt that Divine Providence had given him this unsolicited invitation and decided to go.
Everywhere he went on his trip to the West—Jerusalem, Rome, Paris, Brussels, London, Berlin—people were moved by his humble demeanor, his practical wisdom, his clear and concise answers to questions. When Mr. Rooks saw how much benefit Westerners were receiving from his instruction, he suggested that Sri Gurudev return to Sri Lanka via the United States. Artist Peter Max, who had just met Sri Gurudev in Paris, was delighted at the prospect of his coming to America and arranged for him to stay with his family for a two-day visit to New York City.
On the first day of his visit, Mr. Max invited a small group of his friends to meet Sri Gurudev. They, like so many other young Americans of the 1960s, were filled with questions about the meaning of existence; they were searching for truth in a tumultuous world that seemed ridden with hypocrisy, injustice, and violence. In Sri Gurudev they found someone with wisdom and deep understanding and who conveyed a sense of balanced peacefulness that they had never before experienced.
Responding to their ardent pleas, Sri Gurudev extended his stay from two days to a few weeks. It became five months and then his students sought a more permanent residency for him. Soon, Peter Max's small apartment could not accommodate all of the throngs of young people wanting to meet Sri Gurudev, so his new American students rented a place where he could teach Yoga classes and give talks. Soon, the Integral Yoga Institute was founded and there are now more than 50 centers worldwide.
European Union
Meanwhile, his European students—who had met Sri Gurudev before he visited the United States—were asking him to return to Europe. He returned yearly, and he received more invitations for speaking engagements. On Sri Gurudev's third trip to London in 1972, the British Wheel of Yoga made him honorary president of their organization.
In the 1970s, Mr. Gerard Blitz, the President of the European Union of National Yoga Federations (EUNYF) invited Sri Gurudev to be a guest speaker at the EUNYF conference in Zinal, Switzerland, a tradition that lasted for the next fifteen years.
Yoga Down Under
In the early 1970s, Sri Gurudev was asked to be an Honorary Patron of the International Yoga Teachers Association (IYTA), which had its headquarters in Australia. He was invited back throughout the 1970s and 1980s to speak at many of the IYTA conferences. Also during this time, several Integral Yoga Institutes and Teaching Centers were formed in various places around the world. A senior student, Krishna Koch, founded the Ontos Retreat Centre in Victoria, Australia, based on the principles and practices of Integral Yoga.
Integral Yoga International
By 2002, Sri Gurudev had made eight world tours and had logged nearly two million miles of travel around the globe. In his footsteps, Integral Yoga International, a worldwide organization, grew with branches on six of the seven continents.
From the green waters and pink houses of Bermuda, to the inland villages of Nigeria, Integral Yoga has taken root around the globe. Sri Gurudev's visits to these places made deep impressions in which many seeds were planted. Over the years, Sri Gurudev came often to water and weed, to love, and to nurture. "I don't belong to any one country or organization," he always said.
Quick growth was never his goal. Always, it was each devotee's unfoldment that took precedence over the growth of the Integral Yoga organization as a whole. Today, a new Integral Yoga International is emerging in response to the needs of the times-a sweet manifestation of those early seeds.
While Integral Yoga Hatha Teacher Training (TT) programs have been conducted in the USA for many years, the first TT program in German took place in 2002, and in 2003, the first ones in both Italian and Spanish. In 2002, Integral Yoga activities in the United Kingdom became so full that the centers instituted a UK Council to oversee them. In 2003, for the first time in Integral Yoga history, a program for Teacher Trainers took place at the Integral Yoga center in Portugal.
Integral Yoga programs are now being taught around the world by Sri Gurudev's senior monks and Yoga teachers.