by Brad Gooch: Arriving in Konya, a medium-sized city in Turkey's Central Anatolian heartland, about an hour's flight southeast of Istanbul, my brief mumble to the cab driver—"Hotel Rumi"—was direction enough.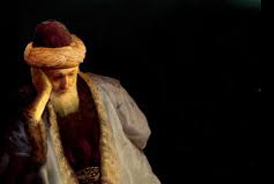 It was a hot summer evening, and I quickly got a fix on my surroundings through the car's open windows, as we stopped and started our way down a busy boulevard. Everything in this city of a million-plus seemed caught in a bit of a time warp. In fact, it was reminiscent of a small American town in the 1950s, clean and put together, safe but not overly pretty: Cigarette smoking was ubiquitous on the streets; most taxis, like ours, were yellow Chevy Bel Airs; store-window mannequins in knee-length dresses were distinguishable from their middle-American counterparts only by their brightly colored hijabs. The poetic ambiance of arabesques and minarets I'd imagined was mostly missing, until the taxi approached the hotel—with its floodlit midnight-blue walls and central tower—situated on the edge of town near the shrine of its namesake, the 13th-century mystic poet Jalal al-Din Rumi.
As the author of literary biographies of the poet Frank O'Hara and short-story writer Flannery O'Connor, as well as a book on spirituality, I'd come to Konya—much as I'd first gone to O'Connor's farm, Andalusia, in Georgia—in search of Rumi, my next subject. I was hoping to put a face and a place to a name and a style of writing that had long glowed in my brain. In Rumi's case, the detective work could be daunting—a Persian poet from what is now Afghanistan, who lived most of his life in Konya, he strove for the anonymity of having no name. "Blessed is the one who burns away," he wrote. Yet this wish to go up in smoke hardly came true: Since first finding modern-day popularity in the 1960s, Rumi has been one of the best-selling poets in the United States. The Essential Rumi, by translator Coleman Barks, has sold half a million copies and counting. Not since the Victorian craze for Omar Khayyám ("a Jug of wine, a Loaf of Bread—and Thou") has a swooning Persian poet achieved such brand recognition. The whirling-dervish-style dancing meditation of Rumi's Mevlâna Sufi order is known and practiced worldwide, and his tomb draws nearly two million visitors, though few Westerners, a year.
But I was seeking Rumi 2.0, a more realistic version than the hippie model writer Andrew Harvey has described as "Rosebud Rumi…a medieval Jerry Garcia of the Sacred Heart." I was curious about the actual Muslim poet of a specific time and place, not just the author of single lines that tinkle like wind chimes, but the creator of 65,000 lines of poetry—including a six-volume spiritual epic—a writer more prolific than Milton or Shakespeare. Reminders of Rumi's harder-edged relevance arrived in 2009, when protestors on the streets of Tehran chanted lines of his poems. Appearing on The Charlie Rose Show, Azar Nafisi, author of Reading Lolita in Tehran, claimed that an increasing number of Iranians were turning away from the state religion toward the "Islam of Rumi," which she described as both "generous" and "subversive." And for all their heady perfume, Rumi's lyrics are also a rich source of everyday information on his friendships, reading, culinary tastes and, especially, the town where he wrote: "Come into my house, beloved—a short while!…. / That the light of love will shine from Konya / To Samarkand and Bukhara."
In search of that "house," and a hint of the "light of love," I headed out almost instantly with my traveling companion, a dean of religious life at an American university, toward the turquoise-tiled cylindrical tower, wrapped in a band of blue-and-gold calligraphy, that marks Rumi's shrine. (Perhaps, too, we were escaping the products in our hotel rooms labeled "Rumi": shampoo, soap and slippers.) We easily found our way to the Selimiye Camii park on the next block, along the southern wall of the shrine. "It's like a little public square in Madison, Wisconsin," said my friend Paul, as the disappointment of finding the shrine closed for the evening gave way to the pleasure of spending a few minutes in a quiet exhalation. Despite the late hour, local families sat on benches beneath leafed canopies, eating pistachios; kids rode dirt bikes, the younger ones on training wheels; a wild gray dog, with a question mark of a tail, patrolled its turf.
After a Turkish breakfast the next morning on the hotel balcony (tomato wedges, feta cheese, plums, halvah, sour cherry juice), I returned to the shrine solo, though solo was never really an option. The once-sleepy park now surged with crowds. Again, Rumi's poetic wishes seemed confounded. In anticipation of his own death—his funeral, in 1273, was famously celebrated, as he insisted, as a wedding day and included readings from the Koran, Gospels and Torah—Rumi wrote, "When you see / My body being carried / Don't cry / I'm not leaving / I'm arriving at eternal love." Yet his burial site, called the Mevlâna Museum, clocks nearly 5,000 visitors on an average day. (Mevlâna, or our teacher, is the common Turkish moniker for Rumi. In Istanbul, a young woman had warned me, with some exaggeration, "If you say Rumi in Turkey, no one will know who you mean.")
Along with visitors of all ages, I paid three Turkish liras (about $1.50), pushed through a turnstile, filed past a marble courtyard fountain and fitted blue plastic baggies over my Nikes. Yet once I was through the tall, silver Ottoman doors and into the burial chamber itself, with its fireworks of a chandelier, I felt that the elevated tomb of Rumi, covered in black velvet, did command respect; suddenly the murmured prayers and sobs seemed to be set on mute and the details of devout women, as they drew scarves over their heads, blurred into the background. "Mevlâna" was hardly alone, and the other 65 tombs on his platform told a story: the standing carved-wood tomb of his father, who led the family to Konya from Afghanistan; six dervishes who helped the family resettle; his second wife and two sons. All were marked with swirled turbans: green for family; white for friends. The exit wound through a rose garden, where I stopped in the gift shop to buy a fluorescent orange pen labeled "Mevlâna."
Back out on Konya's main boulevard, Mevlâna Caddesi, I found myself heading downtown into the city that had hazily registered the night before. It was now operating at full force: Turkish house music blared from CD-store speakers; scruffy students inhaled apple smoke from hookahs; old men in green caps wheeled barrows of eggplant along the curb. The main lunch spot, the Sifa Lokantasi—with its giant Woolworths-style plateglass windows, framed photographs of orchids lining the walls and waiters well beyond adolescence—offered traditional less-is-more fare: red lentil soup; zucchini with mint or dill; figs stuffed with walnuts. Two blocks away was Sürüm, a chocolate shop dating back to 1926, reminiscent of an old soda fountain. On every street, bakeries sold the pide flat bread that inspired Rumi's line, "My poetry is like Egyptian bread—eat it while it's fresh."
Continuing to follow my inner astrolabe—a favorite image of Rumi's—past the fully operating 15th-century Tarihi Mahkeme Hamami bathhouse, which was restored in 1754 ("the world is a bathhouse, its windows eternity"), I was walking just northwest of Hükümet Meydani square, when I chanced upon an elegant 14th-century mosque, a hush of hanging lamps and thick green-and-gold embroidered carpets, which turned out to be the unmarked shrine of Shams ud-Din of Tabriz.
The agent of Rumi's transformation into a poet, Shams was a fiftysomething outlier mystic he met in a Konya bazaar in 1244. Then in his late thirties, Rumi was already a famous preacher and religious law professor, but by 1247, with the spiritual guidance of Shams, he had become a full-blown poet. Then Shams disappeared. (By most accounts, he was murdered, and one of Rumi's sons was somehow complicit.) Forsaking his academic prose, Rumi poured out his grief in his Divan-e Shams,or the collected poems of Shams. One line, beautifully translated by W. S. Merwin and Talat Halman, makes a pun on Shams's name, which means "sun" in Arabic: "The face of Shams-ud Din / the glory of Tabriz / is the sun that hearts follow / like clouds."
The Seljuk empire of Rumi's time was as compelling in many ways as the fictional Shangri-La for its burst of creative and spiritual light during a dark political era. The center of its imperial capital, Alaeddin Tepesi (Aladdin Hill), a 15-minute walk from Shams's tomb, is still the center of modern-day Konya. At the base of this ancient acropolis, where St. Paul is said to have preached, two wall fragments remain—including a frieze of a unicorn lifting an elephant onto its horn, an image Rumi used as a symbol of love's power—from the palace of sultan Alaeddin Keykubad I (r. 1219–1236), who packed his court with the brightest and best poets, artists and scholars. Set atop the hill is the Alaeddin Mosque, completed in 1220; inside, a forest of 42 Roman columns surround the carved ebony pulpit, where Rumi's father preached. Here Rumi attended Friday prayers: "I prayed so much that I turned into prayer." Across the street is the Tile Museum, which was a school in Rumi's time. Under a dome of turquoise, gold and black stars, it features exhibits of glazed tiles in Seljuk deep blue—the chicest of colors.
As much an artist, working in music, dance and performance, as a poet, Rumi himself originated the ritual ceremony of whirling dervishes that my friend and I attended that evening. Twirling into a trance as meditation, these Sufi dancers (the term souf, or wool, for their simple wool robes) have become so popular that Konya built them a stadium-sized venue, with a glittering dome, on the perimeter of town, where buses of tourists pull up most nights. While a plaintive melody played on flute and drum, 12 dancer-disciples in tan-felt tombstone hats shed their black cloaks, looking, as they spun, like white flowers opening, or orbiting planets. In the final cycle, a figure in black, symbolizing Rumi, whirled counterclockwise from the sidelines into the center, reuniting with the invisible sun of love—the poet's obsessive theme. (Even the video I took of the ritual emits a certain hypnotic peace, especially when I show it on my BlackBerry over dinner in Manhattan.)
The next day we hired a driver named Ertan and a BMW jeep to make the 70-mile trip through rolling wheat and sunflower fields to Karaman, the village where Rumi's family had lived for seven years before moving to Konya (the poet memorialized its peaches "that make the whole town smile"). His mother and brother are buried in a mosque on the main square, their tombs sequestered behind green latticework busy with ornamental calligraphy. That afternoon, as we headed back through the golden Anatolian countryside, we stopped in the lush Konya suburb of Meram. "The VIP of Konya," explained Ertan, in his only English of the day, referring to its well-off residents. From Meram's Tavus Baba tea garden, you can take in the full panorama of Konya and stroll through a Tivoli Gardens of waterfalls, paddleboats and ducks floating in dark-green water. Here Rumi found inspiration for his whirling practice in a waterwheel ("The wheel of heaven / Circles God / Like a mill"), and here he recited to his friend Husam, from a page he had hidden in the folds of his turban, the first lines of his six-volume epic poem "Masnavi," some of the most famous in all of world literature: "Listen to the reed flute and the tale it tells / How it sings of separation."
In Konya that evening, Rumi's trademark "pearl" moon shone through the vine-covered trellises of Kösk Konya Mutfagi restaurant, where a bride in a white hijab and her wedding party dined on baby-okra soup. The moon spread its vanilla light over dome upon dome of the Sufi buildings built over centuries around the original green tower of Rumi's shrine. "Say goodbye to Rumi," Paul said later, as we walked by the entrance, our footsteps echoing on the now-quiet Türbe Caddesi. A night person, Rumi composed most of his poetry while Konya slept. At that still moment, I finally experienced the intimate connection with the great poet that had eluded me in daylight. As Rumi had once discovered with Shams: "Friends don't finally meet somewhere / They're in each other all along."