by Donna Quesada: Jesus is Universal—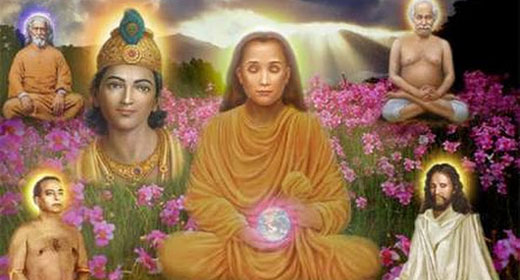 The great Yogi, Paramahansa Yogananda, once asked, "Many are the powerful churches founded in Jesus' name, but where is the communion that he stressed…where is the actual contact with God?"
When Jesus spoke, he was imparting deep truths, which he himself, received through direct experience and genuine communion with the divine. We may refer to this state of consciousness by many names, such as Christ Consciousness, or God Realization, in which the oneness that exists among all revelations, regardless of name, sect, or geographical location, is perceived. Truth is Truth is Truth is Truth, no matter its name and irrespective of what costume or scripture we wrap it in. This means that The New Testament is no more Christian, than The Bhagavad Gita is Hindu. They are written records of enlightened revelations available to any seeker by any name for the purpose of upliftment.
Not Through Rituals, but through Yoga—
Thus, Christ Consciousness is beyond category, and can only be known through experience, not by dint of ritual, costume or temple. Not even by the arrival of Jesus himself. As Paramahansa-ji put it, "A thousand Christs sent to earth would not redeem its people unless they themselves become Christlike by purifying and expanding their individual consciousness."
Through the technology of Yoga—a word meaning, Union with Divine—a seeker can expand his/her consciousness to the frequency of the divine. Or, said differently, he/she can unite his/her finite awareness with the infinite awareness, often called God. The technology of Yoga was first revealed in written form, in Patanjali's Yoga Sutras, about 500 years before Jesus. In these sutras, it is said that through various daily disciplines, culminating with meditation, the omniscience of cosmic awareness may become known.
The Soul of Yoga has been Lost—
These practices, known by sages and Yogis…and by Jesus himself, have been held in secrecy and passed down with discretion, from teacher to disciple, for millennia, long before they were ever written. Unfortunately, through the commercialization of mainstream Yoga, through its importation to the west, this technology, as well as the original intent of Yoga—has been lost in the morass of poses, products and popularity.
The Hidden Truth in Jesus' Parables—
And the disciples came, and said unto him, "Why speakest thou unto them in parables?" He answered and said unto them, "Because it is given unto you to know the mysteries of the kingdom of heaven, but to them it is not given….Therefore speak I to them in parables: because they seeing see not; and hearing they hear not, neither do they understand." 
Like the Yogis of old, who carefully guarded this technology of enlightenment, Jesus, too, selectively revealed the higher and more advanced teachings for those that were able to receive them, which is why he taught in parables.
When asked by his disciples, why he often taught through parables, Jesus said, "Because it is so ordained that you who are my real disciples, living a spiritualized life and disciplining your actions according to my teachings, deserve, by virtue of your inner awakening in your meditations to understand the truth of the arcane mysteries of heaven and how to attain the kingdom of God, Cosmic Consciousness hidden behind the vibratory creation of cosmic delusion. But ordinary people, unprepared in their receptivity, are not able either to comprehend or to practice the deeper wisdom-truths. From parables, they glean according to their understanding, simpler truths…"
Esoteric Practices—
As is taught in all practices, the ultimate truths of heaven, that Jesus spoke of, can not be grasped by the senses, nor the rational mind, but can only be known through intuitive awareness. In other words, only through direct experience, can we ever really know the reality that lies behind the trappings of logic and beyond the illusions of the senses.
Through direct personal practice in the myriad techniques of Yoga and meditation, transcendental consciousness may be achieved. For example, through the awakening of the energy centers in the spine, we open the gateways into what Jesus called "The Kingdom of God."
When man is settled in that inner kingdom of divine consciousness, the awakened intuitive perception of the soul pierces the veils of matter, life energy, and consciousness and uncovers the God-essence in the heart of all things…. ~Paramahansa Yogananda

Resurrection—
An example of Jesus' mastery over the materialistic laws of earthly life are seen in the act of resurrection, something that has been understood by accomplished yogis of India for thousands of years. These Yogis consider Jesus to be a realized yogi: one who knew and had mastered the spiritual science of life and death, God-communion and God-union.
Jesus Misinterpreted—
In his book, The Yoga of Jesus, Paramahansa-ji, points out that even the most basic principles of Jesus' teachings have been distorted, while "genocidal wars have been fought, people have been burned as witches and heretics, on the presumed authority of man-made doctrines of Christianity."