by Tara Lynda Guber and Anodea Judith:  "Contact: The Yoga of Relationships" presents an inspiring new vision of yoga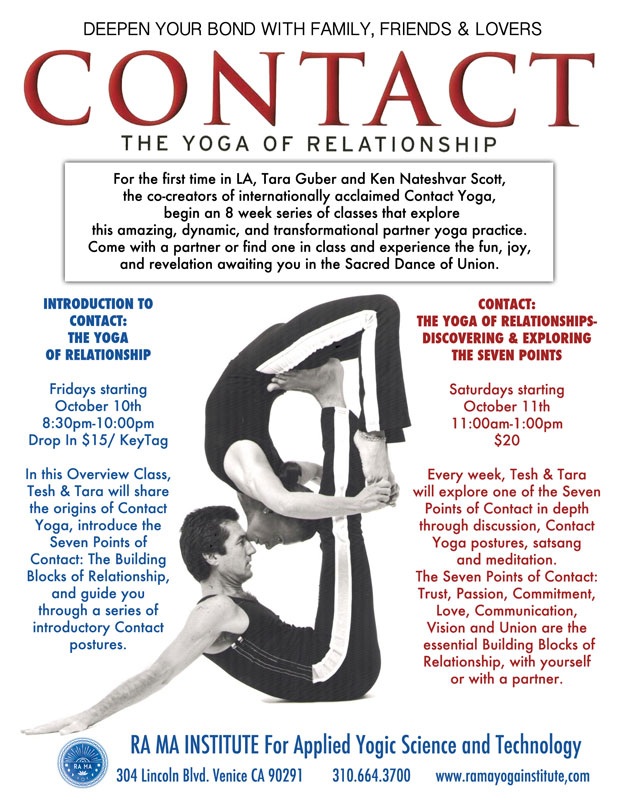 created to deepen your relationships with lovers, friends, family and other intimates in your life. Contact explores that mysterious and dynamic edge where two people connect: physically, emotionally, and spiritually. Tara Lynda Guber and Anodea Judith offer valuable insight into the dynamics of all loving relationships, using poses designed for two participants that bridge the "Seven Points of Contact."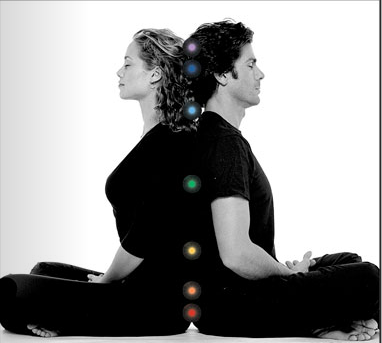 Contact brings these seven points (trust, passion, commitment, love, communication, vision, and union) into focus as points on the body, allowing patterns of connecting and distancing, loving and protecting, giving and receiving to be revealed at their deepest levels. Contact will appeal to all who seek depth and fulfillment in their relationships.
Contact also features over one hundred striking tri-tone photographs by award-winning photographer, filmmaker and director Norman Seeff. His vivid images capture candid portraits of renowned yoga teachers such as Patricia Walden, Anna Forest and Shiva Rae as well as celebrities in dynamic yoga poses including Cheryl Tiegs, Carrie Otis, Daphne Zuniga, Catherine Oxenberg, Linda Grey, Elizabeth Berkley, Harry Hamlin, and Lisa Rinna.
"Ultimately, all we really want is a relationship. And it's often our biggest challenge:'Can you trust that your partner will hold a steady ground while you expand?' 'Can you commit to giving support so your partner can fly?'
'Can you communicate your fears and needs when your world is turned upside down?'
'Do you have fun together, laughing and releasing, finding pleasure and passion?'
'Do you see eye to eye?'
These questions arise, sooner or later in any relationship. "
"They reflect basic issues, important to us all if our relationships are to survive and flourish. Relationship, for those who truly practice it, is a potent yoga. It's parallels to yoga's spiritual practice are many: relationship stretches you to greater flexibility, furthers your personal awakening, and leads you to your highest self. It requires dedication, discipline, and daily practice. "
"Contact's goal, like the true meaning of the word yoga, is union."
– Excerpt from "CONTACT: The Yoga of Relationship" by Tara Guber
With Contact Yoga, Tara Guber presents an inspiring new vision and philosophy of yoga created to inform and enhance your relationships with friends, lovers and yoga partners. Grounded in traditional yoga postures, Contact Yoga explores that mysterious and dynamic edge where two people connect – physically, emotionally, and spiritually.
Offering valuable insight into the emotional and energetic dynamics of relationships, CONTACT breaks down the barriers that keep us trapped in separation by putting us deeper in touch with ourselves and our partners at the same time. Whether they're just friends, passionate lovers, yogis and yoginis in a class together or long-term life partners, CONTACT opens the pathway to dynamically discover the secrets of a successful and fulfilling relationship.
Using poses specifically designed for two practitioners and utilizing the Seven Points of Contact: Trust, Passion, Commitment, Love, Communication, Vision, and Union, Contact Yoga brings relationship into the body, reflecting, in graphic immediacy, our deepest patterns of connecting and distancing, loving and protecting, giving and receiving, patterns that usually remain unconscious. This exquisite combination of openness and contact creates greater connection and intimacy for the practitioners, increasing their joy of being fully alive; and this joy is more than doubled when shared with another. As a provocative philosophy and dramatic practice for all who engage with it, Contact Yoga is revolutionizing the image of modern yoga and the dynamics of relationships.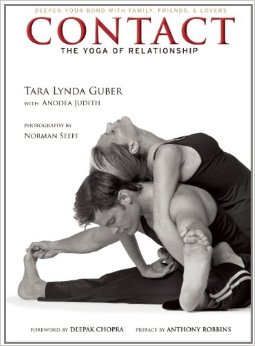 " [Contact] inspires us to take on yoga as others take on mountain climbing: as a training for the warrior of the spirit who needs courage every moment. This book will inspire you to see the world though the eyes of truth, integrity and passion. And you will discover an original aspect of Yoga where relating becomes easy yet sublime all at once." — Margot Anand, author of The Art of Sexual Ecstasy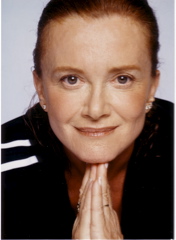 Philanthropist, activist, educator and yoga practitioner for nearly 40 years, Tara Lynda Guber is the author of Contact Yoga: The Yoga of Relationship. Building  on the Seven Points of Contact – trust,passion, commitment, love, communication, vision and union – she combines yoga poses specifically for two practitioners, with insights into the dynamics, challenges and joys of relationship. Tara offers an inspiring new vision of yoga, designed to enhance your relationships with lovers, friends and yoga partners. This is the acclaimed guide for utilizing yoga to strengthen relationships, which earned a gold Independent Publisher Book Award and a Nautilus Book Award, among other kudos.  With a preface by Anthony Robbins and forward by Deepak Chopra. Now comes the e-book of Contact Yoga, giving readers a new entry point into this highly interactive and sensual form of yoga. contactyoga.com