Donna Quesada: This is amazing. And to connect the dots here, you were talking about the shamanic ritual having to do with looking at those demons.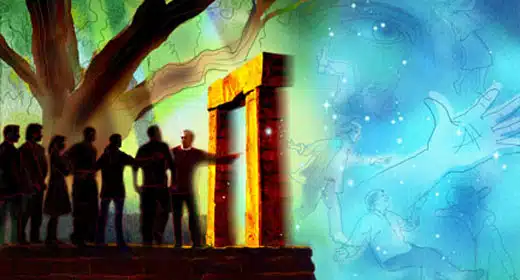 And so, that's exactly what happened. It was a kind of purging event for you. You purged those inner demons and thereby purged yourself of the pain… the physical pain that had been kind of held in your body. So to play devil's advocate here, sometimes we think well, purging… doesn't that mean going into my shadows going into my past? Isn't that just beating the drum of the past? Let's be present. How do we reconcile these two approaches?
Fu-Ding Cheng: That's a great question because this is one thing I've noticed with traditional therapy. It's something traditionally… conventionally… they go into, "Oh, let's see what the cause of that is." They go back to your inner child and all that stuff. However, it's all from the intellect. It's all from the thinking mindset. So nothing will really happen. Because that's not where the action is at. The action starts with your feelings. I feel unworthy. I feel arrogant. I feel neglected. I feel whatever. So, in my case, let's say in the early days, as a Chinese family, you don't express emotions. So everything gets suppressed right away. And so we all did it. Everybody had to do it. Otherwise, you get whacked. I didn't do anything. You show your face. That's how we were all brought up. So then all that gets suppressed and then it causes physical problems as it did with my backache.
So, going back to the technique of shamanic stuff… one thing is, suppressed emotion. Let it out. You've got to express yourself and then there's some training. We've got feelings. They do not have to be justified. You're allowed any feeling even horrible ones. But what do you do with those feelings? What do you do with that energy? Now that's the skill of the person, right? You don't kick your dog. You don't berate your mate. You can make art out of it. You can just shout it out into the ocean to get the energy moving, so it's not suppressed in you.
So the big difference… to answer your question, is… from the shamanic thing, we do shamanic journeys. I've done a lot and very successfully. And it's really focused on the emotion. "When's the first time you felt so put down?" "Oh, when I was six, my mom did, da, da, da, da, da." "How did it feel?" "Horrible because…"  "Okay. I want you to jump right in the middle of that feeling in your body." We're doing it with our eyes closed." "All right, tell me how you feel." "Okay, I feel icky like stuff in there like…" "Okay, just let it… drop the stories."
This is key, feel the feelings and drop the stories. The story is, "Oh, why does this always happen to me?" Or, "Nothing will ever change because it's always like this." Those kinds of thoughts drop. Those are the containers that keep the energy from flowing. Emotions are very fluid like water. So once we drop those thoughts… that's like opening up the container. And once the container's open, all the water flows again. So, then that anger or grief or whatever, starts flowing.
And maybe, let's say, if I was in rage about something, it may flow into grief. It's still not so-called positive, but it's moving though. It's not stuck. It's not festering in there. And then it starts moving. Maybe it goes into, let's say after grief, it goes into… like one time I did some big thing and it went into eventually this other weird feeling. I didn't quite even have a word for, "Oh, what's this?" It felt a little gray. Nothing bad. Nothing good. It was boredom. Doing this process, I had gotten down to this huge setback. I had lost money for a film which was a big deal… but within 20 minutes, it was back. I was just bored with my own feeling bad. So I got up, my eyes popped open, and I got a really nice hazelnut coffee just to celebrate. It was that. And in the past that could have been inside my psyche for years. Let's say you get big money and then it's lost because of this reason or that reason. You feel disappointed, etcetera. Now, like in 20 minutes, it's just gone.
Donna: So if I'm understanding you correctly, there is a role for… can we call it purging in healing? But it's got to be at the level of emotion. It can't be at the level of the intellect…
Fu-Ding: Yes, I would say true. From my experience, yes. And the purging is letting go of everything that's poisonous to your psyche. So it's a cleansing. It's a good thing.
Donna: Is it comparable to what we might call a kind of Dark Night of the Soul? In other words, do we have to roll around in the mud in order to wake up?
Fu-Ding: You don't have to… It's all about consciousness. If you have to suffer through this much stuff in order to gain this much consciousness to solve your problem, then you can suffer through it. Most people, myself included, have made our big gains because we suffered so much. If I didn't have a horrible childhood like I did, I would not even have gotten into this whole becoming a seeker
Donna: It was kind of the impetus for you to have…
Fu-Ding: Yes. After I suffered so much in college and so on. And I was really lost… talking about Dark Night of the Soul. Like, nothing made sense. Even though I thought, "Okay, I'm going to be real heroic and do wonderful in my career." I was an architect at that time. "Oh, I won this grant," and so on. I mean, I did really good. But as you know, when the outside man and the inside man don't agree, you've got trouble. You suffer. And so, I had all this acclaim from the outside, but inside I had unworked out stuff. I was just trying to learn what Maya (illusion) is. Well, if everything is Maya, then why do anything? That's kind of where I was at. So it was a big struggle. So it can be like the Dark Night of the Soul.
Donna: And after your experience with the with the fortune teller, you had this breakthrough experience. And then you found Don Miguel Ruiz and you had another breakthrough experience. Am I understanding correctly?
Fu-Ding: Yes. I would say… I wrote a memoir. An autobiography, which I went and put out after the first of the year.
Donna: We can have the link under the interview.
Fu-Ding: A long day's journey into the light, I call it. Wait, what were we talking about?
Fu-Ding: So there's been maybe, I would say, seven steps in my life. Not shamanic stuff. Shamanic stuff is only one part. But let's say when I first meditated… this was in my college days. I was soul suffering. In desperation, I tried one more thing that everybody was talking about… meditation. It was kind of a new thing back in the 60s. So then, for the first time, I turned the gaze inward and had a moment of peace… like 5 seconds. But it was like a forever kind of peace. "Gee, if I can tune into that, I'm good." So that was the first step. And then eventually, another step was when I decided to become a seeker. Because by that time, I had some extraordinary experiences that just defied logic and reasoning. "So what's that all about?" That kind of thing.
Then I went to the Himalayas and practiced the Yoga sutras of Patanjali for levitation. It was extraordinary. So then I thought… I said to myself, "You know what, I've read about this stuff." "I've read about it in Yogananda's book." "It must be real because these are legitimate people." "These aren't quacks talking about this stuff." "I want that experience." I made it a point. I will not talk about anything in my art, films, and stuff that I did not experience directly. I'm not one for just book knowledge. No, I have to have somehow experienced it. So then that got me into the Himalayas and I'm doing this stuff and I'm like, "My God."
Donna: And did you find it to be real?
Fu-Ding: Absolutely. Absolutely. Yes.
Donna: Would you be willing to share any stories with us?
Donna: What impressed you the most, to the point where it changed your idea of what reality is?
Fu-Ding: There's a number of them. Let's say, the most dramatic might be levitation. So mind over matter then. So then the instructions are… I'm not allowed to give the specific, but the principle of it is that you identify with the fact that you are more space than matter. If you looked in your atoms and all that stuff, you're way more space. In Hindu, it's called the Akasha. Akasha is space. So if you identify with that space then you would be rendered weightless. Then you will be light as a feather. The mantra is built around that truth. So then, you do this mantra that identifies with the spaces in you rather than the weight of you. So I sat there and it was intense. Like we were in our rooms meditating and sleeping, basically 20 hours a day. It was really intense. So we came out, had meals, took a little walk and then went back to it. So, then I sat there practicing. There's a number of them. It's not just levitation. There's extraordinary smells, powers… There's a whole program. So, levitation is only one of them.
Donna: And manifesting substances, like Sai Baba?
Fu-Ding: There are those but we didn't practice those. So we'd practice extraordinary smells, sensory things… Anyway, so in the levitation… so, I'm meditating and I was trying to outthink it. I'm a visual guy. I thought, because there's a visual component, I can try to outthink it. Try to game the system. So I sat there and nothing happened. And then this first day goes around. Second day. That's hours… a lot of stuff. And pretty soon, my head got so tired trying to outthink, I just kind of relaxed. And then when I relaxed, Bam! Like some energy shot up through, inside, like, "What the fuck happened?" A minute of fear. It's never happened. "Oh, okay. I know. We've been doing a lot of studying about quantum physics and so on. So this is all part of it." So I relaxed again.
Then, Bam, more power shot up. And so, my body jumped a little bit. And pretty soon they had it set up. So there was a little track in the middle of all of us practicing. And there was like a little place where we could start hopping in the circle, so to speak. So, anybody who took off would start hopping. So there's two or three in the room of 20, maybe that could actually have something happen. Because a lot of people didn't have anything happen. It's a pretty arduous type of training.
You had to have no doubt. You had to have purity. There was always no sex and eating vegetarian. This was a real disciplined kind of a thing to do, but I wanted to just see that happen. Anyway, so it went. Pretty soon, I'm bouncing lighter and lighter. It's a matter of degree like, "My God," for the same amount of energy, I can bounce five, six feet or something. And then pretty soon… So then, what happened was that I was beginning to understand, like part of it was muscular, but not all of it. What was the extra something? That's the whole thing. Something is being put into operation that actually is working the levitation thing. So in time, I would have had to have been living stress-free, the diet, everything. And then, I could have really gotten more and more… and then, you could actually hover… levity. So I never got to hovering, I did get to bouncing.
And then, at one point, even like… and I practiced this over a 10-year period. Well, after a couple of years, they say… I forget. Anyway, in the Himalayas, I said to myself. "Wow, this is so beautiful here." "Why don't I just stay here?" "Why go back into the dusty world, with all my projects and I could be here in this rarefied air?" "And then I'll practice this stuff and take it as far as I could and I don't really know." And then I heard a voice. I was in the middle of nowhere. I was on this track. Nobody for a half hour around. And the voice was so clear, as clear as I'm talking to you now. It said, "No, where you belong is back in an urban center finishing your films." And I looked around, "Wait, nobody's around." But that was just when I was asking myself, "Gee, maybe I should stay here." And it said defiantly, "No." And being in the Himalayas and everything, I knew that was the right… My life path was not to make it all the way… It was enough to practice, so I know it. That mind is over matter, and so on. So, from then on, it's carried to everything.
Donna: Well, since we've bounced into this beautiful place of going beyond the limiting laws of physics, here on the ordinary earthly plateau, is this the time when you experienced out-of-body experiences? Would that be your other experience of kind of… going beyond?
Fu-Ding: Yes. Except they were very different. Like, actually, when I did the Himalayas stuff, that was well before I met Don Miguel. Way before. So I started accumulating these kinds of experiences. Extraordinary experiences, which, after I had gathered… that's what made me become a seeker. I began saying to myself, "Wait, I'm going to get to the bottom of all this stuff." Being an architect or not wasn't my purpose by that time.
Donna: And so, you actually had an out-of-body experience?
Fu-Ding: Many. Now these were with Don Miguel. See, I didn't get any out-of-body things working in the Himalayas and stuff.
Donna: Let's jump ahead to that time, since we're talking about these things, if you would share whatever you're willing to share about that…
Fu-Ding: Yes. So which part did you want to know?
Donna: The out-of-body experience. Since we're talking about this manner of discussion!
Fu-Ding: Yes. Okay. So let's see. Here's… Yes, there's a number of incidents. Here's one. Here's the most dramatic. What we were doing… they're called mitote. This is working with Don Miguel.
Donna: Mitote? I don't know that word.
Fu-Ding: M-I-T-O-T-E with a little line on the 'e'. All night dreaming practice. So, it starts late at night. So, usually we gather, have dinner and then talk a little bit. And then about eleven o'clock, we start. And it goes on all night. And then we're calling in all the spirits. Guys from the sun and the stars and the earth and the planet. It's this big ritual that we went through. Then we begin. And what we do is we sleep. Everybody brought sleeping bags, sleeping in a yoga studio or someplace like that. And then every 45 minutes the fire tenders, there were four people who were assigned to be a fire tender. They're sitting around this candle and they would… while everybody was asleep, they would be awake. They're tending the fire. And then you're woken up every 45 minutes. You take a little drink of water. You walk around. You go back to sleep. So pretty soon it puts you in this very strange hypnagogic state between dreaming and waking. So it's impossible to know if it's real or not real. It puts you in that state where you just cannot tell.
So then I had practiced once. Nothing happened. And another time nothing happened. The third time I told Don Miguel, "Hey, I've been kind of disappointed." "I tried and nothing ever happened." He said, "Stand up." So I stood up. He kind of looked me over and said, "Okay sit back down." So I sat back down. Then he said, "You see. You didn't have to think too much. You're thinking too hard. You're overthinking this and you just stood up and you sat down just fine by your intent. So when we're doing the dreaming stuff don't work so hard." So then, I relaxed. And then, maybe two or three o'clock in the morning, I guess… Anyway, I found myself awake and I was standing at the foot of myself… my sleeping body! And I was like, "Oh my God, it's happening." "I'm out of my body."
That was the thing. Keep your mind awake while your body is asleep. So now, my mind's awake. It's clear as I'm talking to you now. So I'm looking around real quickly and it was kind of a bluish color. And I could see two or three other people who had stood up. Two of them trying to, probably like me… figuring out what to do with myself. So I decided not to get distracted. So I think, "I want to float up on the ceiling." And I started floating up in the ceiling. And then I got up to the top, and I said, "I think I'm going to go through, and see how cold it is." And I went through. I could feel, "Oh, it is colder outside." And then, I went back and forth like that. And then the architect in me said, "Oh, you know what? I'm going to cross through the center beam just to see what that's like." I'm just playing. So I go there. Sure enough, it was denser. As I went through, into my chest, it felt denser going through the center beam
Fu-Ding: And then, I floated back down and I stood there again, trying to figure out what I should do now to entertain myself. I saw my wife, at that time. She had stood up, too. And she was kind of wondering what to do with herself. And I knew exactly what to do. So I went to her, kind of real gallantly and said, "Hey, take my arm." And she took my arm and then we went off to some place in Mexico, in Teotihuacan, where those pyramids are. And we went to this Court of the Butterflies; it's a sacred spot. We're going at the speed of thought. So boom, we're there. So then, we're there and then I'm walking with her. For some reason, the architect in me wanted to walk her around the perimeter and the floor plan, so to speak. So I can see the columns going by and then all of a sudden, I lost it. Next thing I knew, I was being woken up and it was 6:00 in the morning. The session had ended and everybody had got up to kind of tell what happened. If anything.
So everybody sleepily got together and then somebody told some stories, somebody else and then finally, I said, "Yes." And I told them my story. About what happened to me. No, no, wait. My wife at that time, before I started… My wife said, "Well, I had a funny, weird story. And… no I shouldn't say, no, no." Everybody said, "Just say it anyway." And she says, "Well, I got up. And then some strange gentleman got me and gave me an arm. And then took me to the court of the butterflies and made me walk the perimeter for some reason. I don't know why." And I said, "Wait, wait, that strange gentleman was me. I'm your husband. Don't you remember?" And then I told my story. And so we collaborated or we could check in the normal physical world something that happened in the (dream state). Then I knew… this is for real.