By Rebecca Leffler, The Hollywood Reporter: PARIS – The Gallic media biz traded French kisses for an embrace from "the hugging Saint" Amma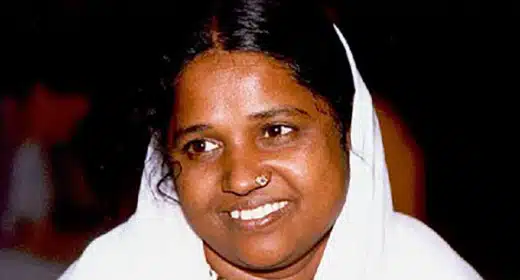 when several stars headed to a Paris suburb to meet the famous spiritual leader. when several stars headed to a Paris suburb to meet the famous spiritual leader. Actress and Lagerfeld muse Vahina Giocante joined Inglorious Basterds stars Anne-Sophie Franck and Jacky Ido, actresses Gabrielle Lazure and Agnes Soral among other industry VIPs for Amma's three-day stop in Paris on her European tour.
"Many stars are very spiritual and because it's a tough industry, many of them need meditation and comfort," producer Manuel Collas de la Roche said of the industry response, adding: "Many stars are very touched by the huge charitable network of Amma's organization Embracing The World."
Collas de la Roche produced Jan Kounen's Darshan: The Embrace that focuses on Amma's altruism and healing powers for millions of people across the globe. The IFC release stateside made $150,000 in theaters, $50,000 in DVD sales – an impressive run for a French-language documentary about an Indian guru. The film was screened Out of Competition at the Festival de Cannes and also traveled to Rio and St. Petersberg for fest screenings.
While Amma doesn't discriminate between peasants in India and Hollywood VIPs, several celebs have received her famous "Darshan" embrace including Steven Segall, Nick Nolte, Susan Sarandon, John Cusack and more recently Russell Brand and Sharon Stone who makes sure to see her once a year.
So how does the guru distinguish between a sick Indian peasant and, say, Sharon Stone? She doesn't.
"Everyone is equal. I just flow like a river depending on each person's capacity to understand and to open up and each receives accordingly," Amma said in an interview with The Hollywood Reporter, adding: "I see everyone as an extension of myself. When the left hand is in pain, the right hand caresses it. I see everyone as my own self."
That said, Amma did remember her meeting with actress Juliette Binoche. Binoche, however, was too busy filming the start of A Simple Heart in Marseille opposite Carlosstar Edgar Ramirez to attend. According to the actress, "My meeting with Amma still remains close to my heart. I'm surprised that she remembered me given the number of people she holds in her arms every day."
Isabelle Adjani is also a devout fan of the guru and wrote the preface to Djana Schmidt's book "Amma: Mother of all the sages" released in France this week through the Hachette-owned Presses du Chatelet.
"Isabelle met Amma last year and was blown away by the experience and wanted to help Amma. She was very touched by Amma's work with children and wanted to lend her name to help Amma's charities," Schmidt said of Adjani's involvement in the project.
Amma's Embracing the World charity has raised millions of dollars for medical care in India and disaster relief across the globe including $1 million donations to both victims of Hurricane Katrina and those hit by the tsunami in Japan. She's been known to embark on more than day-long hug-a-thons without any pause. She's blessed more than 31 million people at a time and doesn't give any VIP treatment.
"Celebrities don't often have much time to spare, so they can be seen faster than other people, but the care and attention that I give is the same," Amma said, adding: "Whether there's a wild flower or a flower in a beautiful garden, both of them can not grow without sunlight."
The event attracted France's major media outlets to the packed stadium in a nearby Paris suburb that attracted more than 20,000 people during its three-day run.
"Media and film are important of course, but when I first began, there was no publicity at all, not even in India, and people still came," Amma explained. She added: "The media came later and they play an important role today to carry this message to the public and spread dharma,"
Amma's European tour will continue through mid-November in Munich, Toulon, Barcelona, Mannheim and London.