Transformational. Powerful. Life-changing. Rocket fuel. These are just a few of the words participants use to describe Tony Robbins' Unleash the Power Within events.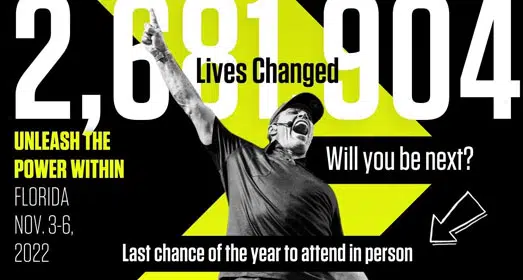 Awaken is proud to announce a new partnership with Tony Robbins and Robbins Research to bring our readers Workshops, Seminars and Masterclasses on health, empowerment and living life to the fullest.
This is his signature event – the one you need if you want to be stronger, happier and more fearless. If you want to overcome your obstacles and crush your goals. If you want to be more, do more, love more and give more.
Take it from Grammy-award winner Usher who says, "If you want to change your results, this is where you do it. This is how you do it." So what is UPW? What exactly is everyone raving about? And how can you experience it for yourself?
WHAT IS UPW?
Tony Robbins' UPW is an event unlike any other. It's one of Tony's favorite events because it brings together many different types of people with many different goals, who ultimately want the same thing: to reach their peak state and create a life of meaning and fulfillment. To become unstoppable.
Unleash the Power Within is available in two formats: virtual and live. Both programs are based on over 37 years of scientific research into human psychology and peak performance. It's the culmination of all of Tony's expertise in one action-packed event. You will be trained using the same neuro-linguistic programming techniques that he has used to coach former presidents, members of the British royal family, Olympic athletes and Fortune 500 CEOs.
Unleashing the power within means breaking through – your fears, your patterns and the limiting beliefs that keep you stuck. You will walk out of this experience with new empowering beliefs and the tools to build new habits. Plus, you will connect with thousands of other people who will inspire and support you in making lasting change. UPW is also where you can participate in the life-changing Tony Robbins Firewalk experience. Watch the video below for a recap of a recent virtual event and see how it all works.
WHO WILL BENEFIT FROM UPW?
Tony Robbins' Unleash the Power Within events attract people from all walks of life. Anyone (students, entrepreneurs, families, business owners, etc.) wanting a change, who does not want to settle for less than what they deserve and needs the power to be everything that they can be. The strategies you will learn can be applied to every area of your life, from relationships to career to family. Once you create your breakthrough, there's no limit to how much UPW can improve your life.
Even if you're on top of the world, there's always room for growth. UPW attracts celebrities, athletes and entrepreneurs who are seeking that boost. One of the biggest supporters of Unleash the Power Within is actor Gerard Butler. He says, "This technique Tony has is a smart, practical way to literally set your fears aside… The rewiring of your brain and your conditions and beliefs is unleashing the power within."
WHAT'S THE DIFFERENCE BETWEEN UPW VIRTUAL AND THE LIVE EVENT?
The live event is the original Unleash the Power Within. It's been held all over the United States and draws crowds of thousands to dance, jump and interact in-person. After a short break, live events are back – and more powerful than ever. Watch the video below to see how the live event will ignite your fire.
More recently, Tony created UPW Virtual to bring all the energy, enthusiasm and transformative strategies of this event directly to your home. You'll hear from the same renowned speakers, coaches and trainers as the live event, projected from his state-of-the-art "control room." If you're unable to travel or don't want to, UPW Virtual is for you.
HOW LONG IS THE EVENT? ARE THERE BREAKS?
Tony Robbins' UPW events – both virtual and live – are four days of full immersion. Some nights will end at 10PM; some nights have gone as late as 2AM. For virtual events, this will depend on your time zone, but Tony has held events for Europe, Australia and more.
If you're making arrangements, we recommend you block full days to be fully committed and immersed in every moment. There are small breaks throughout the program and lots of mini dance and stretch breaks in between. You can leave your seat at any time, for example to refill your water bottle or use the restroom – however we highly recommend staying immersed in the event as much as possible so you don't miss anything.
WHAT DO I NEED TO WEAR?
This is not an event where you sit and listen the entire time – you will be moving, dancing, stretching, standing, sitting and jumping. Dress casual and comfortable. Bring warm clothes because the room is kept cool. We highly recommend layering your clothing in case you become too warm/cold during the activities. Comfortable shoes are absolutely necessary.
UPW Virtual is just as energetic and interactive as the live event, so be sure to dress comfortably for that as well. You will still need comfortable shoes and layers!
WHAT ELSE DO I NEED TO KNOW ABOUT THE LIVE EVENT?
Keep in mind that you book your seat on a first-come, first-served basis. Seats are not pre-assigned. Once you navigate to your purchased seating level you can sit wherever you'd like within that section. However, in order to get the best seats available in your section, we recommend arriving early. Doors will open early prior to the event start time. Each day you will have a new seat.
Bring a large water bottle to fill up during the event – staying hydrated is paramount! Extra pens/pencils, a notebook, travel-size tissues, throat lozenges (so you don't lose your voice on the first night!) and anything else you might think you need. There is not a lot of room within the seating area, so please bring only what can fit underneath your seat.
Awaken is proud to announce a new partnership with Tony Robbins and Robbins Research to bring our readers Workshops, Seminars and Masterclasses on health, empowerment and living life to the fullest.