Question – Beloved Master, tell me the way from sexuality to love.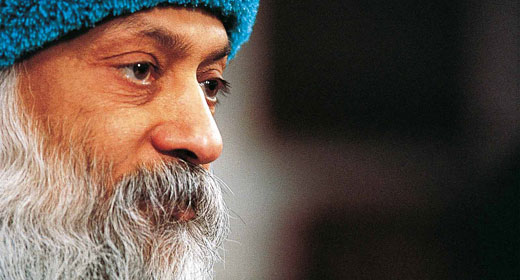 by Osho: – Amit Prem, sex is beautiful, sexuality ugly. And the difference has to be understood. Sex is a natural phenomenon; sexuality is unnatural, abnormal and pathological. When sex becomes cerebral, when sex enters into your head, it becomes sexuality.
Now, the head is not the center for sex. That is getting into a confusion, it is getting upside-down, it is getting deranged. Sex is not the function of the head. But when sex enters in through the head it becomes sexuality. Then you THINK about sex, then you fantasize about sex. And the more you think, the more you fantasize about it, the more you will get into trouble. Then nothing real will ever satisfy you, because there is no limitation on fantasy, and reality IS limited.
For example, if you start thinking too much about sex you can create beautiful women, women which exist only in your fantasy; you will never find them anywhere in the world. Or men: you will never come across them. No real woman or man will ever satisfy you, because of the fantasy. No real man or woman can fulfill your expectations of fantasy. Fantasy is fantasy; it is a dream.
You can fantasize a woman who does not perspire, whose body has no body smell. You can fantasize a woman who is always sweet and never bitter. You can fantasize a woman who is always loving and warm and welcoming and never nags you and is never angry, never throws pillows at you. You can fantasize a woman who never ages, who remains always stuck at eighteen years of age — who is always fresh, always young, always beautiful, never falls ill, never makes any demands on you, never betrays you, never looks at any other man with longing, with desire.
You can fantasize to no limit, but you will not find this woman anywhere. Now you have created a problem: you are no more naturally attuned to your sex. Nature is perfectly capable of being fulfilled, but fantasy cannot be fulfilled. You may find your woman in girly magazines, in pornographic books, but you will not find her in reality. And whosoever you do find in reality will fall short.
That is the problem the West is facing; it has fantasized too much about sex. The West has become sexual through fantasy, the East has become sexual through repression. Both have become sexual and both have lost the natural capacities of enjoying sex. Both have become pathological, through different routes. The West has become pathological by fantasizing sex to be the ultimate goal of life, and the East has become pathological by thinking that sex is the ultimate barrier between God and man.
Sex is neither. Neither is it the ultimate goal nor the ultimate barrier. Sex is a simple phenomenon like hunger or thirst; there is nothing more to it. It is not what the Eastern mind has been thinking about it. The Eastern mind is too afraid of sex. Out of fear, sex has moved into the head; through the door of fear it has entered into the head.
So the Eastern so-called saints are simply fantasizing about sex, because they have repressed it. And that which you repress goes on coming up again and again. It cannot be destroyed; nothing can ever be destroyed by repression. Repression makes sex pathological sexuality. This is one extreme.
The West has moved to another extreme. The other extreme is, fantasize about it. Sex is all, everything else is secondary, so have as much sex as you can. You cannot really have too much sex, there are limitations to the body. But you can fantasize as much as you want, there is no limitation to it. So pornography exists, blue films exist, girly magazines exist. And people are being fed on these illusory mirages. Then no real woman, no real man, will ever satisfy you.
These are both pathological states. Sexuality is pathological, whether you come to it through fear or greed does not matter. The East has become ill through fear, the West has become ill through greed. Greed and fear are two aspects of the same coin. So on the surface it looks very different, as if the Eat and the West are poles apart. They are not. Those who know, those who can see, they can see that it is the same foolishness, the same stupidity. They have arrived at the same stupidity from different doors, that is true, but they have entered into the same place. And both have to be awakened, and both have to be made more enlightened about sex.
Don't make much fuss about sex EITHER way. That is the first fundamental. If you want sex to become love, the first fundamental is: accept sex as an absolutely natural phenomenon. Don't bring your metaphysics to it, don't bring your religion to it. It has nothing to do with religion or metaphysics, it is a simple fact of life. It is a way that life reproduces itself. It is as simple as the trees bringing flowers and fruits: you don't condemn the flowers. Flowers are sex energy; it is through the flowers that the tree is sending its seeds, its potentiality, to reproduce other trees.
When a peacock dances you don't condemn it. But the dance is sex; it is to attract the female. When the cuckoo calls you don't condemn it; it is sex. The cuckoo is simply declaring, "I am ready." The cuckoo is simply calling forth the woman. The sound, the beautiful sound, is just a seduction; it is courtship. If you watch life you will be surprised. The whole of life is through sex. Life reproduces itself through sex, it is a natural phenomenon. Don't drag unnecessary rationalizations into it.
This is the first thing to be understood if you ever want any transformation of sex energy. The first thing is: don't deny it, don't reject it, don't repress it. Don't be too greedy about it, don't think that this is all — this is not. There is much more to life. And sex is beautiful, yet there is still much more to life. Sex is only the foundation, it is not the whole temple.
Repressed, it becomes sexuality. Fantasized, it becomes sexuality. One is an Eastern way of transforming sex into pathology, the other is a Western way. But nobody, either in the East or in the West, accepts that sex is a simple natural phenomenon. Neither the saints nor the sinners, nobody accepts sex to be a simple natural phenomenon. Both are obsessed with it, hence I say both are not different. Sex accepted, respected, lived, becomes love.
Just as I was saying to you the other day, when sadness is there, accept it: it is you. Don't say, "I am sad." Say, "I am sadness." Don't say, "I have sadness" — it is as if you are separate and sadness is something that you have. Simply say, "I am sadness." In that moment there is no division between you and what you call sadness. In that moment you ARE sadness. The next moment you may be peace, and still the next moment you may be joy.
Life is change. Life knows only one thing as permanent, and that is change. Only change is unchanging; everything else changes except change. That means only change has eternity. It is a continuum; you are not a fixed thing. And it is good that you are not fixed, otherwise you would have been a thing, a commodity in the marketplace. You are a no-thing. You are not a fixed phenomenon; you are a constant opening, you are change.
One moment there is sadness, and the river takes a turn. Another moment there is joy, and the river takes still another turn and there is peace. And it goes on and on. The moment has to be accepted in its totality: it is you. When there is sex, there is sex: it is you. Don't say, "I have a sexual desire." That is a way of dividing yourself, that is a way of creating a split.
If you have a sexual desire then there are two possibilities. If you are against it repress it: that is the Eastern way of becoming mad, insane and pathological. The other way is, "I have the sex desire: how to enhance it? How to make it more intense? How to enjoy it to the optimum?" That is the way of greed, the Western way. But the end is the same, the end-product is the same: both become obsessed with it.
Just let it be, whatsoever it is. It is you. You don't have a sex desire; if you have a sex desire then something can be done to the sex desire. If you are it, nothing can be done about it, because there is nobody else to do anything: you ARE it.
This has to become the meditation of all my sannyasins: you are it, there is no division. Just see the beauty of it. When there is no division there is no conflict. When there is no division there is no fear, no greed. It is division that brings fear and greed. Greed and fear are your interpretations of the division, but the division is first and then come your interpretations.
The sex desire is there, you take it as something separate that is happening to you. It is like a thing in your hands: now you have to decide whether you want more or less of it, as if it is something of which you can have more or less. It is as it is; there is no more, no less.
Simply live it, be it, love it. This is your moment, this is the truth of the moment. And never compare, because one moment ago it was not there. So don't start comparing, because comparison again brings a split. Next moment it may be gone again. Don't compare. Life is change. That's what Buddha said: Life is change. That's what Heraclitus said: You cannot step in the same river twice. Life, the river, is constantly moving.
Deep down you want life to be static. Why? Because with a static and dormant life you will be more safe, more secure. But life is not dormant, only death is dormant. Life is dynamic, flowing — the more flowing it is, the more alive you are. Life is not a stagnant pool, it is a river. It is the Ganges, coming from the Himalayas, going to the ocean, coming from the heights, going to the depths. And again from the ocean the Ganges will evaporate from the depths to the heights, and again the clouds will gather on the Himalayas and again the river will be born. It is a beautiful perfect circle.
That's how you move. Each moment has to be accepted as it is, with no condemnation, with no evaluation. And when you can accept sex as natural, it stops being cerebral. It drops from the head, it goes to the sex center where it belongs. If sex remains in the sex center it is beautiful. If it goes to the head it is ugly.
Eating is beautiful. You are hungry and you eat and it is needed; it is nourishment. But then there are two types of people. A few people eat too much: eating too much means the head has entered into it. When you are eating, the body is always sane. The body always says to you, "Stop now." It immediately gives you an indication, a signal: "It is enough, now stop! No more is needed, my needs are fulfilled."
But the head says, "It is so tasty, it is so delicious — have one plate more." It is the head, it is not the body. The body is recoiling, the body is saying, "No!" The body is always sane. And this is one of the fundamentals I would like to tell you about. Down the ages, your so-called saints have been telling you that the body is your enemy. It is not; the body is always your friend. If there is some enemy it is the head, never the body. The body is always sane.
Watch it. I am not talking philosophy, I am simply stating a fact. See for yourself: if you are ill the body says, "Don't eat." But the head says, "If you don't eat you will become weak. So many vitamins are absolutely needed; you will become pale, you will not be strong." This is the head. The body is saying, "You are ill, and to eat will be unnecessarily burdening the system. The system needs rest; it is better not to eat."
And that's what animals do. No animal will eat when he is ill; he simply stops eating. That's what children do, no children will eat. But grown-ups will force them: they will say, "Eat, otherwise you will become ill, you will become more weak. You need it." They force them. You can see small children crying and their mothers forcing them: "Eat a little more."
It is the head that creates the trouble. And then there are people who will fast when there is no need for fasting. The body is hungry, but if you ar a Jaina and the PARUSHANA, your religious days, have come, you have to fast. The body is hungry and the body wants food, but you cannot eat because unfortunately you are a Jaina and the religious days are there and if you eat you will be thrown into hellfire. It is the head interfering. The body says, "Eat," but unfortunately you are a Mohammedan and it is the month of RAMADAN and you have to fast. Now this is the head interfering.
The head interferes in two ways: either it makes you indulgent or it makes you repressive. Again, one is the Eastern way, another is the Western way. Eat more than is needed: this is indulgence. Don't eat when the body needs food: this is fasting, this is repression. It is always the head that interferes. It interferes in your food, it interferes in your sex, it interferes in your sleep, it goes on interfering in everything!
Remember the Zen master, the great Zen master, Bokuju. Somebody asked him, "What is your discipline?" He said, "No discipline at all. When I feel hungry I eat, and when I feel sleepy I sleep. And no other discipline."
The man said, "But this is what we all do." And Bokuju said, "No. It is very rare to find a person who does it, because one who does it becomes a buddha. Only a buddha can do it truly."
You don't eat according to the needs of the body, you don't sleep according to the needs of the body. You go on imposing your head needs on the body. That interference makes everything pathological. That's how sex is disturbed and becomes sexuality. If sex is accepted, respected, lived, it becomes love.
Amit Prem, you ask: TELL ME THE WAY FROM SEXUALITY TO LOVE.
The way is: first sexuality has to come back to sex. Directly, there is no way, no route; from sexuality to love there is no route. There is simply no route, nothing can be done about it. From sexuality to love there is no route, because sexuality is in the head, and love is a heart phenomenon.
From sexuality come back to the sex center. From sex to love there is a direct route; they are bridged. In fact nothing needs to be done. Just live your sex moments with utter joy, silence, peacefulness, with celebration. Live your sex moments meditatively, and meditation transforms sex into love.
Not only does sex become love: one day it becomes prayer, worship. It goes higher and higher. The highest form is prayer, the lowest form is sex. Between the two is love, love is the bridge. And sexuality is abnormal, it is pathological, it is ill. So whether you have chosen a path of being pathological like the Eastern people or like the Western people, it doesn't matter.
Accept your life a sit is, and let the acceptance be as total as possible. When you don't fight with yourself your energy starts falling into a subtle harmony. And that harmony brings you t love. And when the harmony becomes more and more refined, it brings you to prayer. And unless sex has become prayer, remember, the goal has not been achieved.
Osho Book "Unio Mystica, Vol 1″