by Donna Quesada: In stillness… You go beyond the words and the names, behind the labels and the judgments, beneath the doubts and the mental commentary…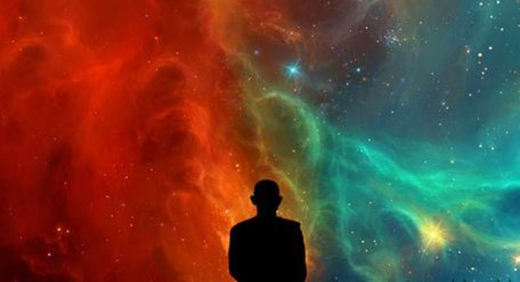 to the raw experience of now. At this level of awareness, the distinctions between breather and breath, seer and seen, listener and sound, experiencer and experience, past and future… and between self and other… become blurry. There is just Christ consciousness… Om… emptiness… pure presence… samadhi… enlightenment… Source.
Any of the tools of spiritual practice serve as keys for entry. Breath, sound, prayer… or being in nature.
There is an anecdote about Buddha, and how breath is used to get to this place of stillness:
"How do you attain enlightenment?" One disciple asked.
"Simply be aware of your breathing," he replied.
It's not that the breath is all that interesting. It's only a convenient focusing device. I remember my own Zen teacher calling it a "gimmick." Zen teachers can be cheeky that way. He was driving home the simplicity of it… focusing on your breath gives your mind something to do, other than spin circles around. The Christians use prayer. The dervishes use the spinning motion of the body.
Out of the mind and into the body. And ultimately… into pure presence.
But here's where it gets interesting. There's magic and power there!
Not willpower… Because that would be about asserting the ego. That would be a self-righteous, "pushy" kind of power. That would be an agenda-driven, attachment-charged kind of power.
No. This kind of power comes from what Buddhists call the "unstuck mind." We're not only aware of everything; we're aware with everything.
In this place of alignment (which is always by degree, as long as we're in human form) we are able to tap into what I have coined, The Four C's":
1. CONNECTION… This is the state of oneness that all spiritual traditions describe. This is the basic meaning of Yoga, "to connect." Because now the divisive shell of ego has melted down.
2. COMFORT… This is the state of calmness, in which we feel that we are part of something bigger than ourselves. It is the place of surrender. It feels like everything is going to be okay. It feels safe. Because now the insecurities and fears of the ego self have subsided.
3. CLARITY… This is the state in which we are in touch with what is right for our soul, rather than the habit momentum of earthly addictions. Because here, the loud and conflicted voice of the ego has quieted.
4. CREATIVITY… This is the state in which we tap into what Law of Attraction calls, "the energy that creates worlds." Because here, with the conventional routines of ego in the backseat, the flow of Chi is destined to expand.